Super Bowl Munchies
By Chad Lovette
Super Bowl parties always end up being divided into two specific groups: 'the go-hards' who keep their eyes glued to the screen, and the 'commercial lovers' who are just at the party to party with friends. There is one thing that these two groups both love, and it isn't football, it's Super Bowl snack foods. The snack options are limitless.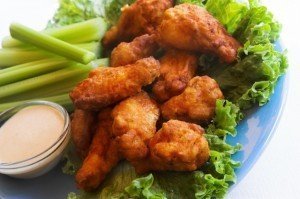 You could grill burgers for everyone, make some wings with your very own signature sauce, or you could take the easy way out and make some simple snacks before the game! If you're looking for the easy way out, here are a couple of snack ideas for your list of incredible Super Bowl munchies.
One of the guaranteed favorites is notoriously called the "White Trash Puff-Balls." They are easy and delicious. All you need is a tube or two of Pillsbury refrigerated Crescent Dinner Rolls (depends on how many you are making), a package of cream cheese, and a pack of pepperoni. Divide each roll in three flat triangles, mix the cream cheese and the pepperoni (diced), put a spoonful into the small triangles of dough, and pinch the sides together. Then bake them for about 10-12 minutes at 350°. Your friends will be begging for your secret recipe.
Another easy snack to make and watch your friends devour at your Super Bowl party, is the classic Cheese Ball. It never fails. All your need is cream cheese, sharp cheddar cheese, chopped onion, Worcestershire sauce, a little cayenne pepper, and a tiny dash of garlic salt. Once you have mixed all of these ingredients together in a big bowl or mixer, roll the cheesy mix into a ball and roll it over some crushed pecans to add some delicious flavor, and hold it in place. When you're finished, let the cheese ball sit in the fridge for an hour or two before serving it at the party. All crackers taste great with the cheese ball, but I always stick to the classic Ritz.
If neither of these snack recipes are what you're looking for, there are always hundreds more to try. Throw a curve ball (not a cheese ball!) and bring something unusual, or just stick to the classics. Good luck, and have fun celebrating Super Bowl Sunday with friends, family, and food!
Receive your complimentary Relocation Bundle