Holiday Recipe: Turkey vs. Ham
The Age-old Debate: Turkey or Ham
Plus, a couple of recipes for both to make the decision even tougher.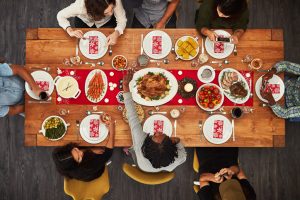 When preparing to cook the holiday dinner, there always seems to be a toss-up between which kind of meat to fix—turkey or ham? Fortunately at my holiday gatherings I can expect to find turkey and ham on the table, and sometimes even chicken.
But for those tables featuring only one choice, the decision can be tough. Turkey is healthier, and goes better with stuffing. But when you honey bake that ham…
Here are some recipes (via allrecipes.com) that just might help you conquer the battle between turkey vs. ham.
Original recipe makes 12 servings
Ingredients
-2 cups apple cider
-1/3 cup real maple syrup
-2 ½ tablespoons chopped fresh thyme
-2 tablespoons chopped fresh marjoram
-1 ½ teaspoons grated lemon zest
-3/4 cup butter, softened
-salt and pepper to taste
-2 cups chopped onions
-1 ½ cups chopped celery
-1 ½ cups chopped carrots
-3 cups chicken broth
-1/4 cup all-purpose flour
-1 bay leaf
-1/2 cup apple brandy
-1 (12 pound) whole turkey, neck and giblets reserved
Directions
Combine apple cider and maple syrup in a saucepan, and bring to a boil over medium-high heat. Continue cooking until reduced to 1/2 cup, then remove pan from heat. Stir in 1 tablespoon thyme, 1 tablespoon marjoram, and lemon zest. Stir in butter until melted, and season with salt and pepper. Cover, and refrigerate until cold.
Preheat oven to 375 degrees F (190 degrees C). Place rack in lower third of oven.
Place turkey on a rack set in a roasting pan. Reserve 1/4 cup maple butter for gravy, and rub the remaining maple butter under the skin of the breast and over the outside of turkey. Arrange onion, celery, carrots turkey neck and giblets around the turkey. Sprinkle 1 tablespoon thyme and 1 tablespoon marjoram over vegetables. Pour 2 cups broth into pan.
Roast turkey for 30 minutes in the preheated oven. Reduce oven temperature to 350 degrees F (175 degrees C). Cover entire turkey loosely with foil. Continue roasting for about 2 1/2 hours, or until a meat thermometer inserted into thickest part of thigh registers 180 degrees F (85 degrees C). Transfer turkey to platter, and let stand 30 minutes.
Strain the pan juices into a large measuring cup, and then remove any excess fat. Add enough chicken broth to pan juices to measure 3 cups. Transfer liquid to a saucepan, and bring to boil. In a small bowl, mix 1/4 cup maple butter and 1/3 cup flour until smooth. Whisk flour and butter mixture into broth mixture. Stir in remaining thyme and the bay leaf. Boil until reduced to sauce consistency, stirring occasionally, about 10 minutes. Mix in apple brandy, if desired. Season with salt and pepper to taste.
Original recipe makes 1 – 8 pound ham
Ingredients
-2 tablespoons orange juice
-1/4 teaspoon ground cinnamon
-1/4 teaspoon ground cloves
-1 cup honey
-1/4 teaspoon almond extract (optional)
-1 (8 pound) fully-cooked whole ham
Directions
Preheat an oven to 325 degrees F (165 degrees C). Stir the orange juice, cinnamon, clove, and honey together in a small bowl; set aside. Stir in almond extract if desired.
Place the ham in a shallow roasting pan. Bake in the preheated oven 1 hour and 15 minutes. Remove the ham from the oven, and baste with the honey glaze. Return to the oven; continue cooking until the ham reaches an internal temperature of 140 degrees F (60 degrees C), about 45 minutes longer. Baste occasionally as the ham finishes baking.
Receive your complimentary Relocation Bundle