Explore the Nation's Best Gated Communities
Gated communities provide an unmatched environment for residents—privacy, security, and, very often, a vibrant social life. Allowing residents to relax and enjoy amenities, beautiful landscaping, and activities with neighbors, gated communities provide peaceful surroundings for luxury living. With more than 25,000 gated communities in the United States, it's not difficult to find the right community in a location you love.
What are the benefits of living in a gated community?
For those looking for luxury living, a sense of community, and amenities just out your front door, a gated community might be a perfect fit. There are many reasons people choose gated communities—read on.
Security and privacy: With private roads and amenities for use exclusively by those living in the neighborhood and their guests, gated communities offer security and privacy to let residents live comfortably. Besides manned or unmanned entrance gates, many gated communities are equipped with various security systems and employ security personnel, all of which contributes to residents' safety and peace of mind.
Social activities: Whether one is looking to host friends in the clubhouse or walk the sidewalks with a neighbor each morning, gated communities provide ample opportunities for those looking to socialize.
Amenities: Most gated communities offer amenities like pools, fitness rooms, tennis courts, golf courses, or boathouses, just to name a few.
Reduced traffic and noise: With private roads, gated communities mean light traffic roads and reduced road noise - perfect for safe walking, biking, and generally calm surroundings.
Family-friendly environment: For those with children or grandchildren, a gated community offers peace of mind with typically plenty of options for physical activity and room to explore for the whole family.
Homes retain their value: Homeowners in gated communities are often drawn to them because they are known to keep their value over time.
Ready to begin your search?
We've hand selected the best gated communities across the United States and Caribbean for you to explore. You'll find there are plenty of destinations to explore—which means there are options for everyone. Browse the gated communities below to get a taste of what's available.
If you're ready to learn more about a particular gated community, use the information request form to connect with a local expert. You can ask questions, find information on the location and surrounding area, and get a feel for the lifestyle. You can even inquire about specifics like HOA fees or home prices.
For those who already have a state or area you're interested in, use the filtering options on the left to narrow down your options and find what's right for you.
Research and Explore Gated Communities
Click to explore the following gated communities. Request information from multiple communities by selecting the checkboxes to the right and completing the form below.
North Carolina has always been recognized for its natural diversity and gracious hospitality, which now has made it into an extremely popular retirement destination. Choices abound for a healthy, happy retirement setting, whether you want to relax on the beach or enjoy the great outdoors in our mountains or stay busy in a bustling city. The North Carolina Certified Retirement Community designation means a city has completed a comprehensive evaluation process with requirements outlined by the North Carolina General Assembly. These Certified Retirement Communities are recognized for providing the amenities, services and opportunities retirees need to enjoy active and productive lives.
LIVE SIMPLY, THINK BIG isn't just our tagline, it's our way of life. We aren't limited by
our size and neither are our dreams. Whether you want to spend your retirement volunteering,
spending time with friends or finally opening that small business you always dreamed of, you
can "Do What You Love in Reidsville"; Being "retired" doesn't mean you can't live out your
dreams, it means you now have the freedom to do it!
https://www.riseupreidsville.com/retire

Johnston County (JoCo) offers you more than you expect in retirement! Discover a blend of history, entertainment, dining, lodging, and outlet shopping, along with a generous helping of true southern hospitality. With a growing culinary and craft beverage scene, as well as revitalized downtowns, you don't have to travel far from home to find what you are looking for. The unique communities that make up JoCo have one thing in common–a relaxed atmosphere and friendly people.
https://www.johnstoncountync.org/retire-joco/

If you are looking to build or purchase in an exceptional mountain golf community, it's time to look closer at Rumbling Bald on Lake Lure. You will find a few choice, undeveloped properties within our community at pleasantly affordable prices along with several spectacular homes in a variety of settings. You can come today; enjoy our lake and golf, and choose the opportunity to live in a remarkable community.
https://rumblingbald.com/living-here

Nestled in the northern piedmont of North Carolina, a short commute from the Triangle and southern Virgina, Person County is home to rolling hills, farmers markets, lakes, and trails. With two beautiful wineries, live music venues, historic general stores, and Uptown Roxboro, Person County values its history and community while embracing the new. No matter what you choose, life in Person County is homegrown, just for you.
https://itsbetterinperson.com/
WindRiver is a stunning, lakefront and golf community located minutes outside Knoxville, Tennessee on Tellico Lake. Inside our gates, you will find world-class amenities surrounded by sparkling, fresh-water lakes and dramatic mountain views. This unique combination is what makes WindRiver the ideal place to call home and create a lakefront lifestyle you and your family will cherish.
You will sense it when you look towards the welcoming shadows of the Great Smoky Mountains. You will feel it standing on the gentle slope of five miles of shoreline along beautiful Lake Tellico, named one of the top inland boating destinations in the nation.
Members enjoy a collection of world-class club amenities which include: a full-service marina, a championship 18-hole golf course, Golf Club and Grill, the Sports Complex with a resort-style swimming pool, sports courts, and a state-of-the-art exercise facility at Overlook Manor, the elegant Lakeside Inn, and Citico's Restaurant, a signature Member dining experience. For outdoor enthusiasts, WindRiver has access to over 30 miles of walking and hiking trails and a peaceful, lakefront retreat, Brightwater Park.
This is Life As It Should Be – this is WindRiver.
Cresswind Charleston brings the award-winning Cresswind active adult lifestyle to the Charleston area. This gated community is integrated within the thriving community of The Ponds while maintaining its own privacy. Cresswind features a full list of resort-style amenities, all located within a natural, Lowcountry setting.
Residents can take a short walk to the 12,000-square-foot clubhouse, enjoy pickleball and tennis or participate in activities at the event lawn and amphitheater. Additionally, homeowners have the opportunity to enrich their lives with cooking and yoga classes or bocce ball. Residents also can nurture their talent in the art room, play pool, swim in the resort-style pool, fish or kayak – and stay fit and healthy at a well-equipped fitness center.
Cresswind Charleston offers spacious homes featuring a wide range of personalization opportunities, designer choices, uniquely designed with careful attention to details. Single-family, ranch-style homes will include designer features, energy efficiency and designs complementary to active living. Tour nine designed model homes. Move-In Ready homes available now.
Welcome to K. Hovnanian's® Four Seasons at Parkland, a new active adult 55+ community in South Florida offering 14 unique ranch-style home designs. Enjoy an all-inclusive, resort-at-home lifestyle with access to countless amenities and activities.
Residents can take advantage of the community's 24,000 sq-ft. clubhouse, fondly known as The Club, which features a state-of-the-art fitness center, multiple rooms for cards, billiards, and ping-pong, and full-size ballroom for events, complete with a catering kitchen.
Located in sunny Parkland, Florida, residents can also enjoy outdoor activities year-round. Take a dip in the tropical beach-entry pool or experience the heated spa. Get a great session of exercise on one of five lighted tennis courts and three pickleball courts. Plus, with a full-time lifestyle director on-site, there are always social events and outings so you can get to know your neighbors and enjoy the fun together. Experience the best of active adult 55+ living together with South Florida's natural beauty.
Summerhouse on Everett Bay – Ideal Coastal Lifestyle
Summerhouse on Everett Bay, a North Carolina coastal community less than ten minutes from Topsail Island, is a breath of fresh air. It's that community where neighbors are like family. Full-timers are the norm. And, the pace barely vacillates from season to season.
Life at Summerhouse revolves around the water. Whether you're fond of sailing, boating, kayaking along the Intracoastal Waterway, or hanging out by the community's spectacular pool complex, it's every water-lover's paradise. And, nearby Topsail Island, called the "Best Little Beach Town in the USA" by TripAdvisor.com knows how to keep things interesting. Seafood restaurants, boutique shops, and miles of expansive beaches abound.
Coastal Casual Meets Luxury
Summerhouse residents can kayak and paddle board on the Intracoastal Waterway in the mornings eight months out of the year, then join friends by the pool or at the clubhouse in the afternoons. In summer, a trip to the crab traps before dinner is a must. A coastal North Carolina summer evening just isn't complete a sunset cruise coupled with an incidental wildlife tour.
Are quick trips to town important to you? Perfect. Surf City and Downtown Wilmington are less than 45 minutes away.
And, if you're design-focused, then you're in luck. Summerhouse on Everett Bay is also famous for its warm and welcoming signature homes. In each home, luxury blends with coastal casual and open floor plans sprawl. Equally important, (and equally sprawling) is the ocean… just beyond most front porches.
We're such big fans of Summerhouse's signature homes that we voted one Summerhouse Everett Bay home the 2017 Ideal Home. Check it out! Then, sign up for the Summerhouse Discovery Travel Package to get in before the crowd.
Albemarle Plantation
On North Carolina's Inner Banks
In the private, gated sound front community of Albemarle Plantation, the waterfront lifestyle abounds. Set on the pristine waters of North Carolina's sparkling Inner Banks, Albemarle Plantation is the perfect blend of nature, big water, resort amenities, and beautiful homes.
The community is known for its vast waters, 166-slip Private Marina, acclaimed golf, and nature-centric lifestyle. Walking and biking trails ribbon past nature sanctuaries and waterways. Raised boardwalks wind along, perfect for a stroll to the marina. On the waterfront, Marina Park with its great views and manicured lawn is the ideal gathering place for friends and is home to many a community event. The grand, waterfront Clubhouse offers indoor and outdoor dining with incredible water and fairway views. Near the marina, Dockside Café offers outdoor dining and is home to the Albemarle Wine Shop.
Residents also enjoy daily amenities like a fully outfitted fitness center, resort-style Junior Olympic-sized swimming pool, bocce courts, gathering and activity spaces and even community garden plots. Winding through the community is the award-winning Dan Maples-designed golf course. Widely acclaimed, it offers world-class play for golfers of all levels and provides breathtaking views. Here, you can enjoy every amenity you would expect from a private waterfront community—plus, all amenities are complete and owned debt free by the Property Owner's Association.
With a focus on nature's beauty, Albemarle Plantation is a scenic and welcoming place to build the home of your dreams, too. With a large selection of home plans and a trusted group of preferred builders, creating your retreat at Albemarle can be easy and exciting. Living here offers a perfect balance: residents are wonderfully tucked away from the hustle and bustle of metro areas yet have easy access to Tidewater Virginia and the Outer Banks of North Carolina. At Albemarle, you can savor the small-town waterfront charm of Edenton and Hertford, and quickly access big city luxuries with Virginia Beach and Norfolk only about an hour north.
Whether setting out by boat to explore the Sound and nearby small towns, kayaking, going fishing with friends on the protected waters of the Sound or in the Intracoastal Waterway, jet skiing, sailboat racing, or just watching the sun go down over the water…living at Albemarle Plantation is a soul-stirring experience.
Homes from the $400,000.
Homesites from $30,000
Scottsdale Heights is a gated community in the highly sought-after area of North Scottsdale, and just opened the highly anticipated Phase 2. This new Active Lifestyle neighborhood is for those 55 and better and offers four designs of single-family homes. Designed for low maintenance these villa-style homes will provide just the right amount of private outdoor space and many amenities throughout the neighborhood. Scottsdale Heights has a community pool, spa and barbecue pavilion and walking trail, with a dog park, pickleball and bocce ball courts coming in Phase 2. Homeowners will love being nearby some of the best golf courses in the state.
One of the best places to live in Georgia.
Nestled amid ancient moss-draped oak hammocks, winding freshwater lagoons and the salt marshes of coastal Georgia's low country, Waterways is a private gated community with distinctive homes and modern amenities, just 30 minutes south of historic Savannah in Richmond Hill, Georgia. This surprising low country community offers luxury homes surrounded by a protected natural landscape. Starting with homesites from the 90s and townhomes from the mid-200s, homes in the mid-300s, and at Waterways encourage an elegantly relaxed lifestyle.
This is ideal living.
Just outside of Savannah, on the Georgia coast, there's a master planned community that's rooted in nature and built with modern amenities. Here, water's influence is the center of the lifestyle, and health and wellness are valued along with days of adventure and exploration.Here, your family can escape from the noise of the world in a place where spontaneous get-togethers, outdoor activities, and the influence of water create a new rhythm of life.
The Waterways Marina Is Now Open….
Located along Redbird Waterway, the Marina features direct access to the Intracoastal Waterway, the Great Ogeechee River, and the Atlantic Ocean. Featuring dry slip storage, a ship store, and fueling and launching facilities, Waterways residents will have all they need for endless adventure. The center of our waterfront lifestyle is found at the Marina Village, with stunning views of golden marshes, dry slip storage spaces, along with fresh water boat slips for residents. Green spaces and events lawns will complement a curated collection of quaint retail shops and casual dining. Accessible from every corner of the community via Harbor View Drive, a road with spectacular views of glistening waters, Marina Village is sure to become the heartbeat of Waterways. Choosing the perfect place for your next adventure is about so much more than finding a home. Get a feel for the Waterways lifestyle with a Discover Waterways Visit, an immersive three day, two-night getaway. Schedule Your Visit Today!
Nestled within a pristine natural setting just minutes from Downtown Naples, Florida's preeminent new home builder is creating a colorful update of classic coastal living. Inspired by the timeless architecture and traditions of Old Naples, elegant new Minto homes overlook miles of scenic kayak and hiking trails. With over half of the 2,400-acres dedicated to lakes, nature preserves and natural habitat, combined with outdoor-inspired amenities, The Isles of Collier Preserve is an extraordinary new active adult gated community where the magic of Old Naples and unspoiled nature still coexist.
Enjoy all aspects of an active lifestyle influenced by wellness at The Isles Club, featuring resort-style amenities such as a resort-style pool, state-of-the-art fitness center, tennis and pickleball courts, and a yoga lawn. After a scenic day exploring this beautiful community, sip on cocktails and savor coastal Florida flavors with family and neighbors at the resident-exclusive Overlook Bar & Grill, overlooking the Cypress Waterway.
The Isles is a master-planned community boasting 1,600 unique coastal themed new construction residences for sale, including cottages in the 400s, luxury, maintenance-included villas starting in the $500s and single-family homes from the $500s, many with stunning water and nature views
Life is better on the Sound.
Paradise awaits on the Inner Banks of North Carolina within the gates of Occano. This fully amenitized resort-style community on the Albemarle Sound boasts over 800 acres of residential waterfront and vast opportunities to connect with water, nature, and those you love most.
See the beauty in every swing.
Occano is home to an award-winning Arnold Palmer Signature golf course that covers 7,262 yards with 5 sets of tees-perfect for any skill level. Although Occano is a private community, it offers public play. Come experience a round and take in the impressive water views throughout the course.
Play on the Sound.
As Occano grows, so will the amenities designed specifically for an easy-flowing life near the water. Highlights include a clubhouse and pool, bar and restaurant, tennis courts, boat launch, day dock, and more. With luxury amenities set against the stunning Albemarle Sound, Occano has something for everyone.
Plan a visit today and discover why life is better on the Sound.
Belize is as romantic and charming as it sounds. And, Ambergris Caye, is indeed the cream of the crop. The island is considered the #1 tourist and retirement destination in Belize and is one of the top retirement destinations in all of the Caribbean and Central America .
While Belize feels like that dreamy place you could never actually live, buying in Belize has never been more affordable, or more accessible.
The land title system in Belize is very similar to that of the UK, USA or Canada. There are no restrictions on foreign land ownership, and
there are plenty of English speaking lawyers ready to help you with your property purchase.
There is no capital gains tax, no inheritance tax, and property taxes are a fraction of what they are in Canada or USA.
Asset protection through creation of IBC (International Business Company) is very similar to the British Virgin Islands or The Bahamas. You may open an offshore bank account effectively protecting your assets from Tax Authorities and litigation.
And, Belize has an excellent retiree program. Under Belize's Qualified Retired Persons program, buyers over 45 are eligible for tax benefits, including exemptions on retirement income. When moving to Belize, qualified retirees can import motor vehicles, boats, aircraft, and personal effects, duty free. For details visit www.belizeretirement.org or call 1 (832) 848-2812.
Affordable Active 55+ Resort Living.
It's easy to see why so many of our residents feel like they're on vacation all year long. Las Palmas is a world-class resort with year-round activities, luxury amenities and a friendly group of active 55+ adults who enjoy life to the fullest, just like you.
Visit our impressive selection of custom-built homes beginning in the $70's. Whether you're looking for the best value in retirement or simply the best place to take life easier, you'll enjoy the lifestyle at Arizona's premiere 55+ resort. Las Palmas is among the award-winning family of Thesman Communities proudly offering affordable resort living since 1980. Gated with 24 hour security. Visit us today, open daily for tours 8-5.
Management and Sales offices are still open 7 days a week, 8-5. Please contact us for more information.
Virtual Tours now available! Feel free to watch our video playlist below. You can navigate to the next video by simply clicking the button to the right of the "share" icon.



Homes are shown by appointment only and social distancing and hygiene guidelines are strictly adhered to. Safety is our priority.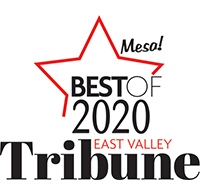 Mesa's Best!
Las Palmas was voted Best Manufactured home Community 2020 East Valley Tribune!
Also check out our other Thesman Communities:
Briarwood
Las Palmas
Las Palmas Grand
Las Vegas Meadows
Palmas Del Sol
Palmas Del Sol East
Sunrise Village
Village Green

Resort Living Can Be Beautiful and Affordable. Homes from the $30's.
Step into this active 55+ community in East Mesa and be amazed at how affordable a resort lifestyle can be! You'll discover friendly people, luxury amenities and newly remodeled homes from the $30's. Our gated community offers a year-round calendar of social events planned by our Activity Director, a courtesy shuttle bus to get around town, a beautiful clubhouse, heated pool and so much more. Sunrise Village is among the award-winning family of Thesman Communities proudly offering affordable resort living since 1980.
WaterSong offers a truly unique take on active 55+ living. As a charmingly styled and self-contained neighborhood, WaterSong is designed in harmony with the rest of master-planned RiverTown. Enjoy a one-of-a-kind setting on the banks of the St. Johns River, with gently lapping waves and ancient oaks beckoning you for a kayak ride, pier fishing session or amphitheater concert.
Two separate amenity complexes — RiverHouse and RiverClub — offer fitness, dining, social and recreational options, with pools, playgrounds, parks and trails galore. WaterSong also has its own exclusive, resort-style amenity center featuring a fitness center, social room, pool, hot tub, fire put, pickleball court, events lawn and more — plus a full-time activities director to lead the fun.
Within this gated, low-maintenance community, you can choose from thoughtfully designed villas or single-family homes. Our splendid variety of exterior styles and convenient features make everyday living more spacious, stylish and fun.
This award-winning community in Johnston County is located minutes from Raleigh, but still very much away from the urban bustle. Bordered by US Hwy 42, Buffalo Road, and the Neuse River in Clayton, this master-planned community was the first of its kind in Johnston County and was awarded North Carolina's Community of the Year in 2013 and 2014 by the North Carolina Home Builders Association.

Flowers Plantation now features more than 40 unique neighborhood developments, over 10 miles of walking trails, 50 acres of lakes and two elementary schools. When complete, the development will total nearly 7,800 lots with prices starting at $150K to over $600K. Wherever you are on your housing and life spectrum, Flowers Plantation has a place for you to call home.
"You don't need a car here. The streets are all golf-cart friendly," says Reid Stephenson, Flowers Plantation's Chief Executive. "You can get your kids to school, come home from work, enjoy our parks and recreation, and make convenient runs to the grocery store-all without leaving the community."

Living in Flowers Plantation is ideal for homeowners who want a comfortable, relaxing lifestyle.
Red Ledges – Utah's Premier Four-Season Community Minutes from Park City
Minutes from everything but miles from the grind, our 2,000 acres were designed from the ground up for better living. Amid a setting of snow-capped mountains and resplendent red rocks, you'll find inspiration, relaxation, and a community you can hold close.
Red Ledges' homes balance luxury and comfort to blend seamlessly into spectacular surroundings, and our award-winning amenities double as gathering spaces for friends and neighbors – here, those two are one and the same. Together, you can experience everything from world-class skiing to world-class dining to the simple opulence of a starry night.
Between our close-knit community of more than 300 homes and our two Jack Nicklaus Signature golf courses, Cliff Drysdale Tennis School, easy access to skiing at Deer Valley®, and a vibrant community club with thoughtfully curated activities, there's no shortage of places to go, people to meet, and things to do. Even better, our home sites and custom residences come in a range of specs and prices and are all perfectly located just minutes from Park City, Utah.
Amenities and Activities include:
The Village Center resort style pool
Poolside dining at the Village Center
The Red Ledges Clubhouse
Fine dining at the Juniper Grill
Two Jack Nicklaus Signature Golf Courses
Jim McLean Golf School
Cliff Drysdale Tennis Programs
Red Ledges Equestrian Center
Fitness Center and classes
Member activities led by Red Ledges Activities Director
Limited access to the Deer Crest Club and Stag Lodge at Deer Valley Resort®
Featuring views of the stunning Superstition Mountains, Montesa at Gold Canyon is the perfect place to stay active, make long-lasting friendships and enjoy the life you deserve. Much more than a place to live, Montesa offers a first-rate style of living, with resort amenities, a stunning natural landscape and premier homes.
Play pickle ball, bocce ball, shuffleboard and water volleyball with your new friends, exercise in our well-equipped fitness center, enjoy a game of billiards, or hit the tennis courts–there are so many ways to stay active. Our performing arts center and ballroom hosts a number of parties, dances, banquets and art classes for you to enjoy. On site professional management and activities staff are dedicated to ensure your satisfaction.
Montesa's homes combine state-of-the-art design with the finest construction. And now with rooftop party decks there are more ways to take in the beauty of these tranquil surroundings. Fill out the form below to learn more about this exciting place to live.


Legacy Homes by Bill Clark is the crown jewel in a long line of North Carolina home building history. As one of the Nation's "Top 100 Builders" for over a decade, the Legacy Homes division is a trusted partner in the Wilmington, NC region that spans four counties, and is a featured builder in many of the South's premier planned communities, such as Brunswick Forest, Bluffs on the Cape Fear, Compass Pointe, River Bluffs, Riverlights, St. James, Summerhouse, with more to come. The Legacy Homes' mission is to walk alongside each client as the dream of their new home becomes a reality… Best known for thoughtful floor plans, maximized living spaces, attention to detail, and custom trim work, any Legacy Home is destined to be a showstopper.
The goal at Legacy Homes is to make the homebuilding process as seamless for each client as possible. Whether choosing from one of the professionally designed available model homes or building from the ground up, a Legacy team member will be with you each step of the way. As a semi-custom builder, you will have the opportunity to create the dream home that fits perfectly with your lifestyle.
Plan your visit
Pack your suitcase! From ocean to mountain and everything in between, you'll find a gated community that's right for you below—but the search isn't complete until you've planned your visit. Many gated communities offer tours for newcomers and prospective buyers, so you can really get a feel for your neighborhood and the lifestyle that awaits you.
Request information for your selected communities.
Your Information Request for your selected properties