Exclusive Communities For Every Life Style
Most private communities feature a fully equipped and staffed entrance gatehouse. Many seniors looking for retirement options choose a gated community by prioritizing peace of mind in their next permanent living situation. Security measures and fees are generally all included when moving into this type of neighborhood. Even fully automated gates activated with code entry increase the prevention of non-resident traffic through the neighborhood, creating the quiet and safe street for which you are looking.
Prestige and Privacy for Seniors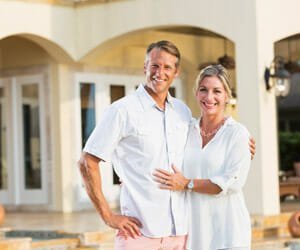 One potential drawback to a private community is the price that accompanies prestige. Residents may move to a gated neighborhood to escape mundane, standard suburbia. The privacy and exclusivity many retirees yearn for comes at a price slightly higher than that of the average retirement community home. However, the cost is well worth the included security, amenities, and maintenance of grounds if that is what you are after. For your residency, you are also granted access to your private community's swimming pools, tennis courts, golf courses, spas, equine and biking paths.
Some private communities do allow for multi-generational households but many are strictly for financially well-established couples. Since there are so many broad options of gated private communities, your exact match might require a little exploring. But hey, isn't that part of the fun?
Research and Explore Private Communities
Click to explore the following private communities. Request information from multiple communities by selecting the checkboxes to the right and completing the form below.
North Carolina has always been recognized for its natural diversity and gracious hospitality, which now has made it into an extremely popular retirement destination. Choices abound for a healthy, happy retirement setting, whether you want to relax on the beach or enjoy the great outdoors in our mountains or stay busy in a bustling city. The North Carolina Certified Retirement Community designation means a city has completed a comprehensive evaluation process with requirements outlined by the North Carolina General Assembly. These Certified Retirement Communities are recognized for providing the amenities, services and opportunities retirees need to enjoy active and productive lives.
LIVE SIMPLY, THINK BIG isn't just our tagline, it's our way of life. We aren't limited by
our size and neither are our dreams. Whether you want to spend your retirement volunteering,
spending time with friends or finally opening that small business you always dreamed of, you
can "Do What You Love in Reidsville"; Being "retired" doesn't mean you can't live out your
dreams, it means you now have the freedom to do it!
https://www.riseupreidsville.com/retire

Johnston County (JoCo) offers you more than you expect in retirement! Discover a blend of history, entertainment, dining, lodging, and outlet shopping, along with a generous helping of true southern hospitality. With a growing culinary and craft beverage scene, as well as revitalized downtowns, you don't have to travel far from home to find what you are looking for. The unique communities that make up JoCo have one thing in common–a relaxed atmosphere and friendly people.
https://www.johnstoncountync.org/retire-joco/

If you are looking to build or purchase in an exceptional mountain golf community, it's time to look closer at Rumbling Bald on Lake Lure. You will find a few choice, undeveloped properties within our community at pleasantly affordable prices along with several spectacular homes in a variety of settings. You can come today; enjoy our lake and golf, and choose the opportunity to live in a remarkable community.
https://rumblingbald.com/living-here

Nestled in the northern piedmont of North Carolina, a short commute from the Triangle and southern Virgina, Person County is home to rolling hills, farmers markets, lakes, and trails. With two beautiful wineries, live music venues, historic general stores, and Uptown Roxboro, Person County values its history and community while embracing the new. No matter what you choose, life in Person County is homegrown, just for you.
https://itsbetterinperson.com/
K. Hovnanian's® Four Seasons at Orlando is a 55+ community in Kissimmee, Florida. This active adult community is situated within the 600-acre Mystic Dunes Resort & Golf Club, offering a championship golf course, recreation, and an array of amenities and activities.
Residents of K. Hovnanian's® Four Seasons at Orlando enjoy exclusive amenities and resort-style living year-round. Planned amenities include a 12,000-square-foot clubhouse with swimming pool, fitness center, a card room, arts & crafts room and more. There are plenty of ways to stay active outdoors, with an abundance of sidewalks for walking,, tennis and pickleball courts.
This ideal location offers easy access to major roadways, shopping, dining, theme parks, and the entertainment attractions of Orlando. Everyday conveniences such as grocery stores, cafes, and healthcare facilities are just down the street in the prestigious town of Celebration. Homebuyers may select from 8 low-maintenance home designs with up to 2,328 square feet.
PGA Village Verano is a gated, new home community in Port St. Lucie, FL. This neighborhood features nineteen unique floorplans ranging from 2- to 4-Bedrooms and a wide range of personalization options.
PGA Village Verano's clubhouse, Club Talavera, is the centerpiece of the community. Residents enjoy access to resort-style amenities that include South Florida's largest, private Pickleball Center featuring 27 courts. The Talavera Fitness Center includes an Indoor Pool with Lap Lanes & Spa; Locker Rooms with Saunas; Cardio Studio; full strength training & cardio center; Tennis, Bocce and Basketball courts; and a resort-style outdoor pool with cabanas and sundeck. As the only master-planned, new home community affiliated with the PGA Golf Club, our residents enjoy golf cart access and special privileges to our award-winning neighbor. The Talavera Social Club is the perfect place to gather, and features Billiards & Card rooms, Lounge, Library, Demonstration Kitchen, Arts & Crafts Studio and Ballroom with Catering Kitchen. Our full-time Lifestyle Director keeps the social calendar full of activities and events.
Imagine for a minute you're visiting the private club community of Hampton Hall in Bluffton, SC. You've gotten over the awe of the dramatic and picturesque Lowcountry landscape, and you're starting to take in your surroundings. The first thing you're probably going to hear is laughter. Depending on where you're standing, it could be coming from the lakeside resort pool, or the Pete Dye golf course, or maybe one of the various dining venues. For while everything here is beautiful to look at and expertly maintained and cared for, the key component is fun and enjoyment.
We thought you should be prepared for that because, sure enough, the tennis pro will coax you on to the courts, or the threesome about to tee off will enlist you into completing their group. You see, the minute you pass through the gates at Hampton Hall, something changes. You are at once connected with this club and community. A place you may have never known existed, right up until the moment you fall in love with it.
We invite you inside the gates to tour Hampton Hall. Come see if you feel a connection with this Lowcountry private club community. Come see if Hampton Hall feels like home.
With 23 miles of sun-soaked shoreline and endless entertainment, Daytona Beach is a place where every day feels like an escape. Now you can claim a piece of paradise at Latitude Margaritaville-Daytona Beach, the 55-and-better community where fun and relaxation meet.
Just seven miles from the shore, Latitude Margaritaville-Daytona Beach is a master planned community that allows you to make the most of your time. Enjoy the cabanas at the expansive Paradise Pool, with a poolside bar and grill, or take the free shuttle to the private beach club, with front row seats to the Atlantic Ocean. At Latitude Town Center, you'll find the fully outfitted fitness center, a relaxed restaurant and bar, a theater, and a bandshell in the middle of the town square, where live music and dancing is a fixture of the night life. And just outside the community gates is a 200,000-square-foot retail space for all your shopping needs.
There are three different home collections at Latitude Margaritaville-Daytona Beach; the new construction, single-level cottages, villas, and single-family homes each come in a variety of floor plans to give you the space you're looking for. Villas and single-family homes come with a large lanai, where you have the option of installing a pool, whereas cottages have porches that can be screened in.
Life in Daytona Beach is as vibrant and fun as the residents at Latitude Margaritaville. The Daytona International Speedway keeps your adrenaline pumping, while the myriad of festivals, celebrating everything from art and music to motorcycles and Jeeps, create a real sense of community. At Latitude Margaritaville-Daytona Beach, life is easy, neighbors are friends, and the party never ends.
Las Vegas has become one of the most desirable spots in the country for 55+ living. Just 5 minutes from the Strip, Las Vegas Meadows is the perfect community for the active adult who doesn't want to slow down any time soon.
Despite being centrally located in a large city, Las Vegas Meadows is surprisingly peaceful, as it is tucked away on 42 gate-guarded acres. The remodeled and updated pre-owned homes include two to three bedrooms, depending on the layout, and start at about $20K. Inside, you'll enjoy an open living room layout, included appliances in excellent condition, and a walk-in shower. Outdoors, desert landscaping with an irrigation system, a new roof, and a covered carport leaves little for you to worry about. Additionally, home rentals are available from $895/month.
The affordable price tag belies the luxury community amenities at Las Vegas Meadows. A sparkling pool with covered patios and an indoor spa and sauna offer ample opportunity to recharge at the sleek clubhouse. Or work up a sweat in the gym or on the tennis or pickleball courts. An on-staff activities director ensures there's a full calendar of social and recreational events to fill your calendar.
Minutes away from Las Vegas Meadows, you can enjoy Michelin star restaurants, world-class entertainment, and easy access to McCarran International Airport. Should you find yourself yearning to get in touch with Mother Nature, you're only a short drive from Lake Meade, Red Rock Canyon National Conservation Area, and Sloan Canyon National Conservation Area.
With a year-round warm climate, favorable tax policies, and an active and vibrant community, it's easy to see why Las Vegas Meadows is a sure bet.
Request more information to discover if Las Vegas Meadows is the right community for your active 55+ lifestyle.
Also check out our other Thesman Communities:
Briarwood
Las Palmas
Las Palmas Grand
Las Vegas Meadows
Palmas Del Sol
Palmas Del Sol East
Sunrise Village
Village Green

Welcome to K. Hovnanian's® Four Seasons at Parkland, a new active adult 55+ community in South Florida offering 14 unique ranch-style home designs. Enjoy an all-inclusive, resort-at-home lifestyle with access to countless amenities and activities.
Residents can take advantage of the community's 24,000 sq-ft. clubhouse, fondly known as The Club, which features a state-of-the-art fitness center, multiple rooms for cards, billiards, and ping-pong, and full-size ballroom for events, complete with a catering kitchen.
Located in sunny Parkland, Florida, residents can also enjoy outdoor activities year-round. Take a dip in the tropical beach-entry pool or experience the heated spa. Get a great session of exercise on one of five lighted tennis courts and three pickleball courts. Plus, with a full-time lifestyle director on-site, there are always social events and outings so you can get to know your neighbors and enjoy the fun together. Experience the best of active adult 55+ living together with South Florida's natural beauty.
Kingfish Bay is resort-style community with a Caribbean flare located in the quaint coastal town of Calabash, NC. The development design meanders through 62 acres of natural waterfront property, creating a tropical-themed, private-gated community consisting of bungalow homes, cottages, courtyard homes, single-family homes, and custom homes.
Set along the banks of the Calabash River, approximately one-third of the property is maintained in its natural state. Relaxed Living comes naturally at Kingfish Bay with resort-style amenities designed to improve residents' overall quality of life. The private, gated community offers a scenic Waterfront Park on the Calabash River, access to the Oceanfront Clubhouse at nearby Sunset Beach, and a 5,000 square foot Community Center with Resort-style Pool, Spa, Fitness Center and more.
Kingfish Bay is located within walking distance of downtown Calabash, a delightful waterfront destination known as the "Seafood Capital of the World" for it's numerous casual-dining restaurants and boutique shopping.
Plan your visit
Pack your suitcase! From ocean to mountain and everything in between, you'll find a private community that's right for you below—but the search isn't complete until you've planned your visit. Many private communities offer tours for newcomers and prospective buyers, so you can really get a feel for your neighborhood and the lifestyle that awaits you.
Request information for your selected communities.
Your Information Request for your selected properties