Discover the Nation's Best Green Communities
For many adults approaching retirement age, environmental sustainability is a huge concern. Reducing your carbon footprint has never been more accessible, popular or cozier than taking up residence in a Green Retirement Community.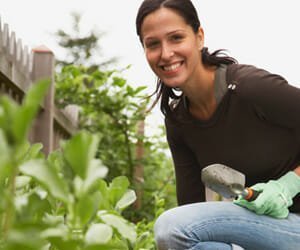 Sustainable Senior Housing
Energy-efficient lighting and power sources are standards when shopping for a Green Community in which to retire. A large majority of housing options run their electricity exclusively with solar, wind, or hydroelectric power. Since these specific neighborhoods are designed to have minimal environmental impact, geothermal power is commonly the source for the heating and cooling of the many community buildings.
Green Communities Offer Efficient Living Space
Many retirees looking to relocate are already in the market for a downsized living space, which is what many Green Communities encourage. With smaller individual homes and larger communal resources, these neighborhoods make it effortless to stay green after retirement. Some even offer and encourage co-housing of residents who would otherwise be living alone. This increases safety and close relationships amongst residents while simultaneously reducing the individual's environmental impact.
Environmental Awareness for your Retirement Community
You will probably not find a vast manicured golf course within your Green Community. Recently established retirement centers have all but eliminated this amenity in an effort to remove herbicides and synthetic fertilizers from their grounds maintenance routine as well as to reduce water usage. In lieu of an expansive lawn, most Green Communities have a community garden within close walking distance that fosters a greater sense of community and environmental accountability.
Transportation Within Green Communities
A major factor that makes a community "green" is its walkability. These retirement neighborhoods have attempted to essentially eradicate the presence of automobiles within the community by having central locations for the common areas. In these centered features is where residents can find group transportation options and all their recycling resources.
Research and Explore the Best Green Communities
Click to explore the following green communities. Request information from multiple communities by selecting the checkboxes to the right and completing the form below.
North Carolina has always been recognized for its natural diversity and gracious hospitality, which now has made it into an extremely popular retirement destination. Choices abound for a healthy, happy retirement setting, whether you want to relax on the beach or enjoy the great outdoors in our mountains or stay busy in a bustling city. The North Carolina Certified Retirement Community designation means a city has completed a comprehensive evaluation process with requirements outlined by the North Carolina General Assembly. These Certified Retirement Communities are recognized for providing the amenities, services and opportunities retirees need to enjoy active and productive lives.
LIVE SIMPLY, THINK BIG isn't just our tagline, it's our way of life. We aren't limited by
our size and neither are our dreams. Whether you want to spend your retirement volunteering,
spending time with friends or finally opening that small business you always dreamed of, you
can "Do What You Love in Reidsville"; Being "retired" doesn't mean you can't live out your
dreams, it means you now have the freedom to do it!
https://www.riseupreidsville.com/retire

Johnston County has become the first county in North Carolina to be designated a Retire NC destination. Johnston County's top retirement destination, Clayton, is located at the crossroads of I-95 and I-40. Experience rural small-town living, just 15 minutes from Downtown Raleigh. Retirees will find rural farmland and small town charm in and around the Research Triangle Park region. Find out more about the 55+ communities located in the Clayton area and visit us for a weekend to see what awaits you in retirement — local festivals, unique boutique shops, a little nightlife, good people, even better BBQ and quality built homes.
https://www.johnstoncountync.org/retire-joco/
Gated Riverfront Living, Boundless Joy in Nature
The Bluffs on the Cape Fear is a vibrant, master-planned community perched on a pristine stretch of the Cape Fear River. Just 15 minutes from the classic waterfront hometown of historic Wilmington, NC, The Bluffs is a private, coastal haven for the families who call it home.
The unique vision of The Bluffs is realized every day: natural woodlands and the unspoiled riverfront landscape are preserved and celebrated. Classically-styled coastal homes exist in harmony with lush woodlands, and the riverfront.
Our visionary developers created The Bluffs with access and abundance in mind. Accordingly, residents here enjoy a close-knit, active lifestyle with total access to the riverfront and an impressive collection of amenities. We invite you to experience the joy of our authentic riverfront community, The Bluffs on the Cape Fear, with our 3 day-2 night Discovery Package.
Amenity List:
– 50-Slip Marina with Scenic Boardwalk
– 2-Acre Riverfront Park with Boat & Kayak Launch
– Lakefront Clubhouse with Resort-Style Salt Water Pool
– Private Beach Club on Oak Island – with Full Ocean Access
– Winding Walking & Biking Trails
– Golf Cart Friendly Community
– Tennis & Pickleball Courts
– Fully-Stocked Lake
– Community Boat & RV Storage
– And soon, a New State-of-the-Art Fitness & Wellness Center

Port Ludlow is a resort-style community located on the shores of the Puget Sound, just a 30-minute ferry ride away from Seattle, Washington. Port Ludlow is close enough to the city, but far enough to enjoy an active and tranquil lifestyle. With views of the Olympic Mountains, a bustling social life, waterfront inn, and myriad of recreational amenities, the community has regularly been ranked as one of the top ten neighborhoods in the U.S.
Port Ludlow is home to a championship golf course that embraces the area's natural surroundings of lakes, streams, and evergreens and provides challenging play for all skill levels. Residents can enjoy the community's waterfront location at Port Ludlow's 300-slip Marina by taking a boat cruise, renting a kayak, or dining at the award-winning Fireside Restaurant. Two clubhouses provide fitness facilities, tennis and pickleball courts, swimming pools, and over 100 community clubs.
Residences in Port Ludlow include Craftsman-style beachfront homes, waterfront condos, and villas with golf course views. Currently, there are two new neighborhoods being built in Port Ludlow. Ludlow Cove Cottages and Olympic Terrace II.

Check out our 360 degree view of Port Ludow by clicking here!
Renowned for beautiful homes and unrivaled active and social amenities, On Top of the World in Ocala, FL, is truly a leader in creating quality lifestyles.
A world of opportunities to relax and enjoy life-while staying active with both body and mind-is waiting for you at On Top of the World.
Repeatedly named one of the best places in the country to live by Where to Retire magazine, this 13,000 acre master-planned community appeals to active adults looking for a fabulous lifestyle and well-designed, beautifully appointed homes. Surrounded by central Florida's celebrated horse country and crystal clear springs, On Top of the World is close to everything, yet far from the ordinary.
Here's a taste of what you'll find at On Top of the World:
• Concrete-block, energy-efficient home designs
• Several different communities and neighborhoods available featuring single family, maintenance-free and luxury estate homes, many with golf or preserve homesites
• Three, par-72 golf courses with PGA and LPGA professionals on staff
• Over 250,000 square feet of indoor and outdoor amenities
• Community Town Square with indoor entertainment venue, fitness center and lifelong learning programming at Master the Possibilities Education Center.
• And much more!
Welcome to Chattanooga! If you are looking for big city attractions and small town views, you have come to the right place. Chattanooga is tucked between mountains and the beautiful Tennessee river, which makes for breathtaking scenery to enjoy as you stroll down the Riverwalk. Or, if you are more interested in some indoor entertainment, visit the Tennessee Aquarium or one of our many history museums. Either way, you will see why we chose Chattanooga as the newest destination for Goodall Homes.
Chattanooga Area Communities:
• The Cottages at Brow Wood – Lookout Mountain, GA
• Westview Crossing – Chattanooga, TN
• The Highlands at Belleau Ridge – Ooltewah, TN
Arenal Hills nestles in a fertile valley surrounded by rainforest and rivers. Homes are designed to showcase the panoramic views and forested setting surrounding the Arenal volcano. Two clubhouses will host multiple dining options. And the Springs Resort nearby offers more.
Only the finest materials are used in Arenal Hills homes, whether it's the marble flooring imported from the mountains of Peru or the cascading two-story waterfall pools sculped by hand, Arenal Hills homes are designed to be instruments of timeless beauty for you and your family.
Owners of Arenal Hills homes are granted VIP access to the renowned Springs Resort and Spa, a world-class luxury resort located just a short drive away.
Arenal Hills stretches over 123 acres of magnificent volcano views that will leave you breathless. Stroll along the beautifully landscaped walking paths and you'll encounter world-class home designs, luxurious amenities, and a breathtaking landscape surrounded by the peaceful sounds of nature. Arenal Hills is specifically designed to make owning a vacation home, second home, or retiring to the paradise of Costa Rica affordable yet luxurious.
Eastman Community Association – Four Seasons Paradise
The Eastman Community Association in Grantham, NH is an ideal active-adult and retirement destination. It's also the perfect place to raise a family. Eastman is a sustainable, intergenerational community in the Dartmouth-Lake Sunapee Region of New Hampshire.
Ultimately, Eastman is a nature-lover's haven. Tucked away in the pristine woodlands of New Hampshire's Upper Connecticut River Valley, the Eastman Community Association encourages an active and connected lifestyle. Residents move to the rhythm of four distinct seasons. And, outdoor adventure is a central theme.
Just Add Amenities
Eastman is centrally located, but just remote enough. It's conveniently two hours north of Boston and three hours from Hartford. And, Lake Sunapee, New London, and Lebanon are just minutes away. As a result, residents have ample access to urban amenities. Cultural venues, medical facilities, as well as educational opportunities are all within reach.
New Hampshire's Grantham Mountain offers a picturesque backdrop to Eastman's 345-acre lake, and ample hiking trails. So, be sure to pack your boots!
Looking for more? Try 37 miles of cross country trails starting at the Eastman Cross Country Center. In summer, head to one of six beaches, kayak and canoe launches, or to the pool and fitness center year round. Eastman also boasts an 18-hole golf course, har-tru tennis courts and an award-winning restaurant as well.
Condos are available from $125,000 to $270,000. Eastman's single-family homes range from $130,000 to $1.5 million. (Prices are subject to change.)
At Black Creek, we're building a community that embraces all that's been forgotten about what defines a life well-lived.It's a special place where generations, connection and nature become one. Imagine access to 1000s of acres of protected land that's just footsteps from your door while living just 10 minutes from downtown Chattanooga, America's "Best City Ever" where shopping, dining, entertainment as well as top hospitals are quickly within reach.

The Black Creek experience starts with Black Creek Club-a private club including restaurant, bar, swimming pools, fitness center, and tennis. Here, you can gather together and make life long connections. Our 18hole golf course is the only course in TN ranked in Golfweek's Top 100 residential courses. If nature is your passion, take advantage of miles of nature trails through the surrounding mountains and paved pathways through the community, plus ponds for fishing. Just outside of Black Creek is Raccoon Mtn, perfect for biking, hiking and easy access to boat ramps on the TN River. We offer Home sites that complement the natural flow of the terrain and floor plans that are as diverse as the residents who live here. Experience Black Creek!
Plan your visit
You can research and learn about all sorts of mountain communities below—but don't let the choices overwhelm you. After you've selected some areas you're interested in, plan your visit as the next step! It'll help you narrow down your search to breathe the mountain air, see the views, and get a feel for the peaceful mountain lifestyle.
Request information for your selected communities.
Your Information Request for your selected properties