Oceanfront Communities
Living oceanfront is idyllic. Period. The sound of waves lapping against the shore from your porch, viewing the sunrise from the beach daily, and sand in your toes whenever you're in the mood, are just a few dreamy propositions that prompt people to buy in oceanfront communities.
Saying yes to those things is easy. Knowing your priorities beyond a daily dose of salt air is the next step.
Consider your needs:
Are you looking for a permanent residence or second home?
Do you want to live in the U.S. or the Caribbean?
Can you work from anywhere?
Are you retired and hoping to surround yourself with like-minded people?
Do you have a boat and need access to a marina?
Is proximity to family a priority?
Knowing what's important to you and your spouse is a great place to start your community search.
North to South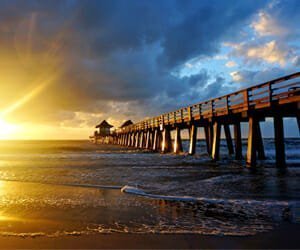 Before deciding exactly where you want to be, comparing tax information state-by-state is recommended. See our Choose Your Ideal Place Guide for more information.
Knowing the region you want to be in is a great place to start your search. While the most popular retirement destinations are in the southern U.S. and in the Caribbean, many choose to stay up north.
If you're in the market for a coastal community that offers four seasons and proximity to cities like NYC or Washington D.C., oceanfront communities near Rehoboth Beach, DE, and Cape Charles, VA are excellent options. Both boast a peaceful and vibrant oceanfront lifestyle.
For those planning to head south, the list of beachfront options is long. North Carolina, South Carolina, and Georgia host numerous oceanfront communities on the outskirts of cities like Wilmington, Charleston, Beaufort, Hilton Head, and Savannah. Every southern town has its own culture, just as every community has its own lifestyle. So, take your time exploring areas of interest before deciding which region is right for you.
If you know you want to live in a 55+ community, then Florida is a great place start looking. From the Gulf Coast to the Atlantic, oceanfront communities are plentiful. And, then, there's the Caribbean. Its magical, oceanfront destinations often seem entirely out of reach. But, in countries like Panama, Costa Rica, and Mexico, resort communities are abundant, and many are quite affordable. Check out our list of international communities for more information.
Research and Explore the Oceanfront Communities
Click to explore the following oceanfront communities. Request information from multiple communities by selecting the checkboxes to the right and completing the form below.
FEATURED
There is a place off the South Carolina coast, near the charming town of Beaufort, where nature and luxury share center stage. Shaped by the Intracoastal Waterway and a rich Southern history, the SC gated golf community of Dataw Island is a pristine parcel of 870 acres waiting to be discovered.
The Dataw Island Club is the perfect choice for you. Golf and Social memberships are available for island residents. If you live in the area and are interested in joining the club, call to find out about the special Country Club Membership incentives. For membership information call (843) 838-3838. Ask about their vacation memberships!
The Dataw Island Club has completed its two year renovation of their golf courses. The Cotton Dike course, designed by Tom Fazio, was completely renovated in 2011, and the Arthur Hills designed Morgan River course has also completed its renovation.
"Top 100 Amenity Communities" – ideal-LIVING Magazine
"Best in Value Golf Community" – Links Magazine
"Certified Audubon Cooperative Sanctuary" – The Audubon Cooperative Sanctuary Program for Golf Courses
Dataw Island is a luxurious and private residential golf community nestled in an unrivaled South Carolina landscape. Within the gates, there is 24-hour security. There's vibrancy there, a constant bustle of activity that reflects the area's rich wildlife and Dataw's collaborative culture. Residents can walk, bike or travel by golf cart to social gatherings, functions and meetings.
From deepwater slips that lead to blue waters to the manicured golf courses named for legends; from an indoor lap pool to a whirlpool spa; from tennis lessons to Spanish lessons, Dataw Island is humming with leisure. Start the day sunny side up in your Lowcountry residence. Uncover cozy, shaded nooks perfect for soaking in the coastal breeze. Join neighbors for a Yacht Club meeting or challenge friends to a game of croquet on the lawn. From a calendar of social events to thoughtful gathering spots woven throughout, Dataw Island's connected community is inspired by you.
Discovering the Dream
So, you've thoroughly considered your options and you're ready to explore regions of interest. Now for the fun part - discovery travel! Most oceanfront communities offer discovery packages that allow you and your spouse the opportunity to 'live like a resident'. This is by far the best way to ensure that a community is right for you.
Request information for your selected communities.
Your Information Request for your selected properties