Oceanfront Communities
Living oceanfront is idyllic. Period. The sound of waves lapping against the shore from your porch, viewing the sunrise from the beach daily, and sand in your toes whenever you're in the mood, are just a few dreamy propositions that prompt people to buy in oceanfront communities.
Saying yes to those things is easy. Knowing your priorities beyond a daily dose of salt air is the next step.
Consider your needs:
Are you looking for a permanent residence or second home?
Do you want to live in the U.S. or the Caribbean?
Can you work from anywhere?
Are you retired and hoping to surround yourself with like-minded people?
Do you have a boat and need access to a marina?
Is proximity to family a priority?
Knowing what's important to you and your spouse is a great place to start your community search.
North to South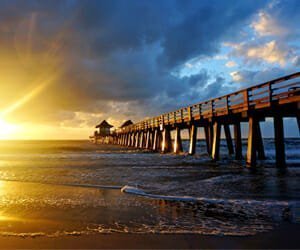 Before deciding exactly where you want to be, comparing tax information state-by-state is recommended. See our Choose Your Ideal Place Guide for more information.
Knowing the region you want to be in is a great place to start your search. While the most popular retirement destinations are in the southern U.S. and in the Caribbean, many choose to stay up north.
If you're in the market for a coastal community that offers four seasons and proximity to cities like NYC or Washington D.C., oceanfront communities near Rehoboth Beach, DE, and Cape Charles, VA are excellent options. Both boast a peaceful and vibrant oceanfront lifestyle.
For those planning to head south, the list of beachfront options is long. North Carolina, South Carolina, and Georgia host numerous oceanfront communities on the outskirts of cities like Wilmington, Charleston, Beaufort, Hilton Head, and Savannah. Every southern town has its own culture, just as every community has its own lifestyle. So, take your time exploring areas of interest before deciding which region is right for you.
If you know you want to live in a 55+ community, then Florida is a great place start looking. From the Gulf Coast to the Atlantic, oceanfront communities are plentiful. And, then, there's the Caribbean. Its magical, oceanfront destinations often seem entirely out of reach. But, in countries like Panama, Costa Rica, and Mexico, resort communities are abundant, and many are quite affordable. Check out our list of international communities for more information.
Research and Explore the Oceanfront Communities
Click to explore the following oceanfront communities. Request information from multiple communities by selecting the checkboxes to the right and completing the form below.
FEATURED
A Place to Call Home. Amelia National Golf & Country Club, a new home community in Fernandina Beach, FL, provides residents with some of the most sought after amenities. Manned, gated security, 18 holes of immaculate golf from master designer, Tom Fazio, practice facilities, brand new lighted tennis courts, fitness center with spa, and a charming French provincial county club featuring a resort-style pool are just a few of the amenities we offer.
Manned, Gated Security
Private Tom Fazio Golf Course
Low Initiation Fee
Practice Facilities & Pro Shop
On Staff Golf Pro
Use Your Own Golf Cart
Brand New Lighted Tennis Facility
On Staff Tennis Pro
Clubhouse with Full Bar and Dining
Community Pool with Hot Tub
State-of-the-Art Fitness Center & Spa
Homes with Golf & Preserve Views
Location, Location, Location
Amelia National's close proximity to Amelia Island, the Jacksonville International Airport and the beach make it a highly desirable location for those looking for new homes in Fernandina Beach. Some of the finest restaurants, shopping and attractions are just a short drive from your front door. If you are feeling a little more adventurous, the heart of Jacksonville, St. Augustine and Georgia are easily accessible because of Amelia National's convenient location just a few miles from interstate 95.
Homes that Meet Your Exact Needs
Luxury homes of grace, beauty and magnificent golf course views. ICI Homes has earned its reputation as Florida's Custom Home Builder by offering in-house architectural services so you can design your new custom home from scratch or from a favorite plan you've found. Or if you'd prefer, you can select from our extensive portfolio of award-winning floors plans, all of which can be totally customized to suit.
Because ICI Homes has built thousands of homes, from affordable villas to breathtaking mansions, ICI Homes benefits from a volume purchasing advantage that ensures your home is built with the best quality materials at the greatest value for your money. Building a brand-new, one-of-a-kind home easy and surprisingly affordable, with home/lot packages starting from the $300's.
Discovering the Dream
So, you've thoroughly considered your options and you're ready to explore regions of interest. Now for the fun part - discovery travel! Most oceanfront communities offer discovery packages that allow you and your spouse the opportunity to 'live like a resident'. This is by far the best way to ensure that a community is right for you.
Request information for your selected communities.
Your Information Request for your selected properties