Oceanfront Communities
Living oceanfront is idyllic. Period. The sound of waves lapping against the shore from your porch, viewing the sunrise from the beach daily, and sand in your toes whenever you're in the mood, are just a few dreamy propositions that prompt people to buy in oceanfront communities.
Saying yes to those things is easy. Knowing your priorities beyond a daily dose of salt air is the next step.
Consider your needs:
Are you looking for a permanent residence or second home?
Do you want to live in the U.S. or the Caribbean?
Can you work from anywhere?
Are you retired and hoping to surround yourself with like-minded people?
Do you have a boat and need access to a marina?
Is proximity to family a priority?
Knowing what's important to you and your spouse is a great place to start your community search.
North to South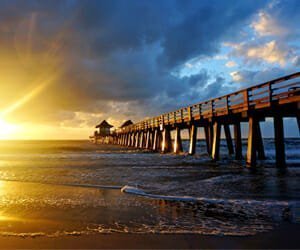 Before deciding exactly where you want to be, comparing tax information state-by-state is recommended. See our Choose Your Ideal Place Guide for more information.
Knowing the region you want to be in is a great place to start your search. While the most popular retirement destinations are in the southern U.S. and in the Caribbean, many choose to stay up north.
If you're in the market for a coastal community that offers four seasons and proximity to cities like NYC or Washington D.C., oceanfront communities near Rehoboth Beach, DE, and Cape Charles, VA are excellent options. Both boast a peaceful and vibrant oceanfront lifestyle.
For those planning to head south, the list of beachfront options is long. North Carolina, South Carolina, and Georgia host numerous oceanfront communities on the outskirts of cities like Wilmington, Charleston, Beaufort, Hilton Head, and Savannah. Every southern town has its own culture, just as every community has its own lifestyle. So, take your time exploring areas of interest before deciding which region is right for you.
If you know you want to live in a 55+ community, then Florida is a great place start looking. From the Gulf Coast to the Atlantic, oceanfront communities are plentiful. And, then, there's the Caribbean. Its magical, oceanfront destinations often seem entirely out of reach. But, in countries like Panama, Costa Rica, and Mexico, resort communities are abundant, and many are quite affordable. Check out our list of international communities for more information.
Research and Explore the Oceanfront Communities
Click to explore the following oceanfront communities. Request information from multiple communities by selecting the checkboxes to the right and completing the form below.
FEATURED
North Carolina Premier Home Builder – Logan Homes
Logan Homes offers 80+ beautiful home plans, endless personalization choices, quality craftsmanship, energy efficiency and innovation that will enhance your lifestyle – all for a very smart price.
Decades of experience, streamlined processes, regular communication with clients and a professional team ensures that projects are completed on time and on budget.
Dream Big. Build Smart. ®
Logan Homes has been creating dream homes since 1986, within a host of premier communities. That means building with them will be pleasant, straightforward and that you'll get the home of your dreams. It also means that not only can they build your home, but they can help you find the perfect homesite. Logan Homes knows the coast's premier communities inside and out, and they can show you all of it!
At Logan Homes, value is so much more than price. It's the intangibles…integrity, service, promises kept, getting more than you expected – like their Design Studio pros who can help you with all your home choices, and their Drafting Team that can personalize your plan for your homesite and offer exact pricing – on the spot!
When you choose Logan Homes, you've made a smart choice. And 'smart' means a lot to them: Energy efficient. Innovative designs. Incredible value. Proven processes.
And that's just the beginning. In fact, everything they call The Logan Difference adds up to what makes working with them smart. So dream big and build smart with Logan Homes!
Logan Homes is currently building in these communities:
Brunswick Forest (Leland, NC)
Compass Pointe (Leland, NC)
Salters Haven (Hampstead, NC)
Summerhouse on Everett Bay (Holly Ridge, NC)
St. James Plantation (Southport, NC)
Cottage Woods (St. James Plantation, NC) * Logan Homes Neighborhood
The Towns (St. James Plantation) * Logan Homes Neighborhood
Waterford of the Carolinas (Leland, NC)
Woodlands Grove at Echo Farms (Wilmington, NC)
Dataw Island (Beaufort, SC)
Osprey Lake (Hardeeville, SC) * Logan Homes Neighborhood
Hampton Hall (Bluffton, SC)
Hampton Lake (Bluffton, SC)
Discovering the Dream
So, you've thoroughly considered your options and you're ready to explore regions of interest. Now for the fun part - discovery travel! Most oceanfront communities offer discovery packages that allow you and your spouse the opportunity to 'live like a resident'. This is by far the best way to ensure that a community is right for you.
Request information for your selected communities.
Your Information Request for your selected properties