Using Tomatoes and Other September Gardening Tips
USING TOMATOES AND OTHER SEPTEMBER GARDENING TIPS
Leonard Perry, UVM Horticulturist
and Charlie Nardozzi, Garden Consultant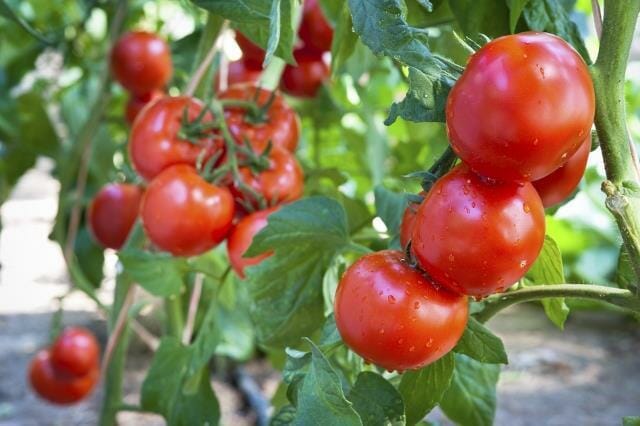 Making the most of ripe tomatoes, preparing for frost, and planting shrubs are some of the gardening activities for this month.
Don't let excess tomatoes go to waste. Plum tomatoes and cherry and grape minis dry fairly easily in the oven. Slice them in half lengthwise, set them on parchment paper on a baking sheet, and drizzle with olive oil and sea salt. Roast them in a 250-degree oven until they are no longer juicy. When cool, pack them in freezer bags.
If you are fortunate to have way too many tomatoes to eat, harvest them all before they spoil or the frost gets them, and make sauce. This is done most easily with a food strainer. Cut the tomatoes into large chunks, put them in the top funnel, turn the crank, and sauce comes out one end and the skins out the other. You then can heat the sauce to thicken it, adding garlic, onions, and herbs such as basil or oregano. Freeze it, and then you'll have an Italian sauce ready to go this fall for pasta dishes. Short on time now? Then just freeze the sauce, and cook with it later. Use containers made specially for freezing to ensure best quality and longevity.
With frost likely this month, prepare to cover plants at the last minute. Make sure the cover extends all the way to the ground to hold in the heat, and try to prop it above the foliage so the leaves don't freeze. Old shower curtains and sheets are handy for this as are light fabrics sold for frost protection, available at complete garden stores.
The sales are on. There's still plenty of time to plant trees and shrubs. Root growth will continue into late fall or early winter, and plants won't have the heat of spring or summer to dry them out. Be sure to water well at planting time, and every week until they go dormant.
If you don't have a spot ready for your new shrub or tree additions, or don't get to them this fall, sink the pots in empty garden space (such as the vegetable garden) — pot and all, and mulch with soil or compost (straw works if you don't have rodents). The roots will benefit from ground warmth, just as if they were planted.
If you haven't ordered spring-flowering bulbs for fall planting, such as daffodils and tulips, you can find these this month in many garden stores. If you have deer and other wildlife, think daffodils, as these won't be eaten by them. Daffodils require almost no further care, and will make up large clumps, rewarding you with years of welcoming spring blooms. Try some of the smaller "minor" bulbs too, such as the early snowdrops or late spring summer snowflake.
Gradually condition indoor plants that have spent the summer outdoors to lower light conditions. Move them to a shady spot outdoors for a week, then move them into the sunniest spot indoors for a couple of weeks before moving them to their permanent locations. Dunk them in soapy water to clean the foliage (a sink or bathtub is handy for this), and spray with insecticidal soap if insects are a problem.
Do houseplants need repotting? Now is a good time before bringing them inside. Look for roots coming out of drain holes, white salty fertilizer crust on the pot rim and soil, and lower soil levels in pots. Potting soil gets worn out, so plants should be repotted every year or two.
Other gardening activities for this month include washing and storing feeders after the hummingbirds migrate south early in the month, and visiting an apple farm.
Charlie Nardozzi is a nationally known horticulturist, author, gardening consultant, and garden coach (CharlieNardozzi.com). Distribution of this release is made possible by the University of Vermont, and New England Grows– a conference providing education for industry professionals and support for university outreach efforts in horticulture.
Explore Communities with Community Gardens
Receive your complimentary Relocation Bundle