Howl at the Moon Party on Bald Head Island!
By JASON Frye | Photography by JACK UPTON AND MILLIE HOLLOMAN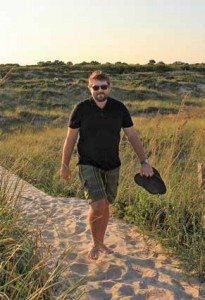 I'm an hour early when I show up for my first Howl at the Moon party. I've heard they're popular and I don't want to miss out on any of the action. A number of carts and bicycles are already parked around Beach Access 39 on East Beach, so I find a spot, back in and make my way to the beach.
Word spreads quickly on Bald Head Island, no matter if it's word of a party or a turtle nest boiling, and I wonder how many of these cart owners are here for the Howl—folks who got wind of a party that's a legend among residents, frequent visitors who plan their stays around the event, and the lucky vacationers who've found themselves in the right place at the right time.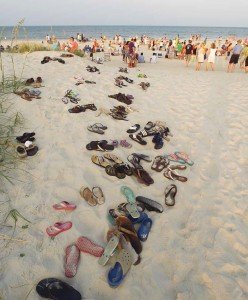 I find my answer when I see a small mountain of flip-flops forming on the slopes of the dune at the mouth of the beach access. I kick mine off, add them to the pile and step into the sand to join the fun, even if it hasn't officially started.
Howl at the Moon parties have become something of a phenomenon on Bald Head Island. For years, residents and property owners held sunset/moonrise get-togethers that floated from location to location, but in January 2011, these informal gatherings became official. While Maritime Market Café Chef Greg Guthrie was heading home in the light of the almost-full moon, inspiration struck. He called his father-in-law Claude Pope, owner of the Market, and said, "Let's have a party."
Less than 24 hours later, Chef Guthrie hauled a giant pot of chili onto the beach, the 42 original "Howlers" brought liquid refreshment and everyone shared. Huddled together on the windswept winter beach, they celebrated the sunset and howled when the moon rose.
Just like that, a tradition was born.
Today is perfect for a beach party. It's July 3rd and the island is bustling. For the 60-odd partygoers already on the beach—early, just like me—there's nothing but blue sky, warm water and knee-high waves. Jennifer Day and Nicole Dreyfuss, sisters-in-law from Ohio, have claimed a table and stand watching their families play on the beach. They've both kicked off their shoes and are exploring the sand with their toes.
"The thing we love about being on the island is that we really do unplug," Day says. "We make no plans while we're here. We wake up every morning and see where the day takes us."
Day and Dreyfuss clink their drinks together and laugh, glad that today took them to East Beach to Howl at the Moon.
As we talk, the party has grown around us. A couple-dozen more people have kicked their shoes onto the slopes of Mt. Sandal and spread out blankets and half-circles of chairs. An energy is building. When Chef Guthrie and the Maritime Market staff emerge with two giant kettles of soup and what look like canoe paddles to stir them with, the excitement level jumps up a notch.
In the space of a few minutes, people have started to arrive in earnest. Toddlers, teens, couples and families add their shoes to the pile. Kids sprint in every direction to explore the evening beach, some gravitate to the pair of caged turtle nests, some straight into the water, some to the kites set up down the beach, all with a parent or two in tow.
The party has grown to 100 before the sponsors can even set up their keg of beer, and from the looks of the stream of people pouring out of the beach access, there's no sign of the crowd shrinking any time soon.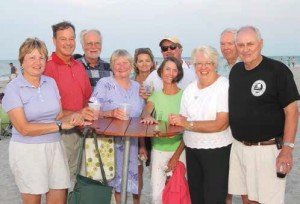 The Howl at the Moon parties go on every month of the year at the full moon and twice a month if you're lucky enough to be on Bald Head Island for a Blue Moon (go ahead and start planning now for the July 31, 2015 Blue Moon Howl, which promises to be a doozy). During the winter months, Howl parties draw smaller crowds (although never less than that inaugural 42), but during the summer, especially during the week of July 4th, the crowds swell to well over 500.
This crowd looks to be a record and I ask Claude Pope, the unofficial master of ceremonies, how many people he thinks are here. He surveys the crowd, somehow tallying them. "400," he says, "but don't stop counting yet."
Including the Popes, there are around 220 people who reside on Bald Head Island year-round. Of those full-timers, a contingent hasn't missed a Howl at the Moon party yet. John Fisher is one of the regular attendees and I find him with a group of full-timers. After I introduce myself, they treat me like long-lost family and talk over each other to tell me their stories about life on Bald Head Island.
"If you live out here, the party's mandatory," Fisher says with a smile.
"Even in the winter," someone adds.
"Especially in the winter," says Larry Lammert, former Mayor of Bald Head Island.
"That's when we're out here wrapped in parkas and ski masks and everyone is so bundled up you can't recognize them."
"All joking aside," says Fisher, "for us old-timers, this is just another excuse to get together and celebrate the place that drew us together."
"Besides," he continues, "there's nothing prettier than the moon in winter. Except maybe the moon tonight."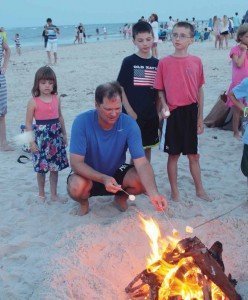 Fisher's lived on the island since 2005, but he first visited as a Boy Scout in the mid 1960s, so he's had plenty of opportunities to see the moon over the island.
"Camping here as a kid was one of the first times I felt a real connection to a place," he says. "When it was time to retire, my wife and I visited Bald Head and we both felt that connection. Now I live in a place I love, surrounded by great people and a beauty I can't describe."
We lift our glasses to Fisher's impromptu toast and all look skyward, first west, over the dunes where the sky is a brilliant yellow fading to deep blue overhead. Following the dome of the sky east, we find no moon yet, but a bank of clouds on the far horizon promises that when the moon does rise, and casts its first rays on us, it'll be through a veil of clouds.
I take my cue and move off through the crowd, where Claude catches my eye. He waves, opens his hands wide as if to show me the sea of people I'm standing in. He mouths "700" and gives me a thumbs up.
In the dunes, the mountains of shoes are higher than a Boy Scout's pup tent.
The moon's risen and is getting close to breaking free from the cloud cover when I stop to talk to Jay Walker and his teenage daughter, Katie. They're down from Roanoke Rapids, N.C., for a visit with his brother.
"We've been here a lot and I've seen a lot of moonrises on this island," he says, "but this party, it's something else."
Katie shifts on her blanket. "Will we…will people really howl?" she asks me, shyly.
Throughout the evening, I've heard the question asked more than once. Sometimes it's from children, but more often than not it's from adults, the people who most need to live in the moment, the very people who need to howl at the moon.
---
Receive your complimentary issue of ideal-LIVING print magazine