Ultimate Excursions: 2016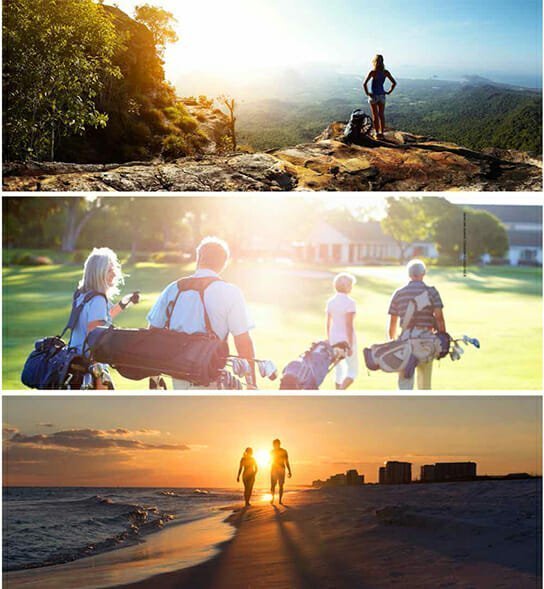 Ultimate Excursions
Spring is the season of renewal. All the signs are there: the weather is getting warmer every day, plants are sprouting green foliage, and birds are building nests for the arrival of the next generation.
So why not make this spring your season for a fresh start? You've been thinking about it all winter. The kids are grown and off to meet the challenges of their young lives. So there's no better time to answer the question: What's next for us?
Here at ideal-LIVING, our mission is to connect folks like you with communities dedicated to the adventure that life still holds. Some are located near cities with an array of cultural activities and professional services. Others offer a small-town lifestyle with modern conveniences in more rural locales. And another group features the chance to reside at a vacation destination by the seashore or high up in the mountains or even beyond the borders. What's right for you? Well, you can't know until you get out there and see for yourself.
That's why we've created this special "Ultimate Excursions" section. You can't make a big decision about the next chapter of your life from words in print or online promotions. 
You need to go there and get a first-hand feel for the place. Plan a trip this spring to the places that interest you the most.
And why not have some fun while you're at it? We've done the homework for you to find great spring events that are happening in popular areas and residential communities. We obviously couldn't include them all, but on the pages that follow there are festivals galore that feature the performing arts, music concerts, craft fairs, sporting events, and local cuisine. Pick one or more and plot a course to visit when those places are putting on a show for your enjoyment.
Then check out our "Venture Out" section—we've made it a pull-out so you can take it with you. Leading communities are rolling out the red carpet just this spring to give you the chance to check out the local lifestyle and available properties. Spend a weekend being treated like royalty and sampling the amenities. Meet folks like you who've made the move and get straight answers to your most important questions.
So get started today by planning your "Ultimate Excursion." Make this spring vacation an adventure of discovery and you may just return home with a good idea of where you're headed next.
[wc_row][wc_column size="one-third" position="first"]
[/wc_column][wc_column size="one-third" position="last"]
[/wc_column][/wc_row]
[wc_row][wc_column size="one-third" position="first"]
[/wc_column][wc_column size="one-third"]
[/wc_column][wc_column size="one-third" position="last"]
[/wc_column][/wc_row]
[wc_row][wc_column size="one-third" position="first"]
[/wc_column][wc_column size="one-third" position="last"]
[/wc_column][/wc_row]
[wc_row][wc_column size="one-third" position="first"]
[/wc_column][wc_column size="one-third"]
[/wc_column][wc_column size="one-third" position="last"]
[/wc_column][/wc_row]
Receive your complimentary Relocation Bundle