Custom, Semi-Custom, or Production Homes? Which is right for you?
Custom, Semi-Custom, or Production Homes? Which is right for you?
Home Builders Are Abuzz with Spring Activity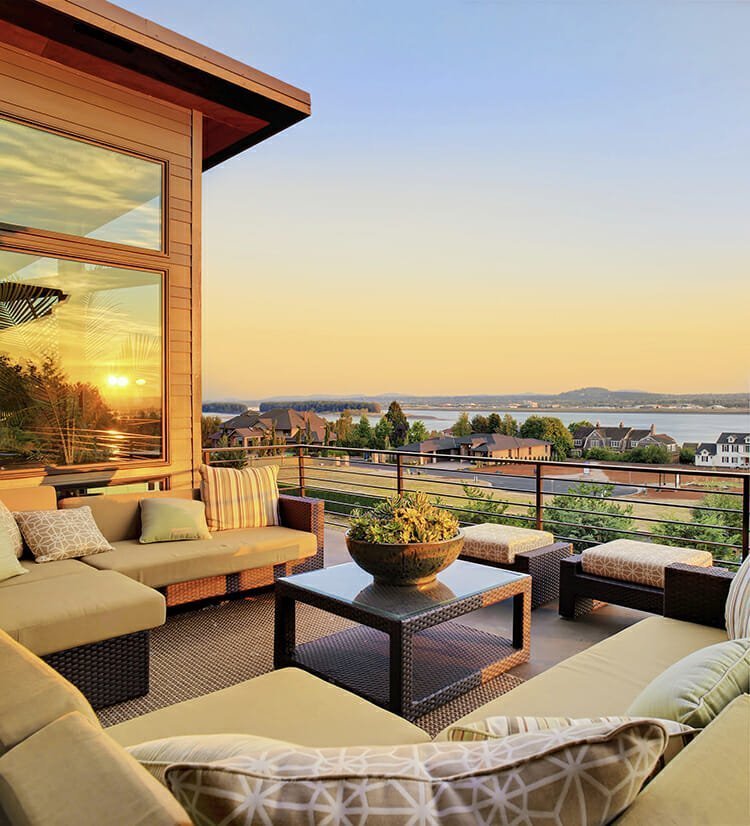 By Scott Kauffman
Despite a temperamental U.S. economy, America's residential construction professionals are busily building once again in 2016. Case in point is U.S. Department of Housing and Urban Development data released February 17th that shows privately-owned housing starts in January were at a seasonally-adjusted annualized rate of 1.099 million—a 1.8 percent gain from the previous year—and building permits jumped 13.5 percent from the previous year to 1.202 million.
Meanwhile, predictions from leading economists at NAHB (National Association of Home Builders), Fannie Mae, and the National Association of Realtors all point to 2016 being the seventh consecutive year of housing construction gains since the housing market crashed in 2009 with less than 600,000 housing starts. As for new home sales, NAHB is projecting a 20 percent-plus increase in transactions from 508,000 to 641,000.
To be sure, the peak spring homebuyer's season welcomes a plethora of new plans, fresh locations, and innovative choices. For the consumer, the options are endless—featuring everything from starter and move-up homes to age-restricted active-adult communities and ranch houses to modest two-story residences and multi-million-dollar Mediterranean-inspired mansions.
Whatever the construction case might be in your corner of the country, a few things are certain when it comes to home building in the coming year. Based on feedback from leading builders, future homes will continue to get increasingly smarter, more energy efficient, more colorful, and healthier.
Following is a look at the various construction trends, techniques, quality of products, and appointments many of the biggest builders are featuring from coast to coast.
'3D' Homes of
the Future
When it comes to investing in your 'dream home,' the multitude of choices and types of homes can be mind-boggling. Do you buy into a development principally comprised of production homes—arguably maximizing your value? Should you select a choice homesite and build the custom home you've always desired from scratch? Or, is the win-win situation buying into a semi-custom residence?
More homebuilders are trying to address that latter compromise by offering a wave of semi-custom, flexible floor plans and features. For instance, at the new Trilogy Orlando and Trilogy at Ocala Preserve master-planned communities in Central Florida, Shea Homes is rolling out the all-new Shea3D "YourPlans" Collection.
With Trilogy's new Shea 3D floor plans, homeowners have the opportunity to tweak their primary living spaces to perfectly match their own unique lifestyles. For instance, the interactive program gives homebuyers the option to choose the placement of their kitchen, as well as dining, entertainment, and outdoor areas by offering "Entertainment-centric, Kitchen-centric, and Outdoor-centric plans."
The patent-pending, open-space design plans come in three interchangeable configurations as if you were picking from an à la carte menu. More than blueprints, Shea's Your Plans concept allows buyers to "build" homes that will complement and enhance the way they live their lives—whether it's hosting a block-party wine tasting or having children or grandchildren over for a holiday dinner.
"Never before have homeowners had this level of choice," says Michael Fraley, area vice president for Central Florida. "You may have been able to add a few options or upgrades, but Shea3D gives you even more control. It's about creating a floor plan that naturally complements your life, and you can only find these options at Trilogy."
Trilogy at Ocala Preserve, which had a grand opening in February 2016 for its innovative new six-hole championship golf course designed by PGA Tour star golfer Tom Lehman and architect Tripp Davis, features five model home designs in the 623-acre development of rolling hills just minutes from the heart of Ocala, FL. Homes at Shea's two Trilogy 55-plus resort-style communities start in the high $180,000s.
Delaware Sings Gimme 'Schell-ter'
At Sawgrass North in popular Rehoboth Beach, DE, Schell Brothers area sales manager Gary Desch caters to an active-adult buyer looking for either a second home as an investment or a soon-to-be retired residence. According to Desch, many of his homebuyers are interested in single-level living, with the owner's suite on the first floor and lots of open space—large open kitchens and great rooms, storage, and outdoor living.
Schell says homebuyers are also very interested in energy efficiency, which is why Schell Brothers builds homes using "Schellter Advanced Building Science Technology." Desch notes Schellter technology, developed in collaboration with one of the top building science firms in the country, yields an extremely energy-efficient home that eliminates the health risks associated with homes and provides unparalleled durability, longevity, strength, and quality.
For instance, Schell Brothers is building a
stronger,longer lasting home by utilizing two by six exterior walls, advanced framing such as right-sized headers, California corners,ladder framing at wall intersections, and raised heel trusses.This minimizes the amount of wood and allows the builder
to ultimately increase the volume of things such as insulation and high-performance vinyl windows. Desch also points out his buyers value the ability to semi-customize their next homes.
"Our homebuyers are looking to personalize their homes," Desch adds, "which is why we offer extensive personalization options for all of our floor plans. For many of our homebuyers, they want this to be their last home, so they want to be able to have it all. We find our homebuyers want certain things in their home and they want to be able to make those decisions instead of having a cookie-cutter production type home where you cannot make any changes."
Some of the more commonly requested elements are attractive outdoor living components, including multi-level courtyards with water features, fireplaces, and fire pits, and entertainment options like wet bars and home theaters. Prices for Schell Brothers single-family homes range from the high $200,000s to the low $600,000s.
Shea Homes Gets 'Smarter' in Arizona
In a lot of the new residences being built by Shea Homes in their growing Arizona and Nevada markets, practicality is taking precedence. According to area president Hal Looney, the most popular home his company builds and sells in Arizona is a two-bedroom, two-bath home with a den and trademark "smart space."
Basically, what the company did was reengineer the traditional laundry room, because research shows the Baby Boomer/Empty Nester consumer wants two work spaces.
By removing a lot of wasted hallway space and shifting that surplus square footage into the laundry room area, the company can still deliver a similar size 2,000- to 2,500-sq.-ft. home but wind up with a greater his and her "smart space."
"We have a low work station and we have a high work station," Looney points out. "So you can have a hobby or craft going on up top, and then you have a low space for your computer. I've seen it where one of the members uses the room for model making, painting, or fly fishing and needed a space for his computer. And the lady of the home would have the den where she could day trade stocks, work on house bills, or communicate with friends through social media. It's the most popular plan right now and a real sweet spot for us."
Logan Homes Customizing Carolina Living
Logan Homes has been building luxury homes along southeastern North Carolina and the northern coast of South Carolina for 30 years. One of their more compelling new communities is Compass Pointe in Leland, NC, ideally situated about 10 minutes from downtown Wilmington and less than 30 minutes from beautiful Wrightsville Beach.
According to PJ Kelly, vice president of Logan Homes/Logan Real Estate, his homebuyers are mostly Baby Boomers seeking easy living open floor plans.
"They also want nice things in their homes," Kelly adds. "Cabinets and granite are a big thing, and moldings throughout the house, plus large screen porches with outdoor living like fire pits and grills."
Again, the Logan Homes customer increasingly desires semi-custom construction. "They do not want track houses," Kelly says. "They definitely want to personalize their houses. One advantage we have is our 8,000-square-foot Design Studio. They can actually see and touch everything that goes into their home."
Logan Homes range in price from the $300,000s to $700,000s. "Our sweet spot is $450 to $550," Kelly adds about pricing. "Customers can get a very nice home in this range and personalize it to their taste. They truly feel they are getting a custom home."
Production Builder Mint-ing Lux Florida Lifestyle
Though Minto Communities might be considered a production builder, you'd never know it by their many extraordinary resort-style developments throughout Florida. From Daytona Beach to Orlando, and Tampa Bay to as far south as Naples, Minto Communities' consumers and, consequently Minto's homes, pay close attention to the design and livability of the home.
"We plan our communities with a great deal of open space and lakes, and our home designs incorporate the outdoor spaces to take advantage of these beautiful views," says Florida president Mike Belmont. "This allows our homeowners to enjoy the beautiful Florida weather and natural environment. Upgraded flooring throughout the home, kitchen cabinets, counter tops and pools also have been very important to our buyers."
Depending on the market area and type of home, Minto house pricing ranges from $198,000 to $250,000 at LakePark in Port St. Lucie on the east coast of Florida, or $198,000 to 300,000 in Sun City Center located between Tampa and Sarasota on Florida's west coast. For the company's elegant new coastal architectural homes at Isles of Collier Preserve in Naples, pricing starts at $370,000 and goes up to more than $800,000 for popular floor plans that range in size from 2,390 to 2,933 square feet.
"What makes Minto a market leader is that we focus on our stylish and fresh architectural elevations, livability, and floor plans, while offering a wide selection of optional features to personalize Minto homes," Belmont says. "Our optional features include both structural and interior enhancements. We also offer a variety of products and square footage choices to match various lifestyles. We offer paired villas, coach home condominiums and single family detached homes that range from 1,800 to 4,000 square feet. Because of our vast array of offerings, the Minto customer experience feels more like they are purchasing a semi-custom home."
Virginia's for Lovers and 'Everything's Included' with Lennar Homes
Lennar Corporation is building a broad spectrum of housing products in Virginia, starting with condos and townhomes in the low to mid-$200,000s to age-restricted Colonial Heritage in Williamsburg, where homes range in price from the upper $200s to the mid-$500s to luxurious million-dollar-plus country estate homes in the Conservancy at Martin's Chase outside of Washington D.C.
Naturally, Lennar's Northern Virginia market applies more to working families due to its proximity to the nation's capital, while Colonial Heritage caters to that active retiree seeking an opportunity to live the resort lifestyle within the gates of a community minutes from a destination location noted for its history and endless attractions.
According to Lennar Corporation marketing specialist Allison Landry, Lennar's active-adult buyers are gravitating toward large spreads of hardwoods, top-shelf cooking environments, and tiled master baths with larger super showers. Overall, Lennar is increasingly building homes in Virginia that highlight center kitchen plans, top-grade cooking appliances, granite countertops, and upscale lighting.
"We have found lifestyle-based architecture to be important, meaning more office space, additional areas for mobile charging stations, and information technology hubs," Landry adds. "Master baths are trending toward super showers offering immense space for the active adult. No longer popular are the soaking tubs."
One thing contributing to the company's success throughout Virginia is the "Everything᾿s Included" program. As Landry describes it, customers benefit from this program by enjoying the simplicity of buying a home without having to haggle or compromise on some of the most desired features because they᾿re already included for the most part.
For instance, director of sales and marketing Benjamin Shively adds that Lennar is building energy-efficient homes that feature "modern floor plans harnessing the latest in building products and adhering to our (Everything's Included) platform by including sought-after features and not over-charging for insignificant options."
Del Webb Delivers ' Inspired Design' Homes
While home design has remained somewhat static in the last decade or two, Del Webb recognizes their active adult consumers are as dynamic as ever. That opportunity has challenged the company with constructing not just new home styles, but creating a whole new style of living.
That's what Baby Boomers receive, for example, when they buy into Del Webb Charleston, a fully amenitized resort-style development that stretches across 360 acres within the lovely Lowcountry community known as Cane Bay Plantation. As Del Webb describes it, their homes are built with quality materials and modern must-haves like flowing, flexible living spaces and a wide range of new standard features and options.
That includes things like generous kitchen islands, options for master suites with mini-master bedrooms to ensure everyone gets a good night's sleep, and interior designs that maximize natural light.
Whether it's a production home for the ease and cost-effective nature, a semi-custom that allows you to make choices without being overwhelmed, or a custom home that only is limited by imagination and budget, you are sure to find a home that is within your means.
Receive your complimentary Relocation Bundle