10 Walkable Towns - Explore These Southern Communities.
Top 10 Walkable Southern Towns by Emily Colin.

What does it mean for a town or city to be 'walkable?' Clearly, pedestrians need to be able to walk from one place to the next-there needs to be sidewalks and crosswalks, stoplights and signs. But walkability is about much more than infrastructure. It's about creating a sense of community-the idea that there is someplace worth walking to, and people that you'd like to see when you get there. In a truly walkable town or city, you can satisfy a wide variety of needs within 15 minutes on foot. You can buy food, take in a play or a show, shop, and enjoy a green space such as a public park or trail. And while you're doing all of this, you can connect with others who share your interests, even if it's as simple as waving or saying 'hello.'
From Millennials to retirees, we're experiencing a tremendous uptick in the number of folks who place a high value on living in walkable communities. In part, this is because of the many health benefits that walking has to offer; in part, it's because of the expense and inconvenience inherent in traveling by car. Beyond these tangible benefits, though, walkable communities have a sense of vibrancy, life, and charisma that is tremendously appealing. Traveling on foot, you notice things you might not have otherwise-an architectural detail here, a hidden alleyway, a used bookstore or a cozy coffee shop there. You take your time, appreciating what's around you rather than rushing from one activity to the next, living in the moment.
Each of these 10 Southern cities and towns has a distinct personality-from quirky Asheville to stately Charleston-but they all have one thing in common: you can navigate them on foot, and what's more, you'll want to. Happy walking.
Charleston, SC
Travel + Leisure magazine just named Charleston the top city to visit in the world-and why not? Between its Southern charm, meticulously-preserved historic homes, beautiful harbor, thriving arts community, and burgeoning foodie scene, Charleston is a place that honors its past while embracing the future. Downtown is a pedestrian's paradise, from shopping on King Street-home to the Design, Fashion and Antique Districts-to strolling along Museum Mile. Architectural enthusiasts will find much to appreciate on The Battery and East Bay Street, Rainbow Row, and the French Quarter. Relax at scenic Waterfront Park, with its iconic pineapple fountain, stroll through historic City Market, and then grab a bite at one of the many restaurants-you really can't go wrong. Slightly North of Broad, FIG, and Husk are some of the best, and Kaminsky's desserts are to die for. Cap off the night with a show at Dock Street Theatre.
---
Asheville, NC

If healthy living, arts and culture, locally sourced food, and a little bit of quirkiness set your heart a-flutter, Asheville is the place for you. Located in western North Carolina's Blue Ridge Mountains, Asheville's nod to a history museum is their Urban Trail, a 1.7-mile, 30-station scavenger hunt that gives visitors a glimpse into the city's past. Be sure to browse Malaprop's Bookstore, or, if you prefer a glass of fine wine with your secondhand paperbacks, check out Battery Park Book Exchange and Champagne Bar. Culture buffs will appreciate Asheville Community Theatre, the Asheville Art Museum, and Colburn Earth Science Museum. A short drive away, you'll find all the adventure you could ask for-zip lining, white water rafting, hiking, mountain climbing, and more. Shop at the Grove Arcade, or eat your heart out at the Over Easy Cafe, Bouchon, Farm Burger Asheville, or the French Broad Chocolate Lounge.
Wilmington, NC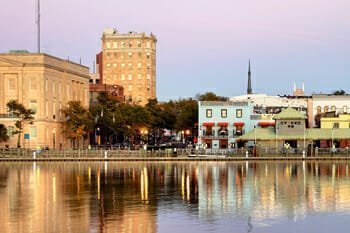 Wilmington was voted Best American Riverfront in USA TODAY's 10 Best Readers' Choice Contest 2016-and small wonder. Front Street, downtown's main thoroughfare, is jam-packed with restaurants, boutiques, art galleries, and entertainment venues. Within a few blocks you'll find historic Thalian Hall, a beautifully-renovated venue that hosts musicals, plays, and films year-round; City Stage, an assortment of comedy clubs and music venues; and the Wilson Center at Cape Fear Community College, home to touring Broadway shows. History buffs will find plenty to satisfy, from the Bellamy Mansion and Burgwin-Wright House to the restored homes and cottages that line the shaded streets. Start your day with breakfast at the Dixie Grill, eat light with tapas at Circa 1922, stroll along the riverwalk, and wind down at Le Catalan French Café and Wine Bar, where you can savor chocolate mousse and a bottle of wine while watching ships pass down the Cape Fear River.
St. Augustine, FL

Ponce de Leon made St. Augustine famous, and it claims the distinction of "the oldest city in the U.S." Located on northeast Florida's First Coast, St. Augustine has a thriving historic district, complete with cobblestone streets, bed and breakfasts, pubs, eateries, and plenty of places to shop. In April 2016, About.com's AboutTravel named it Florida's most walkable city. Bustling St. George Street, located in the center of the historic district, is for pedestrians only-no cars allowed. In search of something more low-key? Try historic Saint Aviles Street. Downtown hosts the Castillo de San Marcos, a walk-in park and fortress that's stood since 1672. Occupying two acres in the heart of the historic district, The Colonial Quarter brings days gone by to life. Other attractions include Ponce de Leon's Fountain of Youth Archaeological Park, the Limelight Theatre, and the delectable food at The Floridian and the Spanish Bakery and Café.
Greenville, SC

There's a reason that National Geographic named Greenville as one of its top 20 "Must See" places in 2016-and it's probably the same reason that the New York Times called it "a national model for a pedestrian-friendly city center." Just an hour's drive from Asheville, NC, Greenville's downtown is an alluring blend of public art, delectable food-don't miss The Trappe Door and the Tupelo Honey Café-unique shops, and green space. Just a few short blocks from Main Street, you'll find Falls Park, home to a waterfall that's nearly 40 feet tall, the pedestrian-only Liberty Bridge, and the Reedy River. Along the river runs Swamp Rabbit Trail, an old railroad bed transformed into a 21-mile greenway for pedestrians and cyclists. Downtown is also home to the Greenville County Museum of Art, Greenville Little Theatre, the Carolina Ballet Theatre, and the Peace Center for the Performing Arts.
Savannah, GA

With the country's largest Historic Landmark District, Savannah has earned its badge as a pedestrian-friendly city. It's organized around 22 squares, where passersby can sit a spell in the shade of giant, moss-hung oaks-but when you're ready to get up, there's no shortage of things to do. Home to the Savannah College of Art and Design (SCAD), downtown has over 18 historic house museums that are open to the public, including Flannery O'Connor's childhood home. River Street, which meanders along the Savannah River, features former cotton warehouses that house a plethora of places to eat, shop, and browse. You'll find boutiques, galleries, the treasure-filled Paris Market and Brocante, and The Lucas Theatre on Broughton Street-as well as Leopold's Ice Cream, known for its marble soda fountain. Don't-miss eateries include Ms. Wilkes' Dining Room and The Olde Pink House, both Zagat-rated as Savannah's Best Southern Restaurants.
Fernandina Beach, FL

Located on Amelia Island, a barrier island off northeast Florida's Atlantic Coast, Fernandina Beach's National Register Historic District spans over 50 blocks and boasts over 400 buildings. It's home to The Florida House Inn-the oldest hotel in the state of Florida-as well as the Palace Saloon, the state's oldest continually operating drinking establishment. The main drag, Centre Street, features two pocket parks where you can take in the sounds of local musicians after you've gotten your fill of browsing the historic district's many antique shops, boutiques, and galleries. Storytelling aficionados will get a kick out of the Amelia Island Museum of History, the first spoken history museum in the state of Florida. Dining hot spots include the Crab Trap, David's Restaurant and Lounge, The Happy Tomato Courtyard Café and BBQ, and Le Clos, a 1906 cottage where you can savor French cuisine by candlelight.
Sarasota, FL

In June 2016, TopRetirements.com rated Sarasota the country's ultimate city for retirees, booting Asheville out of the top spot for the first time since 2007. John Ringling of Ringling Bros' fame played a key role in developing the city, and his family mansion, Cà d'Zan, still stands today. The heart of downtown Sarasota is Five Points, where Main Street, Pineapple Avenue, and Central Avenue come together. Nearby Palm Avenue is home to a variety of art galleries and antique stores, and there's great shopping to be had on Main Street, 1st Street, and Palm. Get your fill of drama and song at The Florida Studio Theatre and the Sarasota Opera House. Just a short drive away, you'll find The John and Mable Ringling Museum of Art and the Marietta Museum of Art and Whimsy. Sample Peruvian food at Selva, taste fresh-caught seafood at Owen's Fish Camp, or go local at MADE restaurant, winner of several "best of" awards.
Athens, GA

Athens is widely known for its incredible music scene-it was the birthplace of the band REM, hosts several annual festivals, and offers a self-guided, 28-stop music walking tour. But this is not all it has to offer. Forbes highlighted Athens in its "Best Places to Retire" in 2015 and 2016, and Money Magazine has also recognized it as a "Best Place to Retire." With its restaurants, shops, boutiques, and galleries, downtown Athens is very pedestrian-friendly. Culture buffs will flock to the Georgia Theatre, located in the heart of downtown, and Morton Theatre, a performance arts space that began its life as one of America's first African-American-built, owned, and operated vaudeville theaters. Don't miss The Tree that Owns Itself, an oak that can lay legal claim to the ground on which it stands. Foodies surrender to temptation at Creature Comforts Brewing Company, Big City Bread Café, Last Resort Grill, Clocked, and Weaver D's.
Beaufort, SC

Charming Beaufort, SC, pronounced 'Bu-fort', is home to a thriving historic downtown district and a beautiful waterfront. Southern Living named Beaufort a "small town we love," and in 2013, Coastal Living Magazine ranked it as #1 among America's Happiest Seaside Towns. It's not hard to see why-Beaufort embodies the relaxed spirit, coastal vibe, and Southern hospitality that defines the Lowcountry. Wander along the downtown waterfront, shop for antiques at Lagniappe Lowcountry, browse at McIntosh Book Shop, or find the perfect piece of art at Salt Gallery. In the mood for adventure? Take a walking history tour, rent a kayak, or check out the dolphins and the salt marsh with one of Captain Dick's River Tours. Once you're back on land, grab a bite at Magnolia Bakery Café, Panini's on the Waterfront, Q on the Bay, or Saltus River Grill, a contemporary seafood restaurant with a stunning view of the Intracoastal Waterway.
Previously published in the 2016 Fall issue.
Click to explore the following hiking and walking communities. Request information from multiple communities by selecting the checkboxes to the right and completing the form below.
Carolina Colours brings to life the very best of small Carolina towns-past, present and future. A mere 30 minutes from the Atlantic Ocean, the waters of the Trent and Neuse Rivers converge to surround the vibrant waterfront town of New Bern, NC. Community amenities include the 25+-acre Carolina Lake, a Harris Teeter grocery, parks, trails and sidewalks, an Activity Campus with golf, fitness, tennis, swimming, pickleball and-for those quiet moments-rocking chairs.
Located in New Bern, NC, perhaps North Carolina's most desired small town retirement destination for the past 25 years, CAROLINA COLOURS offers a variety of living environments and lifestyle choices. While typical homesites are of a size that many modern communities consider over sized, these half acre and larger sites have proven popular and have allowed numerous custom homes to be constructed, giving the core of the community an eclectic but attractive architectural composition, with trees abundant.
With quality custom builders ready to help you design and build on any homesite you purchase and with three regional/national builders constructing dozens of homes for sale that will be ready for occupancy in the summer of 2022, your choices of location within the community are varied. Carolina Colours Realty, located on-site, sells only new and resale properties within Carolina Colours and is staffed with agents that know all there is to know about the many properties and activities within the community and the New Bern area. In this period of high inflation, Carolina Colours still provides one of the best values in the coastal plain of North Carolina for those that want an attractive, planned community with numerous amenities and activities to fit any lifestyle. And for golfers, the Carolina Colours course is widely considered the premier layout in the region.
The Carolina Colours Golf Course has been very well received. The course is considered by many one of the most attractive and fairest tests of golf in the region, with six teeing alternatives allowing players from scratch golfers to beginners the proper challenge, with sufficient variety for those that play four times a week. Unlike many new courses that create a setting, the Carolina Colours course, designed by Bill Love, the long time chairman of the environmental committee of the National Association of Golf Course Architects, fits into a wooded, rolling landscape as though it belongs. Even non-golfers love to ride or walk its paths.
What sets Carolina Colours apart, however, is its incredible sense of community. From Friday night gatherings for drink and food at the Pavilion, the 16,000-square-foot community clubhouse, to seemingly endless scheduled activities, both active and passive, neighborhood gatherings, walking and biking, organized trips and more, the community welcomes newcomers with a smile and an open invitation to join with others as frequently as one desires.
New Bern, North Carolina's first capital city, has its historical districts and quaint shopping areas right downtown, where the Neuse and Trent rivers converge, giving many an Annapolis feel. With abundant local marinas and the Intracoastal Waterway and Atlantic Ocean only about 30 miles away, water activities abound. And with a commercial airport and close proximity to major highways, New Bern is easy to get to. Once there, the quality of medical care and the numerous regional cultural and festival type events allows for a life that can be as active or inactive as suits any chosen lifestyle.
Request information for your selected communities.
Your Information Request for your selected properties