On The Move — Just Around the Corner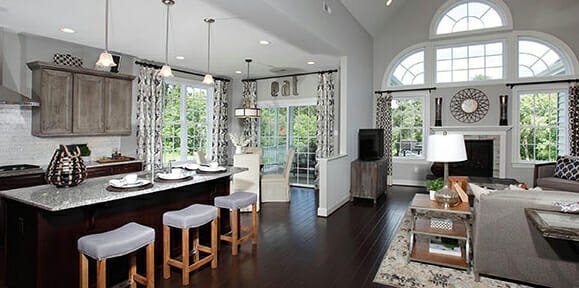 "We really feel we made the right choice to join the Traditions of America family in Mechanicsburg, PA. It was truly the people in the area that won us over."
By Kelly Godbey
Karen and William Taylor, like many others, began their search at an ideal-LIVING Resort & 
Retirement Expo. Two years ago, they began their search at the Bridgewater, NJ, Expo. They started receiving the magazine and saw Traditions of America in the Choose Your Ideal Place guide. They were considering Delaware, North Carolina, and Virginia in their search and had visited several communities prior to deciding on Traditions of America in Mechanicsburg, PA.
With many people fleeing the cold weather, the Taylors found refuge in Pennsylvania in the massive blizzard that pounded the Northeast in early January 2016. Although it doesn't normally snow that much in the area, the snow was not a deterrent. The Taylors spent five days snowed in only to find a new home and way of life. They plan to relocate in mid-October.
"It was a wonderful experience. The people were so welcoming, and everyone made sure we were comfortable," Karen says. "The staff made sure we had everything we needed. Different residents that we had met on Friday night invited us over for lunch or for dinner. They brought us into their homes and told us things that they liked about their homes and things they would do differently.
"We thought we would go for warmer weather," she points out, "but then we learned of the lower taxes and considered how we could be closer to our five grandchildren.
"My husband and I were able to retire early," Karen says. "I'm 55 and am a one-year cancer survivor. We both worked very demanding jobs—my husband worked over 34 years with UPS and I worked at a local university for over 30 years. It was time to do something great for us at this point in our lives. Tomorrow is not promised to you. We didn't want to wait any longer to enjoy the rest of our lives. We're looking forward to our future at Traditions.
"We didn't want to just buy a house somewhere," she continues. "We wanted to buy a lifestyle. It doesn't matter what walk of life you came from; everyone is one big community that supports each other. There are lots of activities and things to do, like going to the local farmer's markets. They have a clubhouse and pool, there are health facilities very close by, and Hershey Park is nearby so we can take the grandkids when they come to visit.
"I'm surprised that I passed it over in our initial search," Karen concludes. "Pennsylvania offers a whole lot more than we had ever imagined."
---
Receive your complimentary Relocation Bundle