June's Top Amenity – Pools!
June's Top Amenity — Pools!
By Bethany Mccammon Tap
Summer is here! It's sunny and hot. Sometimes, on those real humid days, all you want to do is relax and cool down. Where better to relax than a pool? And what better way to stay cool and keep fit than swimming?
Swimming is not only fun, but it's also one of the best low-impact exercises. That means that you can get a high-quality cardiovascular workout with minimal stress on your joints. You may not even be an exceptional swimmer; it doesn't matter. There are wonderful benefits to swimming even just 30 minutes a day.
One of the best things about living in a community is that most of them have pools. Whether they are indoor lap pools like CantaMia at Estrella, outdoor lap pools featured at Trilogy at Monarch Dunes, pools to play in Bonita Isles, lagoon pools Soleil Laurel Canyon, or resort-style swimming pools, many communities offer the amenity of a pool, one of the major perks of living in a community. Communities such as Minto Sun City Center (pictured above left) in Florida, have ten indoor and outdoor pools for residents to enjoy.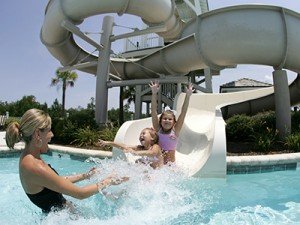 At Savannah Quarters in Georgia, you'll find the Swim and Fitness Center, the largest complex of its kind along most of the southeastern coast. It has two interconnected swimming pools—one junior Olympic lap pool, and a second pool with a towering waterslide (pictured right). Complexes like this show that pools are not only places to work out, but places to relax and even socialize.
Pools allow people of all ages to get together and enjoy swimming, splashing, and playing, or just lying in the sun on the patio. Places like Grande Vista Bay in Rockwood, Tennessee offer lovely patios and decks that make their pools even more appealing places to just hang out (pictured bottom left).
Other communities such as Kiawah Island have special wading pools just for children. So parents and grandparents can relax and chat, knowing that the kids are in shallow water and safe.
There's so much fun that can be had at a community pool. The convenience factor alone makes it worth it. You don't have to join a gym to swim and get a great workout. You also don't have to travel far to have an active social life. Want to throw a party? Why not have an event catered at the pool? Some communities, such as Kiawah Island, even have poolside restaurants.
If you live in a community with a pool, every day can feel like a mini-vacation. When you come home from work or get done working in the garden, the pool is waiting there for you. Many communities, including Trilogy at Monarch Dunes, not only have a pool, but a spa as well, allowing residents to relax even more.
With summer in full swing, you're not going to want to miss a day at the pool. Sit back and relax in the sun, or get fit so you'll look great in that bikini. Whatever you do, make sure to stay cool and enjoy.
Request More Information from these Pool Communities:
Receive your complimentary Relocation Bundle