Ideal Destinations New Hampshire 2016
Home of the Free: 35 reasons to visit New Hampshire
By Jamie Penn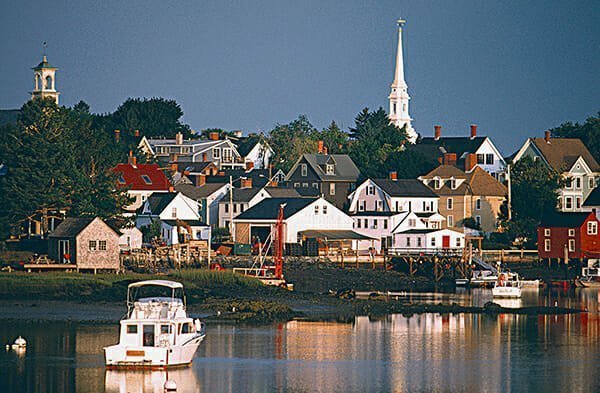 True to their state motto, "Live Free or Die," New Hampshirites aren't known to put on airs. And the beauty of it is that they don't have to. The charm of New Hampshire is that it's everything most people could want in a state, but there's not a whole lot of bragging about it. It's quietly breathtaking, simultaneously quaint and progressive, and historically 'what you see is what you get.' New Hampshire is Popeye meets Leonardo DiCaprio. It is what it is with an elegant, hip, wholesome twist.
New Hampshire is easy on the eyes in the most arresting ways at various times of the year. Landscapes vary capriciously across its 9,350 miles—from the sandy 'Seacoast' in the coastal lowlands of the eastern shore and Gaelic green pastures in the Eastern New England Upland to the towering rock face of Cannon Mountain in the northern White Mountains region, all this variation comes with a wide range of must-sees.


Here are a few things to do and experience across the state that you may not want to miss.
Portsmouth, of Course
An hour from Boston, Portsmouth is everything one could hope for in a day trip, an overnight, or a lifetime. Ecogastronomy, hundreds of actual working artists, generational fisherman, indie film houses, and the 'best Halloween in the country' are just a few things for which it's known.
Drink Kate the Great
Famously good beer born right here in Portsmouth—a great place to begin your tasting tour.
Farm to Fork at Its Finest
The Boston Globe and Food & Wine agree wholeheartedly that dining at Moxy is reason enough to make the trip to Portsmouth. You must order whoopee pies!
Yes, There are Lobsters South of Maine
Lobster shacks are scattered around the Seacoast region (because just saying coast is so blasé). If you can make it to Brown's Lobster Pound in Seabrook for a lobster roll, do.
Chowder Houses: It's a New England Thing
They're pretty prolific, but if you can only catch one, head to Newick's Lobster House in Dover.
Working Off the Dining Tour
For avid cyclists, getting intimate with this small but robust little state is a touring aficionado's dream. And it's a fabulous way to get from one dining spot to another!
Must. Have. Pancakes.
New Hampshire diners have the best pancakes in New England. Period.
Wildcat Mountain Ski Lodge: Not for the Faint of Heart
Cut into the White Mountains Forest Preserve, Wildcat is for skiers who exist to ski and for people looking to 'rough it' in style.
Covered Bridges Really are That Cool
With a law in place to preserve them, New Hampshire has 54 covered bridges (more than any other state in the country). And, yes, they're as romantic as author Robert James Waller made them out to be. Cross the Connecticut River on the Cornish Windsor covered bridge in the Dartmouth-Lake Sunapee region. You won't be sorry.
White Mountain Range: Day Hike or Week-Long Trek
Good for a casual wooded stroll or a backpacking adventure, check out nearby Cannon Mountain in Fraconia State Park to climb with the best.
Eat a Steak Bomb
Steak bomb: A hot sub-sandwich filled with shaved steak or steak tips, salami, melted provolone, sautéed onions, bell peppers, and mushrooms on a grilled submarine roll. Need I say more? Get a good one at the Crossroads Diner in Dover.
Stand in Line at Gilley's PM Lunch in Portsmouth
The line is out the door most days for a reason. It's well worth the wait as you're sure to find the best hot dogs and chili cheese fries in the state.
Flume Gorge in Lincoln
The Flume is a natural granite gorge extending 800 feet at the base of Mount Liberty. Prepare to be breathless.
Cannon Mountain Aerial Tramway (Speaking of Breathless)
Franconia State Park's one unnatural wonder takes you to heights you've likely never imagined.
Drink Beer
Take a brewery tour! They're everywhere for a reason. NH knows good brew.
Pay a Visit to Calef's Country Store in Barrington
Just go. You'll see why. (Hint: they have Penny candy.)
Grab a Rocker on the Porch of the Mountain View Grand
This White Mountain resort and spa built in 1865 is situated on 400 acres of wilderness and is the last of its kind in Whitfield. It's the Big Sky country of the Northeast.
Must Ski New Hampshire
With over 20 resort options, it's a snowskier's paradise. Be sure to also check out the Thrill Hill Tubing Park at Gunstock Resort in Gilford just around the corner from Boston and the Seacoast.
Find Your Inner Big Foot: Go Snow Shoeing!
Mt. Washington Valley is just one of many great places to explore New Hampshire's winter wonderland.
Catch Some Dinner
Whether it's deep sea fishing with a charter, dropping a line in Lake Sunapee, or fly fishing in one of the many rivers, New Hampshire has some of the most romantic fishing spots in the country.
Cycle with the Family on the Franconia Notch Bike Path
A gorgeous seven-mile, gently rolling trail shows off the best of Franconia National Park. Don't forget your picnic!
A Whale of a Good Time
Grab your sunglasses, warm clothes, and sunscreen, then hop on board to do some whale-watching in the summer months off the Seacoast.
Be Bedazzled by the Leaves
There's no place like western New Hampshire in early October.
Head to the Hood
The Hood Museum of Art on the Dartmouth College campus won't disappoint with over 60,000 works of art from around the world.
Practice Your Headstand at Lake Winnepesaukee
If you haven't already, try your hand at SUP yoga by sunset on this gorgeous lake.
Alyson's Orchard in Walpole
Apples, apples, and more apples! Baldwins, Ginger Golds, McIntosh, Redcort—you name it, they've got it.
Visit Portsmouth's Best Beaches
Fort Stark is about five miles from downtown and is rarely crowded. You can take a trolley from town to the more popular Jenness Beach.
Tour the Great North Woods
A 120-mile road trail boasts moose, bear, and deer, oh my! Be prepared for lots of wildlife and endless beauty on this northern trek.
Lake Sunapee
Settle in at Eastman Four Seasons Resort. It's a vacation built-in, with sunfishes, kayaks, canoes, tennis courts, pools, a grill, and two great restaurants.
North Forest Canoe Trail
There's something for everyone on the North Forest Canoe Trail. Flat, swift, or whitewater tours available!
Stop by the Farmer's Table Café in Grantham
Freshest. Food. Ever. Artisan-style cuisine that feeds you in every way. You won't be disappointed!
Go Cross Country!
Check out Eastman Cross Country Ski Center with 36 miles of Nordic trails.
Play Golf!
Golf Digest's favorite is a sure thing. Omni Mount Washington Resort Golf Course in Bretton Woods was voted New Hampshire's #1 public golf course.
Take a Hike in the Lake Sunapee Region
Hike to Mount Kearsarge from the trailhead at Rollins State Park to get a view of the Atlantic Ocean and the bustling big city of Boston.
Sit Back and Relax
Laying back in a hammock on a porch in the White Mountains, on a lake, or along the Seacoast is as good a place as any to be doing exactly what you want to do.
Eastman Community: To Know It Is to Love It
There's not much missing in the Dartmouth-Sunapee region. And the Eastman Community knows it. With lakes, nearby rivers and mountains, a golf course (turned cross country course in winter months), tennis courts, sailing, boating, canoes, kayaks, restaurants, and lakeside concerts and festivals, Eastman Community is the perfect home away from home or 'forever' spot.
With Boston just two hours away and Dartmouth just around the corner, culture, art, theatre, and lifelong learning opportunities are at residents' and visitors' fingertips. The blend of nature, culture, and endless activities led Money Magazine to name nearby Hanover (Dartmouth's hometown) one of the 'Top 25 Places to Retire' in the country.
Eastman's 3,600 acres in the Upper Valley just minutes from Hanover provides the lifestyle to go with it all.
Eastman Community is one of those places you just have to see. So add it to your list and plan your trip at www.eastmannh.org.
Request More Information from:
Receive your complimentary Relocation Bundle