Dive Into an Exotic Tropical Paradise Cost Rica
Dive Into an Exotic Tropical Paradise Cost Rica
Nicoya Peninsula, Costa Rica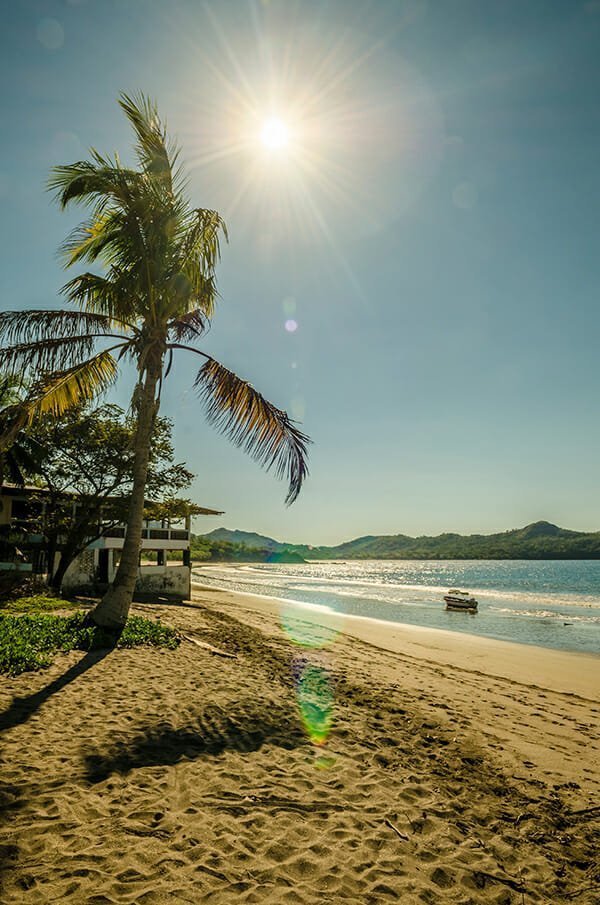 Boasting 80 miles of sparkling shoreline, the Nicoya Peninsula's most notable feature is its magnificent beaches with their dramatic coastal scenery and charming small villages.
The outer, western beaches of the peninsula rim the Pacific Coast and offer some of the best surfing in the world. The inner beaches face the Gulf of Nicoya with endless opportunities for fishing, snorkeling, and scuba diving.
Montezuma Beach: Stunning Beauty with a Bohemian Vibe
Considered by many to be the heart and soul of Nicoya Peninsula, Montezuma is a small beach village known for its bohemian attitude and artistic residents. Trendy restaurants, bars, and cantinas line the beachfront.
Montezuma's beaches are among the most beautiful beaches in Central America, with their white sand, turquoise water, and coconut palms. Located within high cliffs and a jungle with squawking scarlet macaws, Montezuma offers a unique intersection of sand, rocks, jungle, and waterfalls.
Playa Mal Pais & Santa Teresa: Surfer's Paradise
With its rocky coves and endless seductive swells, Playa Mal Pais is a haven for surfers and offers a laidback atmosphere. Just north of Mal Pais is Santa Teresa, which attracts surfers from all over the globe and features extraordinary panoramic views, crystal blue waters, and pristine white sand.
In addition to epic surfing, Mal Pais and Santa Teresa are awash with water sports including diving, fishing, and snorkeling. Back on land, you'l
l enjoy horseback riding, biking, hiking, and canopy tours.
Bird watchers also flock to Mal Pais and Santa Teresa because they're home to a variety of migratory and coastal birds. Nearby Cabo Blanco Nature Reserve is a must-see for avid nature lovers.
When the sun goes down, check out the lively beachfront nightlife or stroll along the secluded coves and tide pools for a peaceful, romantic evening.
Playa Tamarindo: Hot Spot
Playa Tamarindo is the most famous beach on the peninsula and has a funky, alternative vibe, a lively nightlife scene, and some of Costa Rica's finest restaurants.
Easily accessible by boats, planes, and cars, Tamarindo offers an array of exciting activities such as sportfishing, hiking, horseback riding, ATV tours, sailing, diving, snorkeling, and golf. It's also a well-known surf spot for both novice and veteran surfers.
The Tamarindo National Wildlife Refuge is comprised of 1,000 acres of spectacular protected forest, and just north of town is the Marino Las Baulas National Park, where visitors can see leatherback turtles come ashore to lay their eggs.
Playa Tambor: Oasis of Relaxation
A serene beach town located along the Gulf of Nicoya, Tambor faces a horseshoe-shaped bay with calm, glassy waters that are perfect for swimming.
At low tide, there's a broad expanse of sand for soccer games and beach volleyball, or you can take a hike around the end of the bay and discover the El Chorro waterfall. Chill out with a cool swim in the large rocky pool.
Anglers will want to cast a line at this world-class sports fishing spot. Professional operators can take you to the best fishing sites to catch marlin, sailfish, giant tuna, and wahoo.
If golfing is your passion, there are two nine-hole golf courses nearby at the Los Delfines Resort and the Tango Mar Resort.
Adventure Awaits on Nicoya Peninsula
Tortuga Island
This dazzling tropical island boasts abundant coconut palm trees, white sand beaches, and emerald waters. Exciting adventures abound: snorkeling, scuba diving, kayaking, swimming, canopy tours, zip lines, and rides on a glass-bottom boat.
Curú National Wildlife Refuge and Hacienda
This privately owned refuge stretches 1,496 hectares across mangroves, rivers, beaches, and estuaries. Teeming with wildlife, the refuge is home to white-faced monkeys, howler monkeys, spider monkeys, white-tailed deer, iguanas, and 200 species of birds.
Montezuma Waterfalls
Hiking to these iconic waterfalls is an unforgettable adventure for the whole family. You can reach all three of the falls from the beach village of Montezuma, and enjoy the scenic rain forest, diving cliffs, swimming hole, and rope swing.
Request More Information from:
Previously published in the 2016 Summer Issue.
Receive your complimentary Relocation Bundle