A Summer Tour of Middle Tennessee
Heart of the Volunteer State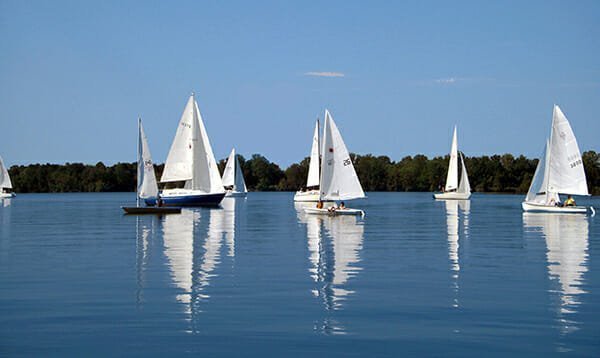 To those of us in the other 49 states, Tennessee is probably best known for its prolific contributions to American music—from the bluegrass rhythms of the eastern highlands to Nashville's fame as "The Country Music Capital of the World" to the legendary blues clubs on Beale Street in Memphis.
But here's another fact that may be music to your ears: Tennessee is one of the nation's most welcoming states for retirees. There's no state tax on income or pensions. The cost of living is consistently ranked among the lowest in the country and real estate pric
es are very attractive, especially outside of the biggest urban areas. And small towns all over The Volunteer State are thriving, thanks in part to the success of Tennessee Main Street, a downtown-revitalization program that has spurred both economic diversity and historic preservation.
There are many worthy retirement and relocation destinations, but you haven't made a complete survey of the field until you've been to Tennessee. So do yourself a favor—escape the summer city heat and take a tour of some of these cool counties in the eastern and central parts of the state. You'll find friendly folks there who will thank you for visiting and invite you back real soon.
And you just might decide to take them up on that.
Cumberland County
The Crossville-Cumberland County Visitor Center is a great place to start your Tennessee tour, because it also serves as the gateway to the Big South Fork National River and Recreation Area with its more than 150 miles of trails to explore. Then, get a cabin or camp out at nearby Cumberland Mountain State Park and play a round on the Bear Trace Golf Course, one of a dozen in the county that bills itself as "The Golf Capital of Tennessee."
The Town of Crossville offers a walkable downtown with antique shops, cafés, and a sustainable farmer's market every Thursday afternoon. It's also home to The Palace, a beautifully restored movie theater and cultural events center, as well as the Cumberland County Playhouse, with a year-round calendar of drama, comedy, and music, and The Depot, where local artists and crafters display their unique works. And be sure to save some time to sample the local vino produced at the Stonehaus and Chestnut Hill wineries, two of eight stops on the Upper Cumberland [UC] Wine Trail.
Putnam County
DelMonaco Winery & Vineyards is your next destination on the UC Wine Trail in adjacent Putnam County. It's located in Baxter, a town that's also home to the flagship store of Lenny & Eva Jewelry and one of the county's three restored railroad-depot museums.
Putnam's county seat is Cookeville, a showcase for the Tennessee Main Street program. It features two revitalized historic downtown districts and 10 city parks and natural areas with walking trails, picnic areas, playgrounds, and other recreational amenities. The crown jewel among them is the downtown oasis of Dogwood Park, which features the outdoor Dogwood Performance Pavilion and the Cookeville Performing Arts Center, hosts of entertainment options that range from local productions to traveling Broadway shows. Classical music lovers take note: A concert by the acclaimed Bryan Symphony Orchestra on the campus of Tennessee Tech University might be one of the highlights of your tour.
White County
White County has more caves to explore than any other county in America and has long been known as "the land of falling waters" because of its many picturesque waterfalls, including those at Lost Creek and Virgin Falls. With more than 100 miles of free-flowing rivers and streams, the county has also become a national destination for kayakers, many of whom take a tour of the local Jackson Kayak/Orion Coolers factory. The Calfkiller Brewing Company and Northfield Vineyards offer tours and samplings, too.
The riverside town of Sparta is a laid-back hub of cultural activity, including the annual bluegrass festival honoring native son Lester Flatt, which was named "Event of the Year" by the International Bluegrass Music Association in 2014. And on the third weekend of every month, the town hosts a green market and free bluegrass concert on Friday, then follows on Saturday with a "Cruisin' on the Square" classic car show.
"Sparta is as close to 'Mayberry' as you'll ever find," says local chamber of commerce president Marvin Bullock. "The hunting and fishing are so good around here, too. White County is just a great place to live, work, and play."
Warren County
A short drive to the southwest brings you to Warren County and the historic town of McMinnville, with its lively downtown of shops, cafés, and parks. Notable among them is Riverfront Park, a great place for a picnic lunch and the start of an afternoon hike on the Barren Fork Greenway. Nearby Rock Island State Park offers riverside campsites and cabins, plus canoe and kayak excursions through the scenic Caney Fork River Gorge.
Warren County is full of unique attractions like the Isha Institute, an international center for yoga studies and guided meditation, and the Falcon Rest Mansion and Gardens, also known as "Tennessee's Biltmore." But no visit here is complete without a day at the awesome Cumberland Caverns, a U.S. National Natural Landmark with spectacular underground waterfalls and rock formations along its 32 miles of caves and passageways. And for a truly memorable musical experience, time your visit to catch one of the monthly "Bluegrass Underground" concerts that are staged in Cumberland Caverns' Volcano Room—333 feet below the surface.
Franklin County
Franklin County is home to another natural wonder—The Walls of Jericho, a bowl-shaped limestone amphitheater with 200-foot-high sheer rock walls in an area of remarkable biological diversity. Throughout the county, there are caves to explore and wild trails to hike, plus a designated kayak "blueway" around Tims Ford Lake.
The Circle E Guest Ranch in Belvedere is a local destination that offers rustic cabin accommodations, guided horseback rides through the wooded countryside, and monthly special events. The Village of Sewanee is renowned for its Old English-style architecture and The University of the South, a dynamic institution that hosts a free summer concert series and offers cutting-edge courses in environmental sustainability. The City of Winchester offers many historical sites, specialty shops, and verdant nurseries, which contribute to the popular Annual Dogwood Festival held every May.
Judy Taylor is the Executive Director of the Franklin County Chamber of Commerce. "If you want to have a really relaxing experience this summer," she says, "come to Franklin County or anywhere in this part of Tennessee. You'll find hometown charm without the big-city traffic and the friendliest people you'll ever meet."
Robertson County
Robertson County is the heart of a thriving agricultural region, where you'll find the Sumner Crest Winery in Portland and the Chateau Ross Winery in Springfield. And for a complete immersion into the farming heritage, check out the festivities at the 47th Anniversary Threshing Show on July 15 in the town of Adams, which is also home to "haunted ghost" tours at Bell Witch Caves and is a starting point for Red River canoe trips.
Downtown Springfield offers a number of notable sites, including its 1879 courthouse, restored Victorian mansions, and historic churches, as well as museums and antique shops. Or spend a leisurely day in the friendly town of Greenbrier, where you can visit the Greenbrier Pharmacy & Fountain for coffee and a slice of homemade pie or pick up a box lunch for a picnic in the community park.
Sumner County
In Sumner County, you'll find more than a dozen live music venues in an area that's proud of its music heritage and pays homage to a pair of all-time greats at the Johnny Cash/June Carter Cash memorial in Hendersonville. There are family-friendly fairs and festivals throughout the year, and Sumner County is a leader in "agritourism," which promotes visits to local farms, orchards, and nurseries, including Madison Creek Farms. The towns of Gallatin and Hendersonville host weekly seasonal farmer's markets, and the Long Hollow and Sumner Crest wineries welcome samplers.
Bledsoe Creek State Park has six miles of hiking trails or you can take a pontoon boat cruise on Old Hickory Lake. There are more than 20 historic sites and antebellum homes located throughout the county, while downtown Gallatin is a lively place to dine, shop, or enjoy the "3rd Thursday on Main" free summer concert series. The town's signature Main Street Festival featuring local craftsmen, entertainers, and food vendors will be held this year on October 1.
Maury County
Known as the "Antebellum Homes Capital of Tennessee," Maury County features tours of historic landmarks like the President James K. Polk Home, The Athenaeum, Elm Springs, and Rippavilla Plantation. Featured outdoor recreations include canoe trips on the Duck River and mountain biking and hiking in Chickasaw Trace Park. Future plans in the county include an extensive trail system in the Yanahli Wildlife Management Area for hikers and horseback riding.
The county seat of Columbia and the towns of Spring Hill and Mt. Pleasant offer accommodations that include charming bed and breakfast inns, while there are restaurants throughout the county that feature barbecue, catfish, and Cajun-style dinners. Take a stroll in downtown Columbia at Riverwalk Park, and be sure to check out its many antique stores. The popular Mule Town Music Fest will be held in Columbia this year from October 1-2.
"There are a lot of great reasons to visit our county—great food, shopping, and all of the other amenities," says Kara Huckaby, Director of the Chamber of Commerce for the Maury County Chamber and Economic Alliance. "But I think that the wonderful people who live here are the best reasons to stay."


Request More Information from:
By JG Walker
Previously published in the 2016 Summer Issue.
Receive your complimentary Relocation Bundle