A Dive into the Bright Cuisine of the Caribbean
Dive into the Bright Cuisine of the Caribbean
Set your watches to island time. We're about to light up our palates with a leisurely dip into paradise.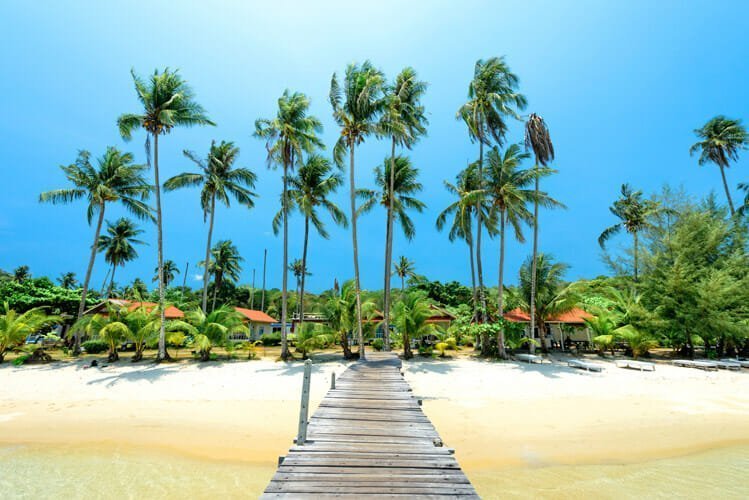 Some like it hot. Some like it really hot with a side of sweet. Welcome to Caribbean Cuisine 101. This distinctive fare—which spawns from the islands and is ignited by a cultural fusion of African, European, American, and Chinese flavors—is fairly easy to find in a coastal environment. But even if you don't reside in a seaside town, you've likely still come across a jerk. Seasoning, that is.
But let's dig past the pineapple salsa.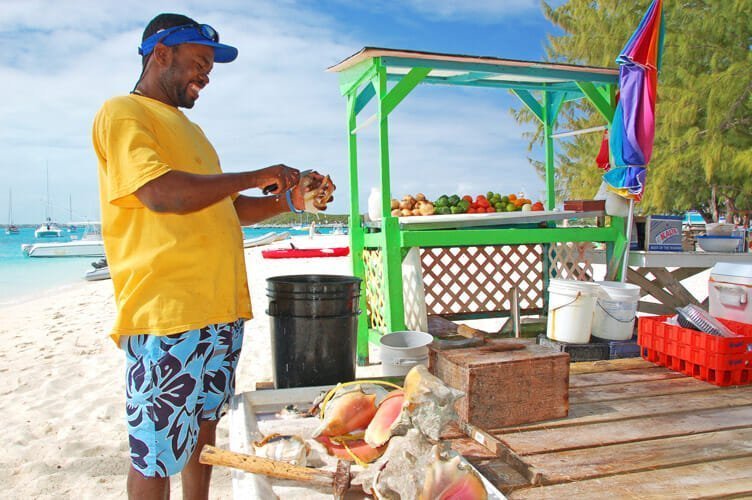 Well-known commonalities of indigenous Caribbean cooking often include rice (yellow and seasoned with coconut) and beans paired with proteins. Americanized versions typically revolve around the usual suspects (I'm lookin' at you, chicken and steak); but for a true taste of authenticity—go for goat. If Jamaican eats are your jam, expand your palate and arm yourself with a righteous recipe for Curry Goat. This essential dish has made its way from the mouths of South Asians to those of the Indo-Caribbean.
When it comes to this particularly flamboyant fare, spice itself is the spice of life. But not everyone is pulling from the same bag of tricks. While Jamaica and other English-speaking islands
highlight sweeter ingredients like curry and all-spice, Acapulco and other Spanish-influenced islands get their zip from lime, garlic, and all-things savory. Cubans fan out their cultural feathers with a nutritious boost from dark, leafy greens and crunchy okra.
Each Caribbean territory also boasts its own spin on seafood. The British West Indies prefer their pelau (a one-pot Trinidadian mixture) with West African-inspired salt fish in addition to chicken, beef, pigeon peas, and coconut-simmered rice.
In Barbados, hold on to your hats because flying fish are always nearby. Have your crab cake (and eat it too) along with shark in Tobago. For fritters, hit Belize and the Bahamas for some seriously stellar conch. No matter which taste sparks your appetite, this melting pot of aromatic flavors and spices are a punch to the palate in the best possible way.
When it comes to grilling up baby backs, Americans are known for slathering on everything from thick molasses to whiskey. Fruit, however, is the Caribbean's answer to sprucing up charcoal-perfumed eats with natural sugar. This island-style barbeque gets its tropical finesse from juicy mangoes, sweet pineapples, and tangy guava. If ribs aren't your thing, shake the nearest palm tree and shred up a coconut for an exotic seafood app. A few fresh shrimp and a dunk in the deep fryer later and you've got a sultry starter that will whisk you straight to vacation-land.
But it's not all about dinner. Last course, anyone? Key Lime Pie is a classic Caribbean dessert known by all and loved by, well, all. This creamy, tart slice of decadence is notorious for its sharp taste—an iconic feature of this vibrant cuisine. Whether it's scotch bonnet-infused jerk chicken or papaya and goat stew—it's clear that when it comes to the distinctive flavors of these effervescent islands, bland is just plain out of the question.
If you like this recipe, you're sure to love Fanny Slater's new Orange, Lavender & Figs cookbook now available at amazon.com, Barnes and Noble, and Books a Million.
Jerk Marinated Swordfish with Grilled Orange Vinaigrette Greens
Serves 4
1/2 cup neutral oil (such as sunflower, vegetable, or grapeseed)
1/4 cup distilled white vinegar
1/4 cup fresh lime juice
2 tablespoons minced fresh chives
2 habanero chilies, stemmed, seeded, and coarsely chopped
2 medium garlic cloves, roughly chopped
1/2 tablespoon chopped fresh thyme
1 tablespoon minced fresh ginger
2 tablespoons dark brown sugar
Kosher salt and coarse black pepper
4 (6-ounce) swordfish steaks
Grilled Orange Vinaigrette (Recipe follows)
In a food processor, mix together the oil, vinegar, lime juice, chives, habaneros, garlic, thyme, ginger, and brown sugar.
Season with a generous pinch each of salt and pepper, and pulse until smooth.
Place the swordfish steaks in a large dish and toss with the marinade. Cover and chill for at least 2 hours (or overnight).
Prepare a grill or grill pan over medium-high heat. Season the outside of each marinated swordfish steak with a pinch each of salt and pepper.
Grill the fish until just cooked through, about 3 to 4 minutes per side (depending on their thickness).
Transfer the swordfish to plates and serve alongside veggies and a mixed greens salad tossed with the Grilled Orange Vinaigrette.
Grilled Orange Vinaigrette
2 navel oranges, halved
1 1/2 tablespoons honey, divided
3 1/2 tablespoons olive oil, divided
2 tablespoons white balsamic vinegar
Kosher salt and coarse black pepper
Preheat a grill or grill pan to medium high heat.
Drizzle the flesh of both orange halves with 1/2 tablespoon of the honey and 1/2 tablespoon of the olive oil. Grill the halves flesh side down until lightly charred and caramelized. Allow the fruit to cool.
Using a strainer, squeeze the juice from the grilled orange halves into a bowl. Whisk in the remaining honey, olive oil, and vinegar until dressing is thoroughly combined. Season to taste with salt and pepper.
Previously published in the 2016 Summer Issue.
Receive your complimentary Relocation Bundle