Universal Kitchen Design Allows for Aging in Place
Universal Kitchen Design Allows for Aging in Place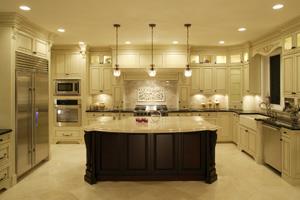 Today's new technology and universal design practices enable boomers to 'age in place,' so they can stay in the comfort of their own homes throughout their lives. This eliminates the need for expensive and stressful moves or remodels later in life due to an all-ages, all-abilities approach.
Andie Day, an award-winning interior designer and certified aging in place specialist, is an avid promoter of universal design. She says, "Our lives are comprised of a series of phases and aging is integrally (often quietly) woven into each phase. Understanding that the changes taking place naturally and those influenced by our environment should give us all pause when thinking about kitchen or home design. Incorporating universal design in our homes greatly influences the quality of life of those in the home through improved health, safety, accessibility and increased independence."
If you are building a new, custom home, the kitchen is one of the most important rooms where you can incorporate these sensible design practices and elements. Consider the following when planning your new kitchen for function, accessibility and longevity: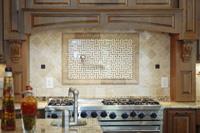 Sinks and Faucets
An adjustable height kitchen sink that raises and lowers with the push of a button is ideal for easy use by individuals. For the budget-minded, simply installing a shallow basin and placing it closer to the front of the counter also works well. A faucet placed above the cook top eliminates the chore of carrying heavy filled pots from sink to stove. Choose faucets with lever handles—dexterity lessens with age and round faucet handles can be difficult to manage.
Counters
Specify rounded corners and contoured countertops to avoid accidents and injury. For standing or seated work, make countertops and task areas multi-height or adjustable to accommodate differing needs. Pull-out work surfaces work ideally for those in mobility devices. Day says, "Continuous countertops allow a cook to carry a pot filled with hot water across the surface and place back down on the countertop if it is too heavy. If a person with limited strength has to carry this across a walkway they may drop it causing an accident."
In addition, use low-gloss counter surfaces to reduce glare which might be distracting. A contrasting border above counters aids with impaired eyesight.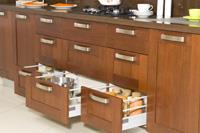 Cabinets
Storage areas should be designed for easy accessibility for those with limited range of motion whether it be while reaching or bending. Cabinets built with roll-out or adjustable shelving and carousels puts items within sight and reach. Installing wall cabinets closer to the countertop is also helpful. Magnetic cabinet hardware with a touch and release mechanism makes opening cabinets easy for everyone in the household. Deeper toe kicks and under counter spaces aid for maneuvering a mobility device.
Appliances
Side-by-side refrigerators keep both cold and frozen items within reach. A microwave drawer makes for easier access for heating foods. A dishwasher drawer with both right and left access is perfect for ease of loading and unloading dishes. You might also want to consider a raised height dishwasher. A height-adjustable stove solves issues with lifting pots and burn hazards. A cooktop with side controls and on/off lights make usage safe and accessible. A double wall oven accommodates varying individual's abilities.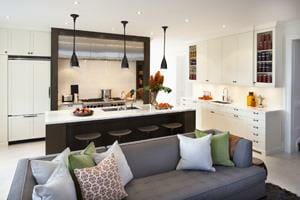 Lighting
Varying light sources compensate for aging eyes as sight requirements change. Designing for natural light from windows and skylights is ideal. Installing light sources above all work areas, such as above the sink and below the cabinets, keeps visibility optimal. Low-gloss and matte finishes on both counters and floors lowers visual distractibility by reducing glare from bright lights. Along with adequate lighting, use of warm colors, with lots of contrast, aids in visually distinguishing surfaces.
When planning your kitchen, keep in mind the right floor plan is highly important. Day says, "Kitchen floor plans that incorporate sufficient clear floor area (five feet) and a natural work triangle, such as the 'L' or 'U' shape, works toward reducing/eliminating accidents and excess strain on a body."
Gradually home builders and interior designers, like Day, are adapting their home designs to the emerging universal practices. Discussing each of the above considerations with your builder or designer and helping plan your own kitchen will ease tasks and reduce hazards, allowing you to live comfortably and independently for years to come.
Receive your complimentary Relocation Bundle