Resort Style Community Offering Active Adult Living
Compass Pointe Resort Style Community Offering Active Adult Living
RESORT STYLE COMMUNITY OFFERING ACTIVE ADULT LIVING
Compass Pointe, together with Hagood Homes are proud to announce the opening The Pointe Club Cabanas, the first active adult community in the Wilmington area. Hagood Homes has successfully ventured into this residential segment with Chapelwood, an intimate retirement community located in Chapel Hill, North Carolina. Market research has shown a high demand for this type of housing in Coastal North Carolina. Appreciating much more quickly than traditional communities, this active adult community will feature homes with inclusive pricing, ranging from the high $300's to the mid-$400's.
The Pointe Club Cabanas is truly special as it is one of the only active adult neighborhoods
within in a gated community. It will offer exclusive amenities such a separate pool and
clubhouse, outdoor living arena, and walking trails, in addition to access to the existing amenities in place at Compass Pointe. With a start date of March 2016 to break ground on four fully furnished models, future residents will be able to see the homes within a neighborhood that caters to their specific needs and lifestyle as an active adult that is at least 55 years of age.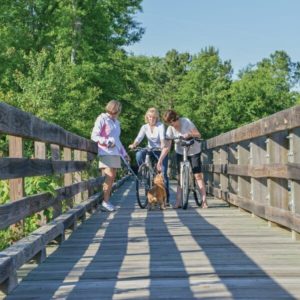 Both Compass Pointe and Hagood Homes have outstanding reputations. Many have chosen Compass Pointe for its ideal location near downtown historic Wilmington, friendly neighbors, and resort-style amenities, but it is the vision and strength of the developer that is held in high esteem. As one of the first to develop Brunswick County, our developer, Mr. Bobby Harrelson, has built a solid reputation with the completion of more than 100 communities in the area. The Pointe Club Cabanas complements Bobby Harrelson's mission to provide gorgeous communities for people to call home.
ABOUT COMPASS POINTE
Compass Pointe is a gated, residential community 10 minutes from Wilmington, NC offering luxury homes and resort-style amenities. Please call 888.717.6468 or visit www.CompassPointeNC.com for more information.
ABOUT HAGOOD HOMES
Building many of Wilmington's finest new neighborhoods from Wrightsville Beach to Oak
Island, Hagood Homes designs with your lifestyle in mind. Whether you are a first-time
homebuyer, an active adult, or an expanding family, Hagood Homes is your Wilmington, NC
area homebuilder. Established in 1996 by Jim and Troy Kenny of Hagood Homes, Inc., quality and originality has been instilled in every Hagood home. Please call 910-444-1122 for more information.
---
Receive your complimentary Relocation Bundle