Discover the Best Pickleball Communities
We all know that exercise is critical to good mental and physical health. Do you love pickleball? Maybe you aren't sure what it is but like to try new things and would like to play? In short, pickleball is a form of miniature tennis. The court looks like tennis with the net and divided play area and the ball is like a whiffle ball. You use a wooden paddle, which likens it to table tennis. People of all ages are able to play pickleball and it is gaining in popularity more and more each year. It is an easy and fun way to break a sweat and get some good exercise in a non-challenging manner. Start taking care of your health and have fun doing something different and exciting.
Why choose a pickleball community?
ideal-LIVING has been helping the aging generation find the best luxury housing for 30 years. If you need to live in a high-end area where price is not much of an issue, our services are for you. We have pickleball communities in regular neighborhoods and also some 55 plus communities with pickleball. Some neighborhoods are gated. You need to get out, exercise and get fresh air every day for the sake of your health and longevity. Your loved ones want you around for as long as possible, so treat your body well. Our communities also include amenities such as pools and spas, game rooms, meeting areas, dining, walking trails, pet areas, and others depending on the area.
Research and Explore Pickleball Communities Around The U.S.
Click to explore the following pickleball communities. Request information from multiple communities by selecting the checkboxes to the right and completing the form below.
Affordable Active 55+ Resort Living.
It's easy to see why so many of our residents feel like they're on vacation all year long. Las Palmas is a world-class resort with year-round activities, luxury amenities and a friendly group of active 55+ adults who enjoy life to the fullest, just like you.
Visit our impressive selection of custom-built homes beginning in the $70's. Whether you're looking for the best value in retirement or simply the best place to take life easier, you'll enjoy the lifestyle at Arizona's premiere 55+ resort. Las Palmas is among the award-winning family of Thesman Communities proudly offering affordable resort living since 1980. Gated with 24 hour security. Visit us today, open daily for tours 8-5.
Management and Sales offices are still open 7 days a week, 8-5. Please contact us for more information.
Virtual Tours now available! Feel free to watch our video playlist below. You can navigate to the next video by simply clicking the button to the right of the "share" icon.



Homes are shown by appointment only and social distancing and hygiene guidelines are strictly adhered to. Safety is our priority.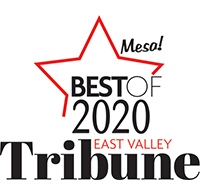 Mesa's Best!
Las Palmas was voted Best Manufactured home Community 2020 East Valley Tribune!
Also check out our other Thesman Communities:
Briarwood
Las Palmas
Las Palmas Grand
Las Vegas Meadows
Palmas Del Sol
Palmas Del Sol East
Sunrise Village
Village Green

Resort Living Can Be Beautiful and Affordable. Homes from the $30's.
Step into this active 55+ community in East Mesa and be amazed at how affordable a resort lifestyle can be! You'll discover friendly people, luxury amenities and newly remodeled homes from the $30's. Our gated community offers a year-round calendar of social events planned by our Activity Director, a courtesy shuttle bus to get around town, a beautiful clubhouse, heated pool and so much more. Sunrise Village is among the award-winning family of Thesman Communities proudly offering affordable resort living since 1980.
Plan your visit
Don't let your current housing situation make you unhappy. You are only limited by your drive and your imagination. Get ready to decorate your dream house. Pick out wall colors, design the front and back yard, and make a house into a home with your personal touch. Please let our team take away the headache of selling and buying a home if you are ready to improve your life. Don't waste another precious minute living somewhere you don't belong, move into your dream house today. Our pickleball communities provide you with security, pride in your neighborhood, and plenty of activities. They have closeness to town, healthcare, and other people, and of course a great time. Start living your best life now before the most desirable houses are taken.
Request information for your selected communities.
Your Information Request for your selected properties