Shareable Bites to Make You Swoon over Spring
By Fanny Slater
Freakin' finally! We can pack away our fuzzy boots and fleecy sweatshirts and break out the shorts and Rosé. It may not be bikini weather just yet, but spring screams warm breezes and lighter bites. Whether you're aiming to brighten your spouse's day or liven up your friends' evening, you've got to know how to match your menu to the delightful weather.
First, keep in mind that it shouldn't be a drastic jump (say, boeuf bourguignon one night and fresh catch the next), but more of a smooth seasonal transition. Second, those who wear smarty pants in the kitchen know that highlighting ingredients that have just begun to bloom is the best way to introduce your palate to new waves of flavor. And third, avoid putting too much pressure on your plates (and yourself) by opting for a casual, shareable spread instead of a stuffy sit-down dinner.
Got it? Now let's tap-as into the good stuff.
Spring-y Tapas
If there's one fruit that immediately springs spring to mind, it's strawberries. Between the vibrant color and the sugary sweet flesh, these speckly little juice-bombs are a beautiful entrance into the first course of the season. 
Speaking of words that start with "B," I also find that bruschetta is an excellent way to kick off a meal. These crostini are handheld, straightforward, and not super filling. For traditional bruschetta, however, you want the tomatoes to be at their absolute prime as they're the star of this dish. So, all of that being said, when March comes around and the strawberries begin to sweeten, I take full advantage of their tomato-like-hue and plop them center stage for my Strawberry and Chèvre Crostini. In this refreshing non-Italian appetizer, you still get the floral notes of basil and the tang of reduced balsamic, but with a twist that will have your dinner date(s) eyeing who gets to lick the platter.
Strawberry and Chèvre Crostini with Honey-Balsamic Reduction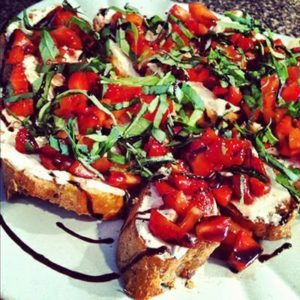 YIELD 24 crostini
1 ea baguette (18" long),
cut crosswise into 24 equal slices
2 tbsp unsalted butter, melted
pinch kosher salt and cracked black pepper
1 1/2 cup strawberries, chopped
 1/2 cup balsamic vinegar, plus 2 additional tbsp
1 tbsp honey
1/3 cup chopped almonds 
12 oz chèvre (goat cheese)
1/2 cup packed fresh basil leaves
Preheat the oven to 400°F.
Spread out the baguette slices on a baking sheet, drizzle them with the melted butter, and season with salt and pepper. Bake until lightly golden brown, 6 to 8 minutes. 
In a large bowl, toss the strawberries with 2 tablespoons of the balsamic vinegar. Let marinate at room temperature while you prepare the rest of the ingredients. 
In a small saucepan, combine the remaining 1/2 cup balsamic vinegar and the honey. Bring to a simmer over medium heat and cook, stirring occasionally to keep from burning, until the liquid has reduced by about half and become thick and syrupy, 12 to 15 minutes. Immediately remove the pan from the heat.
In a dry small skillet, toast the almonds over medium-low heat, tossing frequently, until lightly golden and very fragrant, about 5 minutes. Immediately remove the nuts from the pan and transfer to a bowl to stop the cooking process.
To assemble the crostini, spread each toasted baguette slice with chèvre and arrange them on a platter. Evenly sprinkle the marinated strawberries and the toasted almonds over the crostini and gently tear the basil leaves over top. Drizzle the entire platter with the honey-balsamic reduction and garnish with cracked black pepper.
Stick with Chicken
Now that the fruit is out of the way, bring on the sausage. Pork can be a touch heavy on the hips, so for this pass-around, protein-packed plate, I recommend something less fatty like chicken sausage. The other benefit of many poultry-based links is that they come fully cooked, so all you need to worry about is heating them through. I wouldn't disagree with the statement that hot dogs are an all-year-round food, but most folks relate them to the summer months. That's why for our second nosh, I'm stepping up the game with elegant, bite-size Chicken Sausage Dogs. Don't count on yellow mustard or neon relish in these sophisticated snacks bearing bourbon-infused fennel (a proud member of spring's produce team) and a light roasted tomato cream. Drop (the mic) and all of that between a bun, slice into several pieces, and serve on a checkered cloth as the sun goes down.
I Vote Coconut
Preheat a grill or grill pan to medium high. Cook the sausages until lightly charred on the outside and fully heated through. Spread each toasted bun with the roasted tomato cream and then top with a sausage link, drunken fennel, and pickles.
We've had our cheese course and our protein fix (and let's be honest, after all that rosy booze), everyone is getting full. Time to wrap things up. If you want to end on a sweet note, feel free to swap this course around for the strawberry crostini. I like to keep the savory vibe going strong and there's nothing I love more than seafood in the form of a cake. Not that kind of cake. A graceful introduction into this glorious weather calls for something tropical—and I vote for coconuts! Find your finest local shrimp (if you're on the coast, of course) and pulse them gently with oniony leeks, citrusy lemongrass, and spicy ginger. Fold in some creamy mayonnaise, dust in a mixture of panko and coconut flakes, and you'll be in a sanctuary of shrimpy, exotic flavors. If you're one-on-one with your eating partner, make these a touch bigger so they're more filling. If you're sharing with a group—make 'em mini so the crowd goes wild.
Mini Crispy Coconut & Lemongrass Shrimp Cakes
YIELD 16 small cakes
1 1/2 lb shelled and deveined shrimp,
rough chopped
1/4 cup leeks (white and light green
parts only), roughly chopped
1 cup panko breadcrumbs, divided
2 tbsp fresh lemongrass, grated
1 tbsp fresh ginger, grated
1 tsp kosher salt
1/2 tsp coarse black pepper
1 cup unsweetened coconut flakes
2 tbsp neutral frying oil (vegetable,
safflower, or grape seed)
In a food processor, pulse the shrimp, leeks, 1/4 cup of the panko, lemongrass, ginger, salt, and pepper until the mixture makes a chunky paste. Toss the remaining panko and the coconut flakes and spread them on a large plate. Form the shrimp mixture into even-size patties and dust each one in the panko-coconut mixture.
In a large skillet over medium heat, heat the oil and fry the patties in batches until golden brown, 2 to 3 minutes per side. Divide the patties among plates, and garnish with the lime wedges, yogurt, and a light dusting of cayenne pepper.
Receive your complimentary Relocation Bundle