Lighting the Way: Lighthouses of the Southern Coast
Lighting the Way: Lighthouses of the Southern Coast
When you picture the coast, do sandy toes, salty air, and sea shells come to mind? These are all generic icons we associate with being near the ocean. But there are other landmarks that define the coastline: lighthouses.
Before my family moved back to North Carolina from Virginia, we decided to take a beach vacation to the Outer Banks. With the uncertainty of my father's new job in Charlotte, NC, it was a "why not?" kind of trip but one that we haven't forgotten over the years. It was the first time my sisters and I had been to the beach, so when we pulled up to the one story, two bedroom ocean-front house, we could not have been happier. It had an ant problem that we had to fight all week, but the sand and sun quickly put that problem behind us. The long hours spent outside building sand castles and hunting for sea shells had its perks, but what was so memorable during this particular beach trip was getting to see the Cape Hatteras Lighthouse.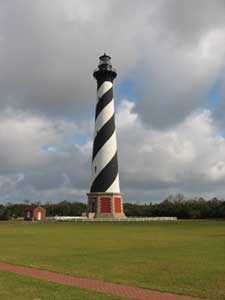 Cape Hatteras, located in the Outer Banks of North Carolina, was first lit in 1803 to protect ships from Diamond Shoals, a twelve-mile long sandbar. Its structure then was made of sandstone and it stood only 90 feet tall. Today it is the tallest lighthouse in the United States, standing at 210 feet. Its daymark (the design painted on the tower to be easily spotted during the day) is the spiral black and white stripes. Since sandstone proved to be an unreliable structure, the final tower, the one we see today, was built using brick, its base octagon shaped and made from brick and granite. What makes this lighthouse so well-known is the fact that it has had to be relocated due to beach erosion. But with the help of preservationists, they have been able to keep Cape Hatteras Lighthouse standing.
South Carolina is home to a few lighthouses as well. Not your typical shaped lighthouse, the Sullivan's Island Lighthouse models an air traffic control tower. Instead of cone shaped, this lighthouse is triangular, with one point facing the ocean. If you can imagine the glow that 28 million candles would give off, that was the power of the light when Sullivan's Island Lighthouse was first lit. Unfortunately, it proved too blinding and unsafe for the light keepers to tend to it, and about ten years later the light was toned down. This lighthouse is also black and white; the top painted black and the bottom, white. Just around the corner from the Sullivan's Island Lighthouse is Fort Moultrie and Fort Sumter.
On down the coast we stop in Georgia, home to five more lighthouses. Most familiar to me would be Tybee Island, as I vacationed there too, one year. From the first appearance of a beacon on Tybee Island in the 1700s, this lighthouse has had a rough life. It was rebuilt at least three times, and in 1998 it underwent major restoration thanks to the Tybee Island Historical Society. Shaped like an octagon, this lighthouse has a black top and bottom and a white middle as its daymark. The Tybee Island lighthouse is proud to be one of the most complete and well-kept lighthouses in America today. A special feature of this lighthouse is that it is able to be rented out for events. How beautiful would it be to have a lighthouse as a back drop for an event?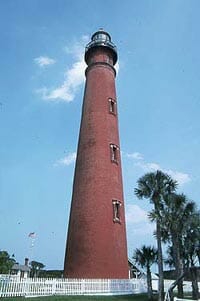 In Florida, there are four different locations to spot a lighthouse. Perhaps a trip to the Ponce de Leon Inlet, one of Florida's most popular beaches and home to the Ponce Inlet Light Station, will be a great adventure. It is Florida's tallest lighthouse at 175 feet tall with 203 steps to the top. Like Cape Hatteras, this lighthouse is cone shaped, and made entirely of bricks. What makes this lighthouse more exciting is the connection to the past. In the late 1800s, Stephen Crane, author of The Red Badge of Courage, was shipwrecked along the inlet while on his way to cover the beginnings of the Cuban rebellion. Had it not been for the Ponce Inlet Light Station, known then as Mosquito Inlet Lighthouse, Crane and his companions would not have made it to shore. The S.S Commodore, the ship carrying Crane, was located and some artifacts brought up from the wreckage are now on display at the light station.
There are many more lighthouses dotting the coast from North Carolina to Florida, all with interesting pasts waiting to be explored. They have been destroyed and rebuilt, repainted and relocated, and even though most today are automated or abandoned, they still catch the attention of those heading down to the coast. Preservation societies keep the lighthouses in good condition so that we can relive the magical history of the coast's light stations.
Request Information from these Coastal Communities
Receive your complimentary Relocation Bundle