Holiday Recipe – Cocktails
Add A Little Kick to Your Holiday Party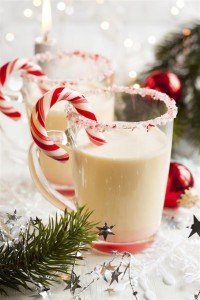 As soon as the weather starts to get a chill in the air, party invitations begin showing up in your mailbox. In addition to family get-togethers, the holidays are filled with plenty of social mingling. Whether you're a hostess extraordinaire or bringing a drink to a potluck style meal, a few tips can't hurt during this busy season. So, we've compiled a few cocktails sure to please everyone. Just follow these simple instructions for straightforward party success!
Southern Comfort Punch via Martha Stewart
Ingredients:
6 lemons
4 navel oranges
2 six-ounce frozen lemonade, concentrate
1 six-ounce frozen orange juice, concentrate
1 liter Southern Comfort
2 liters lemon-lime soda
Directions
Step 1
-Slice lemons and oranges into thin layers
-Wrap two baking sheets in plastic wrap
-Place slices of lemon and orange on baking sheets
-Place in freezer for 2-2.5 hours, or until frozen
Step 2
-Place frozen lemonade and orange juice into punch bowl
-Add lemon lime soda
-Add Southern Comfort and a few handfuls of ice
-Place frozen fruit slices in punch
Step 3
-Drink and enjoy! Yields 12 to 20.
Hot Cider Nog via Southern Living
Ingredients:
2 cups half and half
1 cup milk
1 cup apple cider
2 large eggs
½ cup sugar
¼ teaspoon ground cinnamon
1/8 teaspoon ground nutmeg
1/8 teaspoon salt
½ cup bourbon (optional)
½ cup whipping cream, whipped
Cinnamon stick as garnish
Directions:
Whisk together half and half, milk, apple cider, eggs, sugar, cinnamon, nutmeg, and bourbon in a saucepan. Cook over medium-low heat, stirring occasionally. When mixture thickens (about 15 min), add bourbon. Top each glass with whipped cream and a cinnamon stick. Yields 5.5 cups.
Hot Buttered Rum via Marie Claire
Ingredients:
1.5 oz Mount Gay Eclipse Rum
Batter:
1 lb. light brown sugar
½ lb. unsalted butter (softened)
2 tsp. ground cinnamon
2 tsp ground nutmeg
½ tsp ground allspice
2 tsp vanilla extract
Batter Instructions:
Beat softened butter, brown sugar, vanilla extract, and spices together. Place in the refrigerator up to month.
Drink Directions:
-Preheat a coffee mug
-Place 2 tbsp (large) of batter into mug along with 1.5 oz of Rum
-Place boiling water into mug and stir
And if you're looking for something that tastes good, but still allows you to drive home, check out this mocktail recipe!
Sleigh Driver via Eating Well
Ingredients:
1 cup water
½ cup sugar
2 inch piece of ginger, peeled and sliced
3 pears, diced and divided
2 quarts apple cider
1 lemon, halved and sliced
1 tblspoon ground allspice
1 cup fresh cranberries
2 tablespoons vanilla extract
Directions:
-Combine water, sugar, ginger, one pear in a saucepan. Bring to a boil using medium to high heat. Strain and return mixture to pan.
-Add the rest of the diced pears, cider, lemon and allspice and heat, stirring for 15 minutes.
-Add cranberries and vanilla extract and reduce heat to medium-low. Simmer for 10 minutes and serve in mugs. Enjoy! Yields 10 servings.
Receive your complimentary Relocation Bundle