Exploring the Explosion of America's Craft Breweries
by Fanny Slater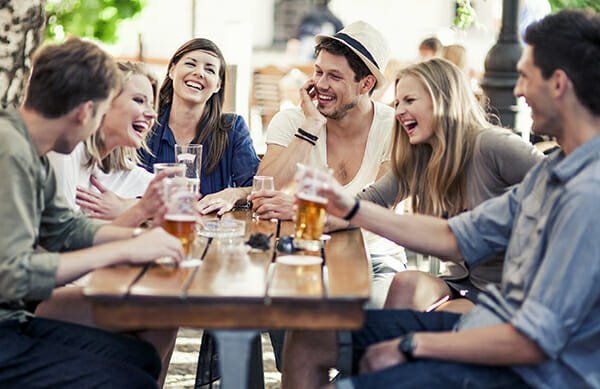 If it looks like a beer, pours like a beer, and tastes like a beer—it's probably a duck.
Duck-Rabbit Milk Stout, that is. Gone are the days where you could belly up to the bar and simply say, "I'll take a beer, Sam." (Although to put yourself in that scene, you'd have to climb through the television and into a rerun of Cheers.) The point is that six-packs of Bud-this and Coors-that are starting to become a thing of the past. Sure, we all crave a cooler full of watered-down lagers while enjoying a summery Sunday "Funday," but the craft beer revolution is here. And it's only just begun to bud. Pun intended.
Speaking of Budweiser, this macro brewery crowns itself "The King of Beers," but they just might start shaking in their suds after hearing these statistics. Here in the U.S., craft brewers now produce about one out of every ten beers sold. Authorities in the industry predict that by 2017, a new craft brewery will swing open its doors every twelve hours. Still, as far as actual alcohol sales go, craft stands second to major companies like Anheuser-Busch and MillerCoors. When craft began creating a buzz, these large-scale brewers started throwing punches at what they felt was a product meant for people with pretentious palates. This didn't sit well (even with their fans), as many dedicated drinkers feel there's room for everybody at this party.
Think craft beer is a brand new thing? Think again. Let's hop backward in time. Brewing can be traced back to Ancient Egypt, where most brewers were actually women. This Egyptian beer was prepared from baked barley bread and was used as a gift for the gods. When the 17th century came around, English and Dutch settlers who had made their homes in New York found its climate ideal for growing malt and hops. Unfortunately, packaging during that era was pricey and the bottles weren't easy to haul around. This led to beer in wooden kegs, as opposed to bottles, and to more crafters brewing small batches in-home. After the Civil War, beer's popularity grew thanks to German and Ireland immigrants. Slainte! Coincidentally, right around this time easier methods of transportation came about, leading to wider distribution and expanded audiences. By the 1900s, beer production had jumped from 3.6 million barrels annually to 66 million. Craft beer soon took the spotlight in California to match the state's thriving food and wine industry. Nowadays, most of us live a mere 20-minute drive to a local brewery. Not only that, but America also boasts more beer styles and brands than any other nation on the global market. God bless America, indeed.
So what really defines craft beer?
Let's break down the bubbles. Leading organizations in the industry such as the Brewers Association and the AHA (The American Homebrewers Association®) have several stipulations for the title. The Brewers Association states that an American craft brewer must be small (producing six million or fewer barrels a year), independent, and develop the majority of their alcohol's flavor from traditional or innovative ingredients. Voodoo Doughnut Bacon Maple Ale, anyone?
Some simply describe craft beer as an intellectual libation that is to be savored and sipped as slowly as it was thoughtfully constructed. Each glass is a unique reflection of the creativity of its creator. Ironically, those brewers who have been claiming "craft" for years (I'm looking at you, Sam Adams) are now the ones taking a hit due to the growing competition. Although this signature beer of Boston has always technically been producing craft, just ask a modern day beer snob if he'd recommend Bell's Two Hearted over Sam's Seasonal and he just might "hopslam" you to the ground. Some, however, have benefited by bending to the trends. Sierra Nevada, for example, has teamed up with several smaller breweries to manufacture some whimsical flavors. Even Lagunitas Brewery, a leader in the IPA game, said "go global or go home" by selling half of its share to Heineken.
But enough of the facts. Let's get down to drinking.
Georgia Brews
We'll start in the South and sip our way up. Georgia beer is synonymous with one word: Sweetwater. This lively Atlanta-based microbrewery, known for hoppy ales like their 420 and their fruity Blue, offers tours, a taproom, and live music. In Savannah, check out Service Brewing Company—a veteran-owned, veteran-operated business which donates a portion of its proceeds to service-supporting nonprofits. They annually brew in bulk, but sustain a small batch, locally inspired R&D division as well. Peruse their tasting menu options like the Basic Training package, where you get a six-ounce flight, a souvenir tulip glass, and a thirty-two ounce "crowler" for just $18.
Make a stop in Athens to tour Creature Comforts, admired for its scientific brewing process, and also check out Terrapin, which is recognized for its Rye Pale Ale. If you're feeling festive, snag some tickets for Athens' Classic City Brew Fest in April, where you'll find almost 400 rare beers and some excellent tunes. This event is voted one of the country's top ten beer festivals and it's all for a good cause. Proceeds benefit the Athens Area Humane Society. For one more big bash, downtown Macon holds the Just Tap'd Taste of the South Craft Beer and Food Festival at the end of April. Admission is free, but beer tasting tickets are also available.
Gone to (South) Carolina in My Mind
And our first stop is Greenville, home to well-known breweries like Quest, Thomas Creek, and Blue Ridge. Don't worry about figuring out how to plan your pints because the Pub Crawl guides you through the best brews in town. To take that Southern celebration up a notch, check out Greenville's 4th Annual Craft Beer Festival, put on by the Community Tap in April, which includes over 40 breweries featuring small-batch beers, seasonals, and limited-releases. Next stop: Benford Brewing in Lancaster—the first craft brewery in town celebrated for their premise's pure well-water source. Before bouncing out of the Palmetto State, say cheers to Charleston, where ten craft breweries are booming, like fan-favorite Westbrook in Mt. Pleasant, and nine more are almost ready for their close-ups. Speaking of Westbrook, have your cake and drink it, too—if you can. Westbrook's Mexican Cake, an American Double/Imperial Stout, is so sought after that it requires a ticket and a long wait in line.
April is Beer Month in North Carolina
Just in time for flip flop season, beer month kicks off in North Carolina on April 1. As 2016 marks the fourth year of this tradition, you better believe "North Cackalacky" offers a full lineup of stellar sipping spots from Asheville and Raleigh to Wilmington, and several cities in between.
In 2009, Asheville
was dubbed "Beer City USA." Recently, three major breweries have set up shop there, cutting down on distribution costs and giving beer-loving locals one more thing to brag about. To help thirsty tourists discover all this scenic city has to offer, there's the Asheville Ale Trail. This online travel guide outlines the city's best drinking destinations from breweries to beer bars to bottle shops. Check out the walking tour of the South Slope (also known as the Brewery District). You'll hit Wicked Weed, Asheville Brewing Company, Hi-Wire, Twin Leaf, and Greenman. For folks in the Patton Avenue area, link your smartphone to its cyber map and let Siri lead the way. Don't worry, she'll pause for pizza so things don't get too out of hand. If you're up for the exercise, take the bike tour from the westside to downtown, where you can get a peek into the River Arts District as well as the Brewery District. For a different kind of bike ride, grab some rowdy friends and head for The Amazing Pubcycle. This open-air party bus is a mobile hybrid and a damn good time. For the classic experience, hit up Brews Crews (Asheville's original brewery bus tour) for an almost-four-hour booze cruise.
Fastest Growing Beer City
Wilmington has been deemed the fastest growing beer city in the country. Since 2012, this coastal town has sprouted nearly 10 new breweries—a number that doesn't even include the additional ten bottle shops, beer bars, and home brew supply stores that have also sprung up. This is quite a feat when you consider that four years ago, Front Street Brewery (the first of its kind) was standing solo in this town. After a loaded plate of Front Street Bewery's pulled-chicken nachos, a quick tour, and a frosty mug, wander a few blocks over to Bombers Bev Co. This hip bottle shop offers a laid-back vibe and three dudes who seriously know their brews. Make your way to the Brooklyn Arts District next and into Flytrap on North 4th. This quaint brewery is known for their playful art displays, live music, and a killer Belgium-style Tripel. Originally a retail shop for beer-making kits, Homebrew Supply electrified its small business when owners John and Michelle Savard launched the Wilmington Brewing Company. This local favorite has a tasting room, a game room, and typically, an epic food truck on deck. Sample their Sneaky Goose IPA, but lightweights beware.
Although Broomtail distributes their draft all around town, this off-the-beaten-path Wilmington brewery is warm, welcoming, and tastes even better straight from the source. Need a way to squeeze all the stops into one short visit? Enter: Port City Brew Bus. This tasty tour—which takes you all the way to Good Hops in Carolina Beach, encourages riders to explore the local breweries, shake hands with the brewers, and support local business. Too tame for you? Hop on the party-packed, pedal-powered, eco-friendly Trolley Pub, which fits up to 14 people and allows you to drink on board.
Virginia is for lovers, but it's mostly for beer.
For a West Coast taste with a Richmond backdrop, check out Stone's soon-to-be newest project, Stone Brewing World Bistro & Gardens. Next, we're off to Devil's Backbone in Lexington for a laid-back weekend tour and a taste from the taproom. This vibrant brewery prides itself on excellent food, gorgeous views of the Wintergreen Mountains, and a cabin-like feel. Bump down the windy road to Wild Wolf for their gorgeous beer garden and charming restaurant serving up locally sourced Southern-style grub. Top off the night by watching the sun go down at Blue Mountain Brewery. This family friendly brewpub is known for their picturesque mountain vista, outdoor bar, generous sampler flight (which includes every beer on tap), and righteous pizza menu.
A little further up the coast
Washington, D.C., proudly presents its Savor Festival in June. This American Craft Beer & Food Experience is praised for its exclusive salons, which host unique hop tastings and chef-inspired pairings. A little further north, slide on your shades in Rehoboth Beach, DE, for their impressive medley of pubs, ale houses, and oyster bars. Make your way to Milton to visit the widely identifiable Dogfish Head, one of America's most popular breweries, which distributes its citrusy 60 Minute IPA to more than half of the country. If you flip for funky ales and farmhouses, check out "Where the Wild Beers Are." This Brooklyn-based spring festival is all about those sours. Wolf costumes are recommended. If you're a patriotic drinker, you may want to stick around and ship up to Boston for the American Craft Beer Fest in May. Beer Advocate and Harpoon Brewery partner up each year for this shindig, turning out over 140 brewers at Seaport World Trade.
Previously published in the 2016 Spring Issue.
Receive your complimentary Relocation Bundle