Universal Design: Home Design for All Ages and Abilities
Universal Design: Home Design for All Ages and Abilities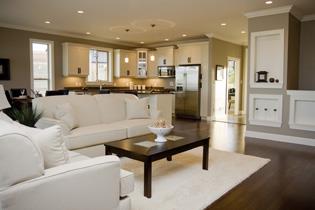 "It's all about me."
Your home should be all about you. Universal design creates livable, workable environments for everyone regardless of age, size or ability. Universal design is human-centered design that makes life easier, not only for those with mobility limitations, but also for those who are short, tall, young and old. Universal design is for everyone.
According to a recent survey by the National Association of Home Builders (NAHB), approximately two-thirds of baby boomers wish to 'age in place.' Thanks to the advancements of universal design, it is now possible to age in place with style. However, it is important to note that aging in place may not be possible in your current home. Many existing homes, or the home that you might be living in now, were not designed to accommodate the changing capabilities and needs of their owners. Boomers around the country now seek homes that can accommodate their current and future needs so they can age in place in a new home designed with them in mind.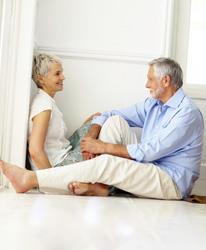 A recent survey by Hanley Wood revealed that boomers prefer a smaller, more luxurious, one-level floor plan that is high-tech, functional, low-maintenance and energy-efficient. Creating a comfortable, flexible space is paramount, and it's affordable. NAHB surveys have found that a one to two percent increase in home price can create a very accessible home in new construction.
Jerry Helms, sales director for Brunswick Forest in Wilmington, NC, says, "Aging in place starts at the neighborhood level. We've noticed a trend in homebuyers demanding universally designed homes. Boomers have indicated that when they purchase a home, they want it to be the last home they purchase. We've collaborated with our builders to continually improve home designs and have 40 new floorplans that meet aging in place needs."
According to Helms, access to quality health care is paramount when considering the final home purchase. Last year, Brunswick Forest, in conjunction with the area's leading medical center, New Hanover Regional Medical, opened a 40,000-square-foot medical complex, offering easy access to primary care and specialty physicians as well as laboratory, imaging and diagnostic services and convenient care. The center includes: orthopedics, cardiology, gastroenterology, neurology, pediatrics, urology and internal medicine, as well as MRI, CT Scan, digital mammography, ultrasound, bone density scans and X-rays.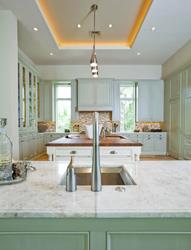 CRF Communities in central Florida takes its commitment to aging in place seriously. Lake Ashton and Vienna Square, two CRF communities, are modeled with the idea that anyone should be able to live in their home for as long as they desire, regardless of their age or ability. Lake Ashton offers affordable, active adult living with an amenity-rich atmosphere featuring golf, dining, every type of fitness and numerous activities. Vienna Square, located next to its continuing care campus, offers Lake Ashton's amenities with low- or no-maintenance housing built with green standards and universal design.
The communities provide complete professional health care services with an à la carte concierge menu of services. Their Secure Care Pledge offers priority access to the new state-of-the-art, no entrance fee continuing care campus. The continuing care campus offers companionship and home helper services, home care supplies and group care services at the best prices.
Universal Design
In the past, visions of 'Universal Design' conjured thoughts of unsightly grab bars in bathrooms, chair lifts and ramps. Fortunately, today's designers and homebuilders incorporate beautifully stylish elements that you would never suspect.
Consider incorporating these ideas when planning your new home.
Exterior
Low-maintenance exteriors of brick, stucco or composite materials reduce painting and repair. For landscaping, try planting low maintenance shrubs and plants that require the water available through rainfall only (xeriscaping). Or, you may want to consider purchasing in a neighborhood that offers maintenance-free landscaping.
Limit the number of steps in your home.
It's easy to trip and fall on even a small step into the home. Use gradual ramps (that don't look like a ramp) to get from the driveway or garage into the home.
One-level living makes it easier for all ages. Climbing stairs for grandchildren can even be problematic. Or, if you prefer a multi-level home, consider installing an elevator.
Windows & Doors
Choose wider doors (36" minimum on entry doors) with levered door handles. It's easier to just push down than to turn a knob. Consider keyless entry. Entry doors should contain a sidelight (providing privacy and safety). Place doorbells at an accessible height and include a sensor light at the entry. Crank-opened windows are also preferable.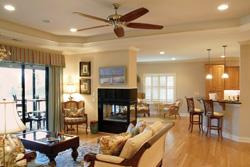 Open Floor Plan
Limit the number of hallways in your home. An open floor plan with great room, dining area and open kitchen creates not only a spacious feeling, but enables easy access for all. Hallways should be at least 42" wide or wider.
Kitchen
Consider eliminating an island to provide more room to move around. Install more floor cabinets and fewer upper cabinets. Manufacturers also make easy to use pull-down upper cabinets. Use pull-out shelves in the pantry.
Vary counter heights to accommodate standing or sitting. Elevate dishwashers 8" above the floor to facilitate loading and unloading. Use wide kitchen chairs with high seats and strong wooden arms and a kitchen table without corners.
Consider using smaller appliances, where appropriate, that are lightweight and easier to grip. Double door refrigerators with easy-to-grip handles work well.
A helpful tip for filling a pot with water-install a water spigot with a movable arm at the stove. Think of how much easier it would be to fill a pot of water in place. And, make sure the controls are on the front of the stove.
Bath
Design your bathroom adjacent to the bedroom, and include seating to make it easier to dress. Add grab bars to make baths and showers more accessible and to reduce the likelihood of falls.
Use slip-resistant bathroom surfaces. Install easy-maintenance vanity counters. Allow for easy access under counters.
Raise the level of toilet seats. As one ages, it's more difficult to get up from lower toilets.
Install a walk-in shower with curbless entry and a hand-held shower set. It's also a good idea to include a bench or seat in the shower. Avoid installing whirlpools or spas if they are too difficult to get in and out of. Use lever faucets, as knobs are hard to use. Locate shower and tub controls close to the point of entry.
Lighting
Increase ambient lighting. Larger windows allow for more natural lighting. Larger button light switches are easier to turn on and off. Use lighter colors to brighten the home, and add sensors to automatically turn on lights.
Bedrooms
You may want to consider having two master suites. In addition to being great for guests, it allows for you to be a caregiver to aging family members and allows accommodations for a caregiver if you might need one someday.
Make sure your room is large enough, and include large walk-in closets with wide doors.
Outdoor Living
Many boomers are looking to integrate outdoors with the indoors for entertaining. Especially in warmer climates, opening the indoors to the out allows you to enjoy outdoors year-round.
Over the past five years, homebuilders and building suppliers have identified the need for universal design and implementation, and now, a wealth of resources are at your disposal.
For more information on aging in place, try these helpful sites:
www.aarp.org
Contains numerous articles on universal design
www.asid.org
The American Society for Interior Designers
The NAHB has implemented a Certified Aging in Place Specialist Program that offers certification courses. Go to www.nahb.org/category.aspx?sectionID=686 for more details.
www.design.ncsu.edu/cud
The Center for Universal Design
Part of the College of Design at North Carolina State University in Raleigh, NC, the Center is a national research, information and technical assistance center that evaluates, develops and promotes accessible and universal design in housing, buildings, outdoor and urban environments and related products.
Receive your complimentary Relocation Bundle