Master-Planned and Gated Communities in Tax-Friendly States
Some people want to get away from high taxes like they want to get away from snowy, cold winters. Both are valid reasons to start looking for a destination to retire or relocate. Moving to a tax-friendly state can set you up for a better financial situation—and may even have a better climate. You want your hard-earned money to go as far as it can—after all, you've worked toward your retirement your whole life. So, when you're making plans to retire or relocate, you'll want to think about how your income can fit into your ideal lifestyle.
The Benefits of Choosing a Tax-Friendly State
If you're making the move from a high-tax state like New York, New Jersey, or Maryland, looking into a tax-friendly state is one of the best things you can do for you, your family, and your wallet. Some of the benefits include:
No tax on Social Security income, which can include 401(k)s, IRAs and pensions
Additional deductions on other forms of retirement income
Low sales, property, estate, inheritance and income tax rates
The goal is to get the most out of your savings and to live at your fullest capacity, and tax-friendly states are a great place to do that. But don't just move because taxes are low. Consider all the other factors, too. Is it a place you want to live in? Does it have the amenities—dining, shopping, attractions, etc.—that you want in your everyday life? You should also look for other potential taxes that aren't as nice. While tax-friendly states are generous in most tax areas, some may have drawbacks. For example, a state may have low income tax but a higher sales tax.
A Look at Some Tax-Friendly States
Delaware –  A destination full of gorgeous beaches, rich history, and beautiful scenery, the charm of seaside life is almost enough to make anyone want to move at the drop of a hat. But to sweeten the deal, Delaware is kind to your retirement incomes, offers low property tax, and has no sales tax.
Pennsylvania -  Full of history, an enticing geographical landscape, and a climate that'll make you want to spend most of your time outdoors, this state is also easy on your wallet. No tax on retirement incomes, a low sales tax, and a lower-than-average cost of living make it an ideal place to retire or relocate.
Florida - If the Sunshine State is your escape from frigid winters, you'll be pleased to know it's also tax-friendly. You don't have to worry about income tax, and your Social Security benefits and 401(k)s are untaxed at state levels.
North Carolina -  Enjoy a bit of southern charm, your choice of a mountain or seaside backdrop, and shorter winters. But that's not all. Lower taxes and lower cost of living make this state an even more desirable destination.
Research and Explore Tax-Friendly Communities Around The U.S.
Click to explore the following tax-friendly communities. Request information from multiple communities by selecting the checkboxes to the right and completing the form below.
North Carolina has always been recognized for its natural diversity and gracious hospitality, which now has made it into an extremely popular retirement destination. Choices abound for a healthy, happy retirement setting, whether you want to relax on the beach or enjoy the great outdoors in our mountains or stay busy in a bustling city. The North Carolina Certified Retirement Community designation means a city has completed a comprehensive evaluation process with requirements outlined by the North Carolina General Assembly. These Certified Retirement Communities are recognized for providing the amenities, services and opportunities retirees need to enjoy active and productive lives.
LIVE SIMPLY, THINK BIG isn't just our tagline, it's our way of life. We aren't limited by
our size and neither are our dreams. Whether you want to spend your retirement volunteering,
spending time with friends or finally opening that small business you always dreamed of, you
can "Do What You Love in Reidsville"; Being "retired" doesn't mean you can't live out your
dreams, it means you now have the freedom to do it!
https://www.riseupreidsville.com/retire

Johnston County has become the first county in North Carolina to be designated a Retire NC destination. Johnston County's top retirement destination, Clayton, is located at the crossroads of I-95 and I-40. Experience rural small-town living, just 15 minutes from Downtown Raleigh. Retirees will find rural farmland and small town charm in and around the Research Triangle Park region. Find out more about the 55+ communities located in the Clayton area and visit us for a weekend to see what awaits you in retirement — local festivals, unique boutique shops, a little nightlife, good people, even better BBQ and quality built homes.
https://www.johnstoncountync.org/retire-joco/

If you are looking to build or purchase in an exceptional mountain golf community, it's time to look closer at Rumbling Bald on Lake Lure. You will find a few choice, undeveloped properties within our community at pleasantly affordable prices along with several spectacular homes in a variety of settings. You can come today; enjoy our lake and golf, and choose the opportunity to live in a remarkable community.
https://rumblingbald.com/living-here
Step into this active 55+ community just minutes from the beach in Port Orange, Florida and be amazed at how affordable a resort lifestyle can be! You?ll discover friendly people, luxury amenities and homes for sale and rent. Our community offers a year-round calendar of social events planned by our Activity Director, two beautiful clubhouses, heated pool, lake for fishing, and so much more. Briarwood is among the award-winning family of Thesman Communities proudly offering affordable resort living since 1980.
Management and Sales offices are still open 7 days a week, 8-5. Please contact us for more information.
Virtual Tours now available! Feel free to watch our video playlist below. You can navigate to the next video by simply clicking the button to the right of the "share" icon.



Homes are shown by appointment only and social distancing and hygiene guidelines are strictly adhered to. Safety is our priority.
Also check out our other Thesman Communities:
Briarwood
Las Palmas
Las Palmas Grand
Las Vegas Meadows
Palmas Del Sol
Palmas Del Sol East
Sunrise Village
Village Green

Lake Arrowhead sits on a 540-acre lake surrounded by mountains, pristine wilderness, and championship golf. Enjoy Resort style living that includes a 24 hour manned, guarded entry, a 2-story marina pavilion, sports courts with basketball, fishing pier, 14+ miles of hiking trails, swimming pools, pickleball, tennis, boat rental slips, boat slips and dry storage to name a few. We encourage you to browse our inventory of homes here, our photo gallery here, and our video gallery here. The great part about our location is that we are in close proximity to the State of the Art Northside Cherokee Hospital, have easy access to the interstates, fine dining, shopping and entertainment.  Our county taxes are the lowest in the state for residents 62 and older.
Enjoy our Ranch Homes and Villas
Lake Arrowhead's Portfolio of Ranch Style Homes are selling in three Neighborhoods.
The Woodlands Ranch Style Homes start in the $300's, Bluffs at Highlands Vista in the High $400's,
Highlands Vista Ranch Style Homes start in the $500's and Golf Villas starting in the High $400's
Reservations have just been released for the New 2022 neighborhoods
Highlands Vista Phase 3 offers long range mountain and golf views.
Waterview townhomes and Marina Parc villas showcase Lake views and are walking distance to the community marina and lakeside park.
And Franklin Elm provides private heavily wooded homesites.
Eastman Community Association – Four Seasons Paradise
The Eastman Community Association in Grantham, NH is an ideal active-adult and retirement destination. It's also the perfect place to raise a family. Eastman is a sustainable, intergenerational community in the Dartmouth-Lake Sunapee Region of New Hampshire.
Ultimately, Eastman is a nature-lover's haven. Tucked away in the pristine woodlands of New Hampshire's Upper Connecticut River Valley, the Eastman Community Association encourages an active and connected lifestyle. Residents move to the rhythm of four distinct seasons. And, outdoor adventure is a central theme.
Just Add Amenities
Eastman is centrally located, but just remote enough. It's conveniently two hours north of Boston and three hours from Hartford. And, Lake Sunapee, New London, and Lebanon are just minutes away. As a result, residents have ample access to urban amenities. Cultural venues, medical facilities, as well as educational opportunities are all within reach.
New Hampshire's Grantham Mountain offers a picturesque backdrop to Eastman's 345-acre lake, and ample hiking trails. So, be sure to pack your boots!
Looking for more? Try 37 miles of cross country trails starting at the Eastman Cross Country Center. In summer, head to one of six beaches, kayak and canoe launches, or to the pool and fitness center year round. Eastman also boasts an 18-hole golf course, har-tru tennis courts and an award-winning restaurant as well.
Condos are available from $125,000 to $270,000. Eastman's single-family homes range from $130,000 to $1.5 million. (Prices are subject to change.)
Imagine for a minute you're visiting the private club community of Hampton Hall in Bluffton, SC. You've gotten over the awe of the dramatic and picturesque Lowcountry landscape, and you're starting to take in your surroundings. The first thing you're probably going to hear is laughter. Depending on where you're standing, it could be coming from the lakeside resort pool, or the Pete Dye golf course, or maybe one of the various dining venues. For while everything here is beautiful to look at and expertly maintained and cared for, the key component is fun and enjoyment.
We thought you should be prepared for that because, sure enough, the tennis pro will coax you on to the courts, or the threesome about to tee off will enlist you into completing their group. You see, the minute you pass through the gates at Hampton Hall, something changes. You are at once connected with this club and community. A place you may have never known existed, right up until the moment you fall in love with it.
We invite you inside the gates to tour Hampton Hall. Come see if you feel a connection with this Lowcountry private club community. Come see if Hampton Hall feels like home.
Affordable Active 55+ Resort Living.
It's easy to see why so many of our residents feel like they're on vacation all year long. Las Palmas is a world-class resort with year-round activities, luxury amenities and a friendly group of active 55+ adults who enjoy life to the fullest, just like you.
Visit our impressive selection of custom-built homes beginning in the $70's. Whether you're looking for the best value in retirement or simply the best place to take life easier, you'll enjoy the lifestyle at Arizona's premiere 55+ resort. Las Palmas is among the award-winning family of Thesman Communities proudly offering affordable resort living since 1980. Gated with 24 hour security. Visit us today, open daily for tours 8-5.
Management and Sales offices are still open 7 days a week, 8-5. Please contact us for more information.
Virtual Tours now available! Feel free to watch our video playlist below. You can navigate to the next video by simply clicking the button to the right of the "share" icon.



Homes are shown by appointment only and social distancing and hygiene guidelines are strictly adhered to. Safety is our priority.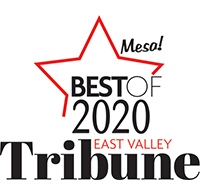 Mesa's Best!
Las Palmas was voted Best Manufactured home Community 2020 East Valley Tribune!
Also check out our other Thesman Communities:
Briarwood
Las Palmas
Las Palmas Grand
Las Vegas Meadows
Palmas Del Sol
Palmas Del Sol East
Sunrise Village
Village Green

Resort Living Can Be Beautiful and Affordable. Homes from the $30's.
Step into this active 55+ community in East Mesa and be amazed at how affordable a resort lifestyle can be! You'll discover friendly people, luxury amenities and newly remodeled homes from the $30's. Our gated community offers a year-round calendar of social events planned by our Activity Director, a courtesy shuttle bus to get around town, a beautiful clubhouse, heated pool and so much more. Sunrise Village is among the award-winning family of Thesman Communities proudly offering affordable resort living since 1980.
Retirees and other active adults who want a relaxing lifestyle in a perfect location are discovering Pennsylvania's Crossings at Sweetbriar.
Developed by Landmark Homes, the regional leader in creating upscale age-55+ communities like The Crossings at Sweetbriar, residents have a choice of both one- and two-story designs with open floor plans. Customizable options and special features make each residence unique, and the area's low cost of living and property taxes add to the value of every home.
The Crossings at Sweetbriar residents have their own private community clubhouse for meetings and special events, plus walking and biking trails through more than 20 acres of preserved open space. But Sweetbriar's most desirable amenity maybe its tranquil location in the rolling farmlands of central Pennsylvania. Historic sites and seasonal farmer's market make every day trip an adventure. The nearby town of Lebanon features fine and casual dining restaurants, retail stores, antique shops, and cultural centers like the Gretna Theatre. The Iron Valley Golf Course tops the list of local outdoor-recreation venues, while the Wellspan Good Samaritan Hospital and the Lebanon VA Medical Center offer top-rated health care services. Just a short drive to the southwest is the state capital of Harrisburg, the regional center of commerce and culture.
Request more information below to get all the details. The active-adult lifestyle at a great location offered by The Crossings at Sweetbriar may be just what you're looking for.
A unique waterfront community with new homes from the $400s – $1.5M+ and available lots starting at $90k.
Located just 10 minutes north of Downtown Wilmington, NC (by boat or car) sits River Bluffs, a gated community that overlooks the Northeast Cape Fear River. River Bluffs offers a wide variety of home plans, including affordable cottage-style homes for a growing family, single-level homes with retirement-smart features, low-maintenance townhomes, and even fully-custom homes built by the area's most prestigious builders. River Bluffs boasts a variety of luxurious amenities such as a a 2,700 foot river walk with covered gazebos, 188 slip marina, miles of walking trails and parks, a beach-entry pool, high-end fitness center, tennis and pickle ball courts, a community General Store, over 30+ resident clubs including kayaking, boating, and much more.
Enhance Your Quality of Life by Moving to River Bluffs:
• No city tax and no traffic!
• Low county & state taxes. North Carolina residents enjoy some of the lowest cost of living expenses on the Eastern seaboard!
• Enjoy low HOA dues which include yard maintenance, trash service, recycling, and access to all community amenities.
• 5.25% flat income tax and 0% estate or inheritance tax.

Looking for the perfect lifestyle community for retirement or to raise your family? Keowee Key has more of what you love. Golf, tennis, fitness center, swimming, boating and pickleball are just a few of the amenities this active, gated, lakeside community offers.
Located at the base of the Blue Ridge Mountains in Salem, SC, and surrounded by the pristine waters of Lake Keowee, Keowee Key is a 1,600-acre community carved out of a forest of hardwood and pines. You'll find a wide variety of home styles and price points available in a natural setting with mild seasons and an abundance of local adventure.
All homes in Keowee Key are custom-built, including lakefront, mountain or golf-course views. For a maintenance-free lifestyle, you'll find ample condominiums, town homes and cottages. Choose a lakefront home with private dock or use one of 5 community docks with 324 boat slips, pontoon and kayak rentals, and a supply store.
The challenging 18-hole, par 72 George Cobb Golf Course, features four tee boxes to match all skill levels. A clubhouse with award-winning chef, lakeside leisure trail, three swimming pools, and a dog park, contribute to Keowee Key's country club lifestyle.
Noble's Pond Delaware 55+ Community
Noble's Pond is where active adults ages 55+ are having the time of their lives during the prime of their lives. Homeowners can choose to build their dream homes with Regal Builders in tax-friendly Dover, Delaware at Noble's Pond which is situated on 293 acres of lush, wooded land.
Noble's Pond, a "Main Street Americana" style neighborhood, has won some of the highest awards for home building and community design. All home plans from Regal Builders are available in three distinct styles, with a variety of options for virtually limitless personalization and features that active adults want. Noble's Pond is located minutes from top-ranked healthcare, renowned beaches, and historic downtown Dover. The central location is convenient to the cities of Washington, D.C., Baltimore, Philadelphia, and New York City.
Amenities Listing:
Award-Winning Lifestyle Director: She plans everything from low-key community get-togethers and
regular outings to international adventures. Your social calendar will be the envy of all your friends.
Clubhouse: The social hub of the community with amenities such as swimming pool with Olympic lap
lane, new fitness center, four bocce courts, tennis courts, putting green, billiards, library, commercial
kitchen, event spaces and more.
Enjoy the outdoors: Community nature trail great for walking and biking, fishing pier with large
picturesque pond, community gardens.
Give Back Together: Homeowners regularly plan benefits and fundraisers to benefit causes they care
about. So many ways to get involved and make a difference in the local community and beyond.
Welcome to Riverbend! 55+ Living in New Castle, DE. The perfect blend of a historic small town and modern living. Riverbend is located in the beautiful, historic riverfront town of New Castle, Delaware. New Castle has been named in the top 10 of the most beautiful small towns in the United States. Renowned for its Separation Day and A Day in New Castle events that showcase the town's hundreds of years of history. There is never a shortage of things to see and do in New Castle, Delaware. Take your living outside the home with community amenities. The Riverbend community is a modern neighborhood with community amenities such as a clubhouse with an indoor pool and outdoor decks, a fitness center, and gathering spaces. Located along the Delaware River with access to New Castle's many walking and bike trails, beaches, and fishing areas. This charming town is located just 10 minutes south of downtown Wilmington with easy access from I-95 and I-295 makes it conveniently located from many metropolitan draws such as Philadelphia (45 min), Baltimore (1.5hr), Rehoboth Beach (1.5hr), and Washington D.C (2hrs).
Cresswind Charlotte is a luxury age-55+ community that is ideal for active adults and retirees who seek a private retreat that's still convenient to uptown attractions.
Kolter Homes brings its national reputation for building top-quality, energy-efficient residences to Cresswind Charlotte. Here you'll find customizable single-family homes with 11 distinctive floor plans from which to choose, with two or three bedrooms and two-car garages. Designer models and a choice selection of move-in-ready homes are available for live or virtual tours.
Club Cresswind is the heart of community life at Cresswind Charlotte, where the full-time activity director schedules weekly events and interest club meetings that keep everyone engaged. The fully-equipped fitness center features yoga and aerobics studios, while the indoor pool has lap lanes and a spa. Just outside is the resort-style pool, sports courts for tennis, pickleball, and bocce ball, and trailheads for walking paths that meander throughout the 370-acre woodland property.
Just beyond the Cresswind Charlotte entranceway are grocery stores, restaurants, and the Novant Health Mint Hill medical complex. Cultural arts centers and entertainment attractions in Uptown Charlotte are only a 25-minute drive away. Additional options include day trips to national forest hiking trails and cozy weekend getaways to nearby mountain ski resorts.
When you request more information below, you'll be on your way to a healthier and happier lifestyle at Cresswind Charlotte.
Beau Coast is found in the quaint coastal town of Beaufort, NC, which was named "South's Best Small Town" by Southern Living Magazine. If you're wondering why Beaufort deserves those accolades, the explanation is simple: it's a small town with big character.
Historic Beaufort, NC is more than just a small coastal town, it's steeped in a distinct history. First established in 1709, it's the third oldest town in North Carolina and was a port town visited by patriots, merchants, and craftsmen. When you call Beau Coast home, you'll find yourself at the center of it all. The coastal charm. The compelling culture. The stunning natural areas. And so much more.
Your Latitude! You've earned a life where every day feels like an escape. Find your paradise at Latitude Margaritaville, the 55-and-better lifestyle where fun and relaxation meet.
Inspired by the legendary music and lifestyle of singer, songwriter and best-selling author Jimmy Buffett, this is where life rolls easy, neighbors are friends and the party never ends. Awesome recreation, FINtastic dining and entertainment will make the town center the place to be and just a golf cart ride away. Masterfully crafted new Latitude homes let you hang your hat where your heart is.
Latitude Margaritaville Hilton Head is located on Highway 278, 2.5 miles east of I-95 in the city of Hardeeville, South Carolina – the scenic gateway to world-famous Hilton Head Island. The area is steeped in natural beauty, with an abundance of golf courses, pristine beaches and waterways for boating, kayaking, and fishing. Nearby are the historic cities of Savannah, GA and Charleston, SC filled with museums, cultural arts, shopping and dining.
Plan your visit
These are only a few of the tax-friendly states. You may find that you're looking for a destination out west or somewhere else in the south. Take a look at the list of other low-tax states below, and browse the 55+, resort, gated and other communities waiting to welcome you with open arms.
Request information for your selected communities.
Your Information Request for your selected properties