A game-changing environment
By JG Walker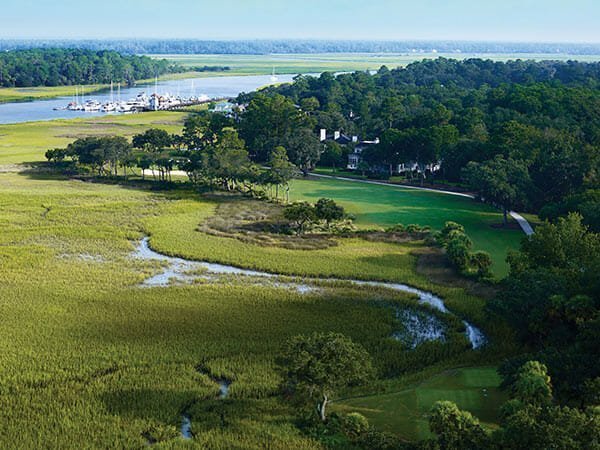 Environmentalists have long had a natural antipathy toward the golf business. That disdain was understandable in the days when many golf courses were created by clear-cutting, wetland-filling, and terra-forming, then maintained with large amounts of fertilizers, pesticides, and fungicides.
Serious pollution regulation at the national level began with the creation of the Environmental Protection Agency (EPA) in 1970. State laws and local ordinances adopted in the succeeding decades established limitations on land development that often affected how golf courses were built. Real progress, however, was frequently a matter of individual initiative on the part of contentious course developers, architects, and superintendents.
Since 1987, the non-profit Audubon International organization's Cooperative Sanctuary Program for Golf has helped educate everyone in the golf industry about the long-term benefits of sound environmental stewardship. Achiev
ing the status of an "Audubon Cooperative Sanctuary Golf Course" through a standardized process of certification became a badge of honor in the business. Today, more than 2,100 golf courses in 24 countries participate in the program.
But protection of the natural environment can't exist in a vacuum. Economic and social factors must also be taken into consideration to achieve the more inclusive goal of "sustainability." And while the ethic of sustainability has an important role in the search for solutions to contemporary challenges like climate change and resource allocation, the golf business is embracing this new perspective as a viable path to the future.
The Evolution of Creation
Clyde Johnston is a golf architect with more than 30 original course designs. "We're a lot more sensitive to the environment these days," he says, "and there have been enough studies and tests done that we now know what the results were from some of those past activities."
A past president of the American Society of Golf Course Architects (ASGCA) who continues to serve on the board of the ASGCA Foundation, Johnston has been an advocate for environmental protection and ethical practices. "Sustainability has been a majo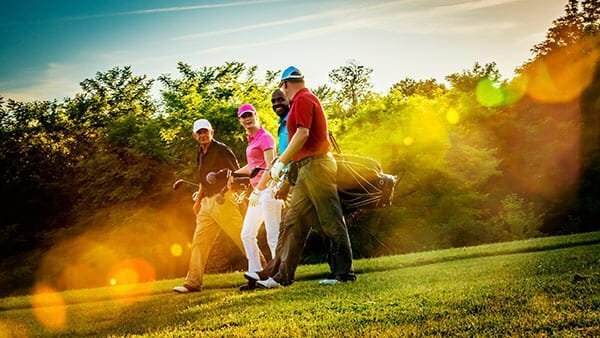 r subject matter at our meetings for 10 or 12 years now," he says, noting the ASGCA Foundation's publication earlier this year of new water conservation guidelines.
As the demand for new courses has declined, much of Johnston's work has shifted to the renovation of existing layouts. With that has come the opportunity to correct some past mistakes and promote the sustainability approach to his clients.
Johnston's most frequent recommendations these days focus on saving resources, both natural and financial. Among them are eliminating unnecessary turf and installing new drought-tolerant grasses along with irrigation system sensors and software to reduce water usage. Wider natural vegetation buffers around ponds and wetlands increase filtration and cut mowing time, while enlarging natural wildlife habitats. The use of integrated pest-management systems involves daily scouting for problems and spot treatments that minimize the use of potentially harmful, and always expensive, chemicals. Recycling and composting waste—everything from grass clippings to clubhouse kitchen refuse—can be a source of natural fertilizer and require fewer costly landfill trips. Even encouraging clubs to buy more local products is part of the community-enhancement side of sustainability.
As an example, Johnston cites his work with River Landing Country Club in Wallace, NC. "When we built the two golf courses there, it was nice land that had already been timbered, so the cheapest thing to do was to plant grass to stabilize the soil. We ended up with about 325 acres of turf and that's too much," he says. "So last year, I did a presentation to about 250 of their members and talked about sustainability, what the golf course needed and what they could do. It was very well received and they're taking out about 100 acres of turf and expanding the vegetative buffers. They're also looking at a recycling program to eliminate styrofoam and to take [course] debris and restaurant waste to a composting site to recycle in the plant beds as fertilizer."
On the issues of air pollution and energy savings, Johnston notes the work at the Bear Trace Course at Harrison Bay in TN. They've converted their maintenance equipment to an all-electric fleet, thereby reducing the club's carbon footprint, saving on fuel costs, and creating a quieter environment for players and wildlife.
"The whole topic of sustainability is one that probably 99 percent of designers and superintendents understand," Johnston says. "So it's often about getting the folks in management, and ultimately the customers, to understand the all-around positive results that are possible. To achieve sustainability, you've got to get everyone involved."
The Business of Responsibility
Teresa Wade, an avid golfer, gave an interview in 2014 to Superintendent magazine, an industry publication for the professionals who maintain the world's roughly 34,000 golf courses, more than 15,000 of which are in the United States.
"I was asked what I liked most about golf and I said 'tradition'," Wade recalls. "Then I was asked what I disliked most about golf and I said 'tradition'."
Wade wasn't asked for her opinions as an enthusiastic player. She's also a consultant with a graduate certification in corporate sustainability applications who founded the non-profit "Experience Green" initiative on Hilton Head Island, SC. Clyde Johnston serves on the organization's board, which has hosted several "Sustainability in Golf" symposiums to share ideas and experiences. In addition, Wade now runs her private company, Sustainable Solutions, based in Charlotte, NC.
"There's a difference between sustainability and environmentalism that I'm adamant about," she says. "Sustainability considers economic impact, as well as the community aspect. It's not just about protecting the environment; it
's about all three."
Noting contemporary financial challenges, Wade says, "The golf business is a tough one to be in right now and you have to be creative … The bottom line is that the costs to maintain a golf course are going up, so I have to lead with the opportunity to save money and resources, then add that sustainability is the right thing to do to enhance social responsibility, ethics, and brand appeal.
"There's a new market for golf going forward, a new generation of consumers that are much more educated about the environment and sustainability. They look for companies that operate in a more responsible way," Wade says. "That's where I come in as an advocate and a strategist to tie them all together, to help club managers understand that by changing some things in the 'landscape,' we can preserve the environment, while also enhancing the quality of play [on the course] and improving property values. The whole field of sustainability that's emerging is not only about protecting your environment, but your human and financial resources as well."
Wade cites the successful example at Rockwind Community Links in Hobbs, NM. When architect Andy Staples was brought in to redesign the layout, he went beyond that with a "Community Links" strategy that has now been trademarked. The plan maximizes the efficient use of water, energy, and fuel; promotes programs to bring young players into the game; opens up the facility for use by non-golfers like joggers, dog walkers, and picnickers; and thereby increases overall facility revenues. Staples' innovative work was honored when Golf Digest named Rockwind one of its "Best New Public Courses" for 2015.
Efforts by promoters of the "Experience Green" initiative and others have not gone unnoticed in the wider golf community. The Golf Environment Organization (GEO), an international non-profit dedicated to promoting sustainability standards in golf, recently named Hilton Head's Sea Pines Resort as South Carolina's first golf facility to achieve GEO Certified® status for enhancing wildlife habitat, reducing waste, exclusive use of recycled wastewater for irrigation, and its sustainability educational 
programs. Then in January 2016, the GEO and the International Association of Golf Tour Operators (IAGTO) announced that the entire Hilton Head Island Area would be one of the first recipients of the new international Sustainable Golf Destination Award.
Establishing national standards is
the next big challenge. "Getting the U.S. golf industry on board with sustainability is the ultimate goal," Wade says. "That is my focus now—the adoption of a clearinghouse platform for data and [to] set reduction goals with regular reporting." She urges golf clubs and industry leaders to take a proactive approach that stays ahead of government regulations and sets an ethical example in the community for environmental protection, efficient operations, and a higher overall quality of life.
Nobody expects the world to change overnight, but if a business once maligned for its unfriendly practices can take a leading role in enhancing the natural and human environments, then we might just be able to create a more sustainable planet after all.
Quail Ridge Country Club
Boynton Beach, Florida
Located in Florida's Boynton Beach, Quail Ridge Country Club is home to a pair of 18-hole Audubon Cooperative Sanctuary golf courses. Jim Hengel is the club's superintendent and has the title of Director of Agronomy, otherwise known as "the guy who grows the grass."
And growing less of it is one of his major sustainability efforts. "We've taken a number of out-of-play areas back to natural plantings," Hengel says. "That's a minimum of 25 acres [of turf] so far, and more are planned for the future. That's really cut our irrigation.
"In our case," he continues, "it's more of a redistribution of manpower than anything else to keep other areas better maintained. And that saves us on fuel costs and wear-and-tear on our equipment."
Hengel also touts the club's use of an EDS Waste2Water system for cleaning its mowers and other equipment. "Since I've been here, we've put in a self-contained wash station that recycles its own water after it's treated so that we're not putting it into the wastewater stream."
He also notes that Quail Ridge has been a local leader in reducing the use of chemicals. "We have an emphasis in my maintenance program on using biological products that minimize the need for pesticides. It's been working exceptionally well this year. There have been different pathogen problems in South Florida, but we're not experiencing any.
"Proper cultivation during the summer is another key," he says. "We do our aerifications based on scientific measurement of organic matter and soil tests. We send those samples to a lab and monitor the results. That helps to extend the life of our greens."
Like other clubs that have adopted a more sustainable approach, Hengel notes the importance of member awareness. "Our members are very involved. We have a weekly newsletter to let everybody know what we're doing. Quail Ridge has an above-average number of low-handicap golfers and they know that golf is their number one asset. They're very in-tune to golf conditioning, very supportive of all of our programs."
The Landings Club
Savannah, Georgia
The Landings residential community is located on Georgia's Skidaway Island near Savannah. Home to six Audubon Cooperative Sanctuary golf courses, The Landings Club received the 2006 Golf Course Superintendents Association of America (GCSAA) Environmental Leaders in Golf Award and earned the Georgia Golf Environmental Foundation Environmental Leaders in Golf Award in 2014.
Tyson Helsel has been with the club for 12 years and is Director of Golf Maintenance for the Marshwood, Magnolia, and Deer Creek courses. "Since converting all of our fairway grass to Celebration Bermuda," he said, "we've found that our water savings has been incredible. Back in 2008, we were pumping about 320 million gallons per year. Today, we're down to about 240 to 250 million gallons." And nearly all of that is treated wastewater.
Helsel also noted the benefits of new irrigation technology. "We run on an evapotranspiration system. Weather stations on site give us a nightly evaporation rate, so if we lose one-tenth of an inch [of water] on a hot day, we can put one-tenth of an inch back. We have over 6,000 irrigation heads, and we can monitor exactly how much [water] each is putting out. That makes our pump system much more energy-efficient.
"As far as chemical usage," he said, "we now employ mapping and scouting. Typically, the same areas every year are where we find our main insect and other problems. We keep a book, so we don't just broadcast massive applications for no reason and can target them. It saves us tons of chemical usage." He also noted that the club is growing six-foot-wide natural barriers around lagoons to filter run-off for better water quality.
"I would love to highlight our member involvement," Helsel said of the club's continuing sustainability efforts. "We're a member-owned club so their dues are paying for it. The Landings Club has a Skidaway Audubon committee that holds an annual golf tournament that raises money; all of those proceeds go back into the golf courses and other projects. They've donated pollinator-friendly plants, a naturally landscaped berm and a three-acre sparrow field with purple martin nesting gourds. They also have a terrapin turtle rescue program—when the turtles lay eggs in our bunkers, they cover them up and release the baby turtles.
"Our membership has been so supportive of everything we do," he concluded.
Seabrook Island
Seabrook Island, South Carolina
Seabrook Island is a resort and residential community on the South Carolina
coast about 20 miles south of Charleston. Twenty years ago this spring, the two Seabrook courses became the first in the state to be certified as Audubon Cooperative Sanctuaries.
Sean Hardwick has been the club's Director of Golf Course Maintenance since 2003. "Our members take extreme pride in being the first Audubon Cooperative Sanctuaries," he says, "and I've gone through six recertifications in my time here."
Expanding wildlife habitat is a major sustainability goal. Hardwick noted club members monitor the 60 bluebird box nests that have been put up around the courses. "And we have a bald eagle nest in a dead tree," he adds, "that has produced four clutches of eggs in recent years." As long as the breeding pair returns, the dead tree will stay.
Replacing golf turf with native grasses has also created new habitat for native wildlife. "We've reduced the turf areas by about 40 acres in the time I've been here," Hardwick says. "That reduces the area we have to maintain and that saves us on fuel and labor [costs]. We don't have to water those areas and don't have chemical inputs either.
"We've also, in recent years, gone to an expanded border around all of our lagoons to at least four feet," he says. Growing those borders up to a foot and a half in height filters run-off and stabilizes the banks. Seabrook has also spent about $140,000 upgrading its irrigation systems, employing new technologies to reduce water use by up to 30 percent.
"Another huge thing we've done," Hardwick says, "is to transition about 75 percent of our maintenance fleet to electric or hybrid mowers, carts and other equipment. We've tremendously reduced our fuel usage and emissions. They do a great job and there's no fall-off in production."
Hardwick notes that the human environment has improved as maintenance costs have gone down; most of the increases in his annual budget have gone for higher worker wages and expanded benefits.
"Part of our task these days," Hardwick says, "is to do outreach and education, [to show] that golf courses are places that really take care of the environment.
"If we can reduce costs for our members and be good stewards of the environment at the same time," he concludes, "it's a win-win situation for everybody."
Previously published in the 2016 Spring Issue.
Request More Information from:
Receive your complimentary Relocation Bundle