Puerto Rico: The Caribbean's Best Kept Secret
Puerto Rico: The Caribbean's Best Kept Secret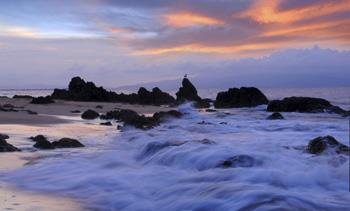 With its palm-fringed white sand beaches, warm turquoise waters and verdant rainforest, Puerto Rico is as dreamy a Caribbean island as Bermuda, Jamaica, Antigua or the Bahamas. Its culture is a vibrant blend of Spanish, Taíno Indian, African and American influences. This tropical, salsa music-filled paradise is a world away from frigid winter, yet direct flights from most major U.S. cities make it an easy destination. Also, because Puerto Rico is a commonwealth of the United States, you don't need a passport or to exchange currency to visit. Spanish is the dominant language, but English is spoken in tourist areas. Puerto Rico, the easternmost island of the Greater Antilles, is about the size of Connecticut and includes three other small islands, Vieques, Culebra and Mona, along with numerous inlets.
For those who like some history, art, golf and spa pampering along with their beach time, Puerto Rico offers a beguiling range of activities. There's great shopping in San Juan, including posh designer boutiques and a lively gallery scene. From Saks Fifth Avenue to Macy's or Walmart, any retailer in the continental U.S. can be found there. You can explore the historic district of Old San Juan with its Spanish Colonial cobblestone streets, cathedrals and forts and take in beautifully preserved Neoclassical and Art Deco architecture in the town of Ponce. There's tremendous bio-diversity on the island. It's easy to go from beach to rain forest to mountains within a day's time.
Exploring the Natural Wonders
No trip to Puerto Rico is complete without a visit to El Yunque National Rain Forest, which is located a 45-minute drive east of San Juan. The 28,000-acre virgin forest preserve features an extensive network of hiking trails maintained by the United States Forest Service. The only U.S. rainforest, it is home to 240 species of tropical plants and wildlife. The forest still looks much as it did in 1493, when Christopher Columbus first discovered Puerto Rico. You'll see spectacular waterfalls, wild orchids, giant ferns (some grow as tall as 120 feet!), rare parrots and millions of tiny tree frogs.
Puerto Rico has beaches to please all tastes-from the tranquil crystalline lagoon of Luquillo Beach, located 30 miles east of San Juan, to the world-class surfing beaches of Rincón along the northwest coast, where winter waves can reach 20 feet. You'll find opportunities at beaches all over Puerto Rico to windsurf, boogie board and body surf. Abundant coral reefs and underwater caves make for captivating scuba diving, and a number of companies offer luxury catamaran snorkeling outings off the coast of Fajardo. The waters teem with rainbow-hued fish and other marine delights.
Several ranches rent horses by the hour and offer guided beach horseback rides. You can also just kick back on the shore with a novel and a classic Puerto Rican piña colada (which usually comes garnished with a maraschino cherry and a paper parasol). The island sun is intense, so you'll want to bring sunscreen with a high SPF.
An hour and a half west of San Juan, Parque de las Cavernas del Rio Camuy is a 268-acre underground park of caves, canyons and sinkholes. A tram takes visitors down to a 180-foot high cave, where a guide then leads a tour on foot. You'll see impressive stalactites and stalagmites, the third largest subterranean river in the world, and light-shy wildlife, such as blue-eyed river crabs and furry-legged tarantulas. The caves are said to house more than 100,000 bats, but they rarely make appearances during the day.
On the day that you explore the caves, you can also visit the nearby Observatorio de Arecibo, site of the world's largest single-dish radio telescope that has a whopping 1,000-foot diameter. Dubbed "an ear to heaven," the observatory is part of the National Astronomy and Ionosphere Center, a national research center operated by Cornell University under a cooperative agreement with the National Science Foundation. You'll find interactive exhibits about all sorts of astronomical phenomena and have access to the observation deck.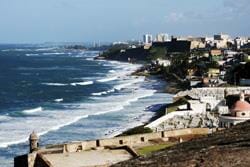 Be sure to visit Vieques's Puerto Mosquito bioluminescent bay, where millions of microscopic dinoflagellates (organisms that are half-plant and half-animal) light up when disturbed by movement. When you swim or kayak at night, the water glows with mysterious blue-green light. Pouring water from your hands in the bay has a similar effect to that of Tinkerbell flying around the top of Cinderella's castle at the beginning of Disney movies-tiny light flecks cascade down. It's absolutely magical.
Golf Courses and Spas
Puerto Rico is sometimes called the "Scotland of the Caribbean" because of its many golf courses. There are 23 courses on the island and six more are underway. Some of the biggest names in the business, such as George and Tom Fazio, Arthur Hills, Robert Trent Jones, his son Rees Jones, Tom Kite, Jack Nicklaus, Greg Norman and Puerto Rico's own Chi Chi Rodrguez, have designed courses that take full advantage of the island's diverse topography. The Bahía Beach Resort & Golf Club, Dorado Beach Resort & Club, El Conquistador Resort & Golden Door Spa, Palmas del Mar, Trump International Golf Club and Rio Mar Beach Resort & Spa, a Wyndham Grand Resort, are among the favorites.
Travelers can pamper themselves at one of San Juan's luxurious day spas. The Zen Spa in Condado offers a Sea Waves Wrap, which is a body slimming treatment that utilizes white algae, sea salt and honey. Signature treatments at the Ritz Carlton Spa include a passion fruit-scented Rainforest Stone Massage and a two-hour Drift to Sleep Treatment that is designed to promote sleep at a deep state of sub-consciousness. Other posh spas located around the island include the 12,000-square-foot Olas Spa in the Caribe Hilton in Condado and the Eden Spa, in partnership with the Sheraton Old San Juan. The Balinese-inspired Mandara Spa at the Rio Mar Beach Resort & Spa offers ritual treatments, such as Salsa for the Soul (5½ hours of spa indulgences) and Latin Lovers Ritual (side-by-side massages and facials and a light lunch together on an ocean-view balcony).
Food and Drink
Puerto Rican cuisine is called "comida criolla." Flavorful, but not spicy hot, it can be traced back to the indigenous Taíno people whose diet staples were corn, tropical fruit and seafood. When the Spanish arrived on the island, they introduced olive oil, eggplant, onion, garlic, rice and cilantro, as well as beef and pork to the native fare. They later brought slaves from Guinea and the Gold Coast of Africa to work in their sugar cane fields. The Africans left their mark on Puerto Rican food with plantains, bananas, okra and yams. The flavors of these different cultures have mingled over time to create the food of today. You'll enjoy fresh seafood (often caught that same day-sometimes even the same hour!) and delicious tropical fruit juices made from locally-grown pineapple, coconut, mango, papaya, lime and tamarind.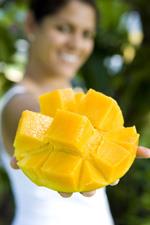 The local comfort food is called "mofongo," the main ingredient of which is fried green plantains, with a variety of add-ins mashed in according to the cook's whim. There are pork, chicken, seafood, vegetarian and even strictly vegan versions.
Puerto Rico is the world's largest rum producer, distilling more than 35 million gallons of the liquor each year. You'll find it in light, gold and dark varieties, with the subtle-flavored lighter ones favored in mixed drinks. The Casa Bacardí Visitor Center is a quick ferry ride across San Juan Bay. There, you can learn about the history of rum and the bottling process. Yes, they do give out samples at the end of the tour.
Art and Fashion
For those interested in Caribbean art and contemporary architecture, San Juan's Museo de Arte is a must-see. After a four-year, $53 million renovation, the Museo de Arte was transformed from a 1920s hospital building to a Modern Neoclassical structure. The cultural hub now features work by Puerto Rican artists, as well as a 400-seat theater and a five-acre garden.
The Botello Art Gallery in the Hato Rey financial district is a beautifully restored colonial mansion that is the former home of Angel Botello, a Puerto Rican artist. Botello's paintings and sculptures are on display, as well as his impressive collection of authentic Puerto Rican santos (hand-carved religious figures that have been produced since the 1500s).
More than 20 art galleries are within the city walls of Old San Juan, ranging from hole-in-the-wall spaces to opulent exhibition halls. The first Tuesday of each month, the gallery owners open their doors and offer wine and cheese for an evening of gallery hopping.
Some of the finest antiques in the Caribbean can be found at El Alcázar, the largest antique emporium in Puerto Rico. Whether you are looking for silver, crystal, furniture or art, you will find an abundance of treasures and collectibles here from around the world.
San Juan is also home to ultramodern boutiques, including ones owned by Stella Nolasco and Nono Maldonado, two of Puerto Rico's haute couture designers known for their fashion-forward style. Fashion connoisseurs can also visit the upscale boutique of Luis Antonio in Miramar, who has designed clothes for pop star Jennifer Lopez, among others.
New Resorts
In 2010, Puerto Rico welcomed the arrival of two new five-star hotels-The St. Regis Bahia Beach Resort and the W Retreat and Spa. The über-hip W is on laid-back Vieques, nestled between two secluded beaches. The 157-room resort sports modern architecture with whimsical bursts of tropical color. Chef Alain Ducasse's signature restaurant, miX On The Beach, celebrates Latino Caribbean flavors via off-the-beaten-path detours through French sensibilities. Dining options also include a café, poolside service and a swanky cocktail lounge. The resort's Spa Chakra offers more than 60 health and beauty therapies to nurture your skin, body, mind and spirit.
St. Regis, Oceanfront Luxury
The St. Regis Bahia Beach Resort, with its refined tropical luxury and the iconic St. Regis Butler Service, the St. Regis Bahia Beach Resort brings a new level of bespoke hospitality to Puerto Rico. The St. Regis standard of luxury began around the turn of the 20th Century in New York City by the Astors.
The elegant and romantic St. Regis Bahia Beach Resort is situated on 483 acres of a former coconut plantation and native maritime forest, just a short drive from San Juan's International Airport. The Caribbean's first and only Certified Gold Audubon Signature Sanctuary, this luxurious resort includes a 139-room hotel.
The residential real estate community opened in 2007. Much of the resort's continued sales success can be attributed to Puerto Rico's Government, which instituted a stimulus that waives real estate taxes for all new purchases during the 18-month qualifying period, for five years. The resorts' owners have also arranged 100 percent financing up to $3 million at 2.83 percent for 40 years.
Single family and estate homes look across the Troon-managed Robert Trent Jones Jr. championship golf course onto the protected, mountainous El Yunque National Rain Forest. The view east is also of the manicured, Audubon certified golf course and two miles of secluded, private, white sand beaches.
Boxing great Oscar Del La Hoya, an MLB player and a member of the U.S. Cabinet all call the resort home. The property is lush with 100-foot palms and thick stands of Seagrape, Almond and Flamboyant trees. The Espiritu Santo River runs through its vast green, rain forest and creates a tranquil, idyllic, natural, southwestern boundary.
Chef Jean-Georges Vongerichten's signature restaurant, Fern, combines a curated selection of the greatest dishes from his portfolio of domestic and international restaurants with the highest quality local ingredients. There are three other dining options along with handcrafted cocktails at the St. Regis Bar. You'll also enjoy a beach club with an infinity pool, tennis club and the Remède Spa, which specializes in personal touches, such as chilled champagne, Jacques Torres truffles and Kashwere throws.
Receive your complimentary Relocation Bundle