Minto Group – Florida Homebuilders That Tower Above the Rest
Minto Group – Florida Homebuilders That Tower Above the Rest
Thinking of retiring in Florida? Why not consider a Minto home? Minto is ranked Number One by Eliant Homebuyers Choice Awards, and for good reason. For over fifty years, Minto has been building exceptional homes within vibrant retirement communities throughout the state, and their goal is to please. From beautifully designed interiors to spectacular views, Minto has an eye for detail, with the homeowner's complete satisfaction always in mind. But they don't stop there.
Minto was started by four brothers in Ottawa, Canada in 1955, and by 1957, this family-owned company had established a reputation for commitment, excellence, timely service, and value, and they have maintained their high standards ever since. By the 1980s, they began to focus their sights on sustainability, becoming leaders in green innovation. Today, Minto incorporates the latest in green technology into their design plans, providing their homeowners healthy, high-performance construction with decreased environmental impact. In fact, Minto consistently strives to outdo even themselves, well surpassing building-code requirements in terms of energy and water savings. Of course, these savings are then passed on to their customers!
Minto homeowners don't simply invest in a home, but in a healthy, stimulating lifestyle that is tailor-made to satisfy all of their needs within a gorgeous, expertly-designed, gated community. Minto homes have convenient access to Florida beaches, warm-weather recreation, shopping, restaurants, and much more. The communities themselves are designed to afford privacy while they encourage community involvement and interaction. The properties are beautifully and professionally landscaped, with spacious homes and spectacular views of beaches, golf courses, lakes, or pools.
In choosing Minto, envision this: once inside your gated community, you will first notice the beautiful landscaping throughout as you approach your new home. Then, you will love the modern, architectural elegance of your home, which demonstrates the highest standard of expertise, planning, and attention to detail that have become the very trademark of Minto. More than likely, your home will be surrounded by palm trees basking in the sun, and a fresh carpet of green grass to sink your toes into. The outside architecture will exhibit a Spanish or Mediterranean influence, with a brick-paved driveway, an entry walkway, and a covered entry and patio. The home will display concrete Hanson roof tiles which complement the elegant architecture, and will come with your preference of a two, three, or four-car garage, complete with coach lights, automatic opener, and transmitters (per plan).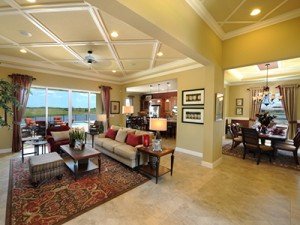 Your new home is energy-efficient and green-oriented, saving you money, and your community natural resources. Inside, you will find energy-efficient windows and glass doors, energy-saving air conditioning and heating, and Moen water-saving plumbing fixtures. You will find state-of-the-art energy-efficient appliances throughout your home, including a GE Energy Star washer and DURA DRUMTM dryer.
Your new Minto home will include a gourmet kitchen featuring recessed wood panel cabinet doors, granite countertops, matching pantry or walk-in pantry, recessed lighting, and a GE ProfileTM clean design ceramic cooktop. Your kitchen also comes complete with a GE Profile wall oven and wall-mounted microwave, and an Energy Star sound-insulated dishwasher.
The master bath and suites include raised vanities, granite countertops in the master bath, marble vanity tops in secondary baths, and a pedestal sink in the powder room. You will find Mohawk floor tiles in wet areas of full baths, Moen faucets, a roman tub in the master bath, decorative mirrors, recessed lighting, a comfort-height commode in the master bath, and moisture resistant shower walls and tub backing.
Your Minto home not only includes all of the aforementioned features and amenities, but many, many more! Add to this an expertly and beautifully designed modern interior from floor to ceiling, and Minto has once again achieved perfection. So, take a moment and explore all that awaits you in a Minto community. Minto doesn't simply build homes, they fulfill dreams.
---
Request information from these Communities
Receive your complimentary Relocation Bundle