Memorial Day is right around the corner!
Mouth-Watering Memorial Day Recipes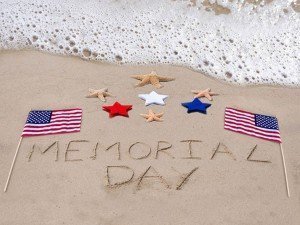 Memorial Day is right around the corner! While many celebrate the big day with family, friends, and a barbecue or two, it's important to remember on Memorial Day. Originally called Decoration Day, Memorial Day is a holiday meant to remember those who have died while in service. Lyndon B. Johnson declared it an official holiday in 1966. Since then, we've celebrated on the last Monday of May every year. Many communities have their own traditions and ways of honoring those who died in service. For example, for those living at The Cottages at Ocean Isle Beach, nearby La Belle Amie Vineyards celebrates with live music, food, and, you guessed it, wine!
Many towns host festivals and parades the weekend before Memorial Day, so be sure to check your local event calendar for dates and times. One way to remember and honor those who have gone before us would be to join in on local veterans' clubs events.
Another way to keep meaning top-of-mind is to invite veteran neighbors, friends or those you find through local groups to celebrate with you and your loved ones.
And, yes, this means cooking. Because not all of us want to be slaving in the kitchen or over the grill, we've pulled together a couple of recipes sure to make any celebration easy and delicious.
Everday is a Good Day For Bacon
Bacon does a body and a party good. So, we found a super-simple party pleaser takes less than 15 minutes to make, and about as long to disappear.
Ingredients:
sour cream – 2 cups
mayonnaise – 2 cups
sliced bacon, cooked and crumbled – 2 pounds
6 plum tomatoes, diced
3 green onions, chopped
Directions:
In a large bowl, combine the sour cream, mayonnaise, bacon tomatoes, and onions. Refrigerate until serving. Garnish bacon and green onions. Best served with crackers.
Fire up the Grill
Brush and go!
Ingredients:
-Bone-in rib eye steaks (number depends on party crowd)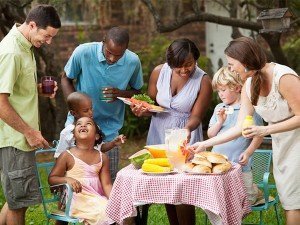 -Kosher salt
-Freshly ground pepper
-2 tablespoons canola oil
-4 tablespoons unsalted butter
-4 thyme springs
-3 garlic cloves
-1 rosemary sprig
Directions:
Season steaks with salt and freshly ground pepper. Let the meat stand at room temperature for 30 minutes.
In a large cast-iron skillet, heat the canola oil until shimmering. Add the steaks and cook over high heat until crusty on the bottom, about 5 minutes. Turn the steaks and add the butter, thyme, garlic and rosemary to the skillet. Cook over high heat, basting the steaks with the melted butter, garlic and herbs, until the steaks are medium-rare, 5 to 7 minutes longer. Transfer the steaks to a cutting board and let rest for 10 minutes. Cut the steaks off the bone, then slice the meat across the grain and serve.
While this recipe might seem simple, it's destined to deliver. Serve alongside a fresh green salad, add in some smashed red potatoes, and add a fruit platter or some homemade ice cream to top it all off. With a menu like this, you may find yourself hosting Memorial Day cookouts for years to come.
Request More Information from:
Receive your complimentary Relocation Bundle