Discover the Best Active Adult Communities in the US
You're not the type to let retirement slow you down. In an active adult community, you can embrace an adventurous lifestyle that matches your energy and zest for life. Continue reading to explore the best active retirement communities in the US.
Why Choose Active Adult Communities?
You want to make the most of every day, so why not choose a living environment that complements your spirited lifestyle? Active adult communities are ideal for individuals who love leading a full, exciting life. There's always something to do, friends to meet, and an environment that thrives on the same energy you bring to the table. Read on to find out why an active retirement community might be the perfect fit for you.
What is an Active Adult Community?
An active adult community is a specially designed neighborhood or residential area for adults, typically those aged 55 and over, who are in relatively good health and wish to lead an active and engaged lifestyle during their retirement years. These communities are tailored to fit the lifestyles of individuals who want to spend their golden years enjoying a variety of activities, socializing with like-minded peers, and taking advantage of convenient services and amenities.
What are the Benefits of Living in an Active Adult Community?
There's a multitude of reasons why people choose to live in active adult communities. It's not just about the active lifestyle, but also the sense of community, convenience, and peace that these communities provide.
From game night to tasty meals, top-line health care to home cleaning services, there are so many reasons people opt to stay in an active retirement community. Read on to learn the benefits that people find when they choose this lifestyle. Then consider if it might suit you, too.
A Healthy, Active Lifestyle: From early morning yoga to late-night game nights, active adult communities offer a myriad of activities to keep you engaged and moving. Whether it's water aerobics in the pool, a serene sail on the sound, or a competitive game of tennis under the sun, you'll never experience a dull moment.
A Close-Knit Community: Active retirement communities are like small towns filled with friends. Whether you're having a morning coffee at the local café, walking your dog, or participating in a club, you'll find that forming deep, meaningful relationships is easy and natural in such a nurturing environment.
Accessible and Comfortable: You'll find buildings and amenities designed for easy accessibility: well-paved sidewalks, wheelchair access, and plenty of lighting that make everyday activities feel safe and comfortable.
Peaceful and Private: Escape the noise and hustle of urban living. Active adult communities offer tranquility, privacy, and a serene environment that you can call home. Rest assured, your peace of mind is a priority here.
Embarking on an Active Adult Lifestyle
Why wait? Start exploring various active adult communities spread across the US today. Whether you prefer the warmth of the coast or closeness to family and friends, there's an active retirement community waiting to welcome you.
Browse through the options below, use the information request form to contact local representatives, and get a firsthand account of life in these communities. Filter your options based on location or activities to find the community that's perfect for you.
Research and Find the Best Active Adult Communities for You
Your journey to a fulfilling and active retirement starts here. Dive into our comprehensive list of top active adult communities, and find your perfect place to call home.
Research and Explore the Best Active Adult Communities
Click to explore the following active adult communities. Request information from multiple communities by selecting the checkboxes to the right and completing the form below.
North Carolina has always been recognized for its natural diversity and gracious hospitality, which now has made it into an extremely popular retirement destination. Choices abound for a healthy, happy retirement setting, whether you want to relax on the beach or enjoy the great outdoors in our mountains or stay busy in a bustling city. The North Carolina Certified Retirement Community designation means a city has completed a comprehensive evaluation process with requirements outlined by the North Carolina General Assembly. These Certified Retirement Communities are recognized for providing the amenities, services and opportunities retirees need to enjoy active and productive lives.
LIVE SIMPLY, THINK BIG isn't just our tagline, it's our way of life. We aren't limited by
our size and neither are our dreams. Whether you want to spend your retirement volunteering,
spending time with friends or finally opening that small business you always dreamed of, you
can "Do What You Love in Reidsville"; Being "retired" doesn't mean you can't live out your
dreams, it means you now have the freedom to do it!
https://www.riseupreidsville.com/retire

Johnston County (JoCo) offers you more than you expect in retirement! Discover a blend of history, entertainment, dining, lodging, and outlet shopping, along with a generous helping of true southern hospitality. With a growing culinary and craft beverage scene, as well as revitalized downtowns, you don't have to travel far from home to find what you are looking for. The unique communities that make up JoCo have one thing in common–a relaxed atmosphere and friendly people.
https://www.johnstoncountync.org/retire-joco/

If you are looking to build or purchase in an exceptional mountain golf community, it's time to look closer at Rumbling Bald on Lake Lure. You will find a few choice, undeveloped properties within our community at pleasantly affordable prices along with several spectacular homes in a variety of settings. You can come today; enjoy our lake and golf, and choose the opportunity to live in a remarkable community.
https://rumblingbald.com/living-here

Nestled in the northern piedmont of North Carolina, a short commute from the Triangle and southern Virgina, Person County is home to rolling hills, farmers markets, lakes, and trails. With two beautiful wineries, live music venues, historic general stores, and Uptown Roxboro, Person County values its history and community while embracing the new. No matter what you choose, life in Person County is homegrown, just for you.
https://itsbetterinperson.com/
Affordable Active 55+ Resort Living.
It's easy to see why so many of our residents feel like they're on vacation all year long. Las Palmas is a world-class resort with year-round activities, luxury amenities and a friendly group of active 55+ adults who enjoy life to the fullest, just like you.
Visit our impressive selection of custom-built homes beginning in the $70's. Whether you're looking for the best value in retirement or simply the best place to take life easier, you'll enjoy the lifestyle at Arizona's premiere 55+ resort. Las Palmas is among the award-winning family of Thesman Communities proudly offering affordable resort living since 1980. Gated with 24 hour security. Visit us today, open daily for tours 8-5.
Management and Sales offices are still open 7 days a week, 8-5. Please contact us for more information.
Virtual Tours now available! Feel free to watch our video playlist below. You can navigate to the next video by simply clicking the button to the right of the "share" icon.
Homes are shown by appointment only and social distancing and hygiene guidelines are strictly adhered to. Safety is our priority.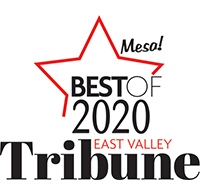 Mesa's Best!
Las Palmas was voted Best Manufactured home Community 2020 East Valley Tribune!
Also check out our other Thesman Communities:
Briarwood
Las Palmas
Las Palmas Grand
Las Vegas Meadows
Palmas Del Sol
Palmas Del Sol East
Sunrise Village
Village Green

Resort Living Can Be Beautiful and Affordable. Homes from the $30's.
Step into this active 55+ community in East Mesa and be amazed at how affordable a resort lifestyle can be! You'll discover friendly people, luxury amenities and newly remodeled homes from the $30's. Our gated community offers a year-round calendar of social events planned by our Activity Director, a courtesy shuttle bus to get around town, a beautiful clubhouse, heated pool and so much more. Sunrise Village is among the award-winning family of Thesman Communities proudly offering affordable resort living since 1980.
Plan your visit
It's time to get out there. Review the active adult communities below to see what your options are. Don't let the list overwhelm you—once you've selected some communities that look appealing, plan your visit as the next step! You can chat with neighbors, tour the area, and get a feel for the active lifestyle that awaits you.
Request information for your selected communities.
Your Information Request for your selected properties