18 Reasons You'll Love St. James Plantation!
18 Reasons You'll Love St. James Plantation
Most St. James Plantation neighbors would argue that their list of 'loves' for the #1-Selling Coastal NC Community would be endless. They're probably right. Coming up with just 18 Reasons You'll Love St. James Plantation proved quite the challenge. For the me (the writer,) my favorite "love" didn't make the cut. But, because I'm a kind soul, I'm going to share it with you anyway.
It's the sunsets. I think we have the very best sunsets — probably the best I've seen. The way the sky erupts with pinks and oranges and blues over the waters of our marina… I just LOVE it.
Anyway, enough about me – back to THE LIST.
After much thought and deliberation, here's our short-list of all the loveable reasons to fall for St. James Plantation….in no real order (drumroll, please):
GREAT Weather
We average 59° in the winter and 89° in the summer. Plus, it's sunny 215 days a year. That means you can get outside and "play" every day! And, do we have four seasons? Why YES, we do!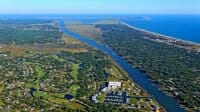 Location – Location – Location
St. James Plantation is a 6,000 acre private community in southeastern North Carolina. We're on the coast in the charming seatown of Southport, NC. We're not on the ocean, but we're about as close as you can get without getting your feet wet! You'll find us 30 minutes south of historic Wilmington, NC and 1 hour north of the golfing-Mecca of Myrtle Beach, SC.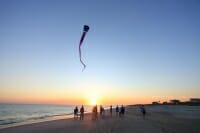 The Beach Is Calling
We have 17 miles of Atlantic beach just 10 minutes away on neighboring Oak Island. Our beach is south facing, so you can catch the sunrise and the sunset! St. James by the Sea, our private beach club, offers private parking, showers, a pool, changing rooms and a picnic area. Now, that's a comfortable way to go to the beach!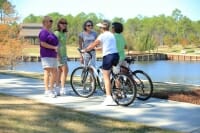 Nature's Bounty
Nature's what it's all about at St. James Plantation. You'll find over 1,500 acres of dedicated nature preserves around the neighborhood. Other highlights include 15+ miles of walking paths, 2 picnic pavilions, an outdoor amphitheatre for concerts, bocce courts, a croquet lawn, volleyball, plenty of ponds for fishing, 2 dog parks and 2 community gardens.
Golf on 81 Holes
Golf's a big deal here at St. James Plantation. We have 81 holes on 4 ½ championship courses and our course designers include Nicklaus Design, Hale Irwin, PB Dye and Tim Cate. Residents share stories with us all the time that sound like…"Before I moved to St. James, I never had had time to play golf. But since our move, I've picked up the game and now I have a standing tee-time with neighbors 2 times a week." That's music to our ears!
A Homeport Marina
Our beautiful St. James Marina offers 475 total slips – 155 wet and 320 in dry storage. Around the harbor, you'll find a fun Tiki Bar, an art gallery, one of our real estate offices and Tommy Thompson's Grille and Market. During the season, you can catch live music on the boardwalk 2 nights a week – it's the St. James "hot spot!"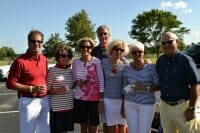 Friends ~ Lots of Them
The St. James Plantation lifestyle can be summed-up (pretty much) in one word….FUN! With dozens of social clubs and activity groups, there's always something fun to do. Honestly, if there's an activity or a hobby you enjoy, chances are there's a group you can join and be a part of.
A Club Lifestyle
All of our Clubs are managed by Troon Prive, the world leader in Club management. St. James Plantation recently received The Facility of the Year award at the Troon World Conference. And, our Clubs employee, Steve Elkins, was awarded Associate of The Year out of 10,000 Troon employees worldwide! And, our Directory of Agronomy, Conrad Broussard, was awarded Superintendent of The Year!
Real Estate Opportunities
St. James is a 6,000 acre community with over a dozen neighborhoods. Homes range from the mid-$200's to waterfront custom homes well-over $1 million. Whether you're interested in a cottage home, a custom home or a condominium like HarborWalk, St. James Plantation offers choices. And, whatever your price point or interest, you can find your spot here!
A Developer's Legacy

St. James Plantation was founded by Mr. Homer Wright, a homegrown North Carolinian, who at 89, remains actively involved today along with his adult children. Since St. James inception in 1991, he has helped build our town one home at a time. Did you know that St. James is really a town? It is! We have a dedicated onsite fire department and EMS, as well as an elected board of town officials, including a mayor!
Lower Cost of Living
Our real estate taxes, the Property Owners' Association dues and our monthly utilities are low – much, much lower than many of our friends in the northeast. Ask your sales executive for specific facts and figures – we think you'll be pleasantly surprised!
Har-Tru Tennis
Our tennis association is 300-plus members strong and stays super active with tournaments, gatherings and clinics. Our courts are all Har-Tru surfaces and we're excited about the addition of 3 new courts at SeaSide this year.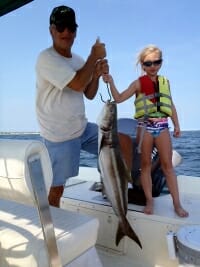 The Fish Are Biting
Between The Intracoastal Waterway, The Atlantic Ocean, and our many ponds and rivers – the fish are always biting! Get involved with The St. James Fishing Club – an active group of fishermen (and women!) who are passionate about the sport, the fellowship and the conservation practices involved in the art of sport fishing.
Breakfast – Lunch – Dinner – Snacks
Our 4 clubhouses offer multiple dining opportunities! If you're searching for breakfast, lunch, dinner or takeout, you'll have plenty of choices without having to leave the neighborhood.
Staying Fit
If staying fit is a top-priority, than we have options! We have 2 athletic centers onsite with top-of-the-line Cybex equipment. There's a full-time trainer on staff and a calendar offering over 30 group classes a week.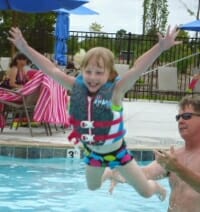 Dive-In and Swim
You'll find pools all over St. James, including an indoor heated pool and whirlpool at "The MAC" (that's insider's code for The Members Athletic Club.) If swimming outside is your thing, then you'll LOVE the SeaSide Club! It's a resort-style pool oasis that's fun for all ages. In addition to fun activities planned during the summer, you'll also find a snack bar offering a tasty frozen drink menu!
Kayaking
Our beautiful marshes, creeks and The Intracoastal Waterway are best explored by kayak and the Kayak Club hits the water whenever possible. Our new kayak launch at Waterway Park makes getting out there even easier, too.
We're Timeless
Folks who live at St. James Plantation know that life this good never goes out of fashion. We invite you to embrace our timeless coastal lifestyle and discover St. James Plantation, Number One-Selling Community in the Coastal Carolinas, today! For more information on our preview package, please email us or call (800)245-3871.
---
Receive your complimentary Relocation Bundle