Guide to the Best Places to Retire in Arizona
Best Places to Live & Retire in Arizona
Probably one of the only places where you can always plan on perfect weather, Arizona, also known as the "Grand Canyon State" is known for its warm summers and very mild winters.
Year round, you can enjoy hiking or mountain biking, downhill skiing or viewing the desert sky; there is an outdoor recreation activity for everyone!  If you are considering retiring to, or moving to Arizona, we can help you ready yourself to experience the unique culture that awaits you in Arizona.
Ideal-Living offers a free comprehensive service that begins with helping you find your Ideal Lifestyle. Until you know how you want to live, you can't know where you want to live. We offer a wide array of tools to help you get answers to the questions that are keeping you from moving to your ideal destination.
Find the
best retirement communities in Arizona
. This includes gated communities, lake communities, mountain communities, and, of course, golf communities. We can help you gain all this information as well as talk with representatives from the top retirement and resort communities in Arizona.
Arizona is considered one of the most tax-friendly states for retirees, in fact it is one of Kiplinger's 10 most tax-friendly states. The tax benefits of living in Arizona include:

No tax on prescription drugs
Property tax breaks for seniors
No tax on social security income
Retirement income exempt up to $2,500 per person, per year
No inheritance or estate tax
Our free Digital Retirement Guide, Ideal-Living Magazine and e-Newsletter offer an abundance of information on which states, towns and cities are the best for retirees, vacationers and second-home buyers, including much information about the great state of Arizona. If you are looking to retire or relocate to any of the picturesque spots within the state, you'll find the information you need from Ideal-Living. Our Digital Ideal-Living Magazine includes numerous articles such as the top travel destinations, tips on selling your home, and how to make the most of your retirement.
Homes Built for Comfort and Entertainment
Single-family, one-story homes are the norm in active adult communities. They can be customized to each household's needs. Homes usually offer layouts and features that are standard in modern homes. Generally, master suites are complete with a spacious closet and an en-suite bathroom with a walk-in tub. Newer homes also include office spaces for working seniors.
Houses in these neighborhoods are made for entertaining. Open living spaces, large patios, and screened porches make for ideal social gatherings. Visiting friends and family can stay overnight in the guest bedrooms.
Landscaping maintenance is often provided for all residents.
Elevated Amenities for Residents
While many active adult communities operate independently, some are located within larger master-planned residential developments. Both types of communities offer exclusive amenities such as pools and clubhouses.
Workout facilities deliver classes and programs that cater to all fitness levels. Low-impact aerobics and yoga are some of the most popular programs offered.
Those who would rather be outdoors can take advantage of walking trails, parks, and picnic areas. Pickleball courts, tennis courts, and lawns for croquet and softball games are available for athletic residents to use.
Active adult communities may also include services that cannot be found in regular neighborhoods. Residents can walk to onsite restaurants, golf courses, and water features like lakes or ponds. For those who want services to come to them, hair stylists and physical therapists may be available on-call.
Hubs and Clubs for Various Interests
Activity directors help new residents connect with their neighbors. They organize clubs for community members of various interests such as gardening, cooking, and woodworking.
Residents can keep sharp by attending academic classes and visiting lectures in the community centers. Live concerts and film screenings will appeal to those who love performance arts.
Community service clubs are popular, too. Neighbors can organize charities, drives, and other public service events for the community at large.
Idyllic Communities in Ideal Locations
The best active adult communities are located near town or city landmarks. Hospitals and healthcare facilities, for example, are situated nearby. Residents have easy access to physicians and dentists that specialize in senior wellness.
Prospective residents should choose a community that best fits their lifestyle. Some neighborhoods are only a short walk or ride away from bustling city centers. Others are closer to quieter, small-town shops.
Sample Communities to Discover
Affordable Active 55+ Resort Living.
It's easy to see why so many of our residents feel like they're on vacation all year long. Las Palmas is a world-class resort with year-round activities, luxury amenities and a friendly group of active 55+ adults who enjoy life to the fullest, just like you.
Visit our impressive selection of custom-built homes beginning in the $70's. Whether you're looking for the best value in retirement or simply the best place to take life easier, you'll enjoy the lifestyle at Arizona's premiere 55+ resort. Las Palmas is among the award-winning family of Thesman Communities proudly offering affordable resort living since 1980. Gated with 24 hour security. Visit us today, open daily for tours 8-5.
Management and Sales offices are still open 7 days a week, 8-5. Please contact us for more information.
Virtual Tours now available! Feel free to watch our video playlist below. You can navigate to the next video by simply clicking the button to the right of the "share" icon.



Homes are shown by appointment only and social distancing and hygiene guidelines are strictly adhered to. Safety is our priority.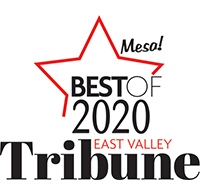 Mesa's Best!
Las Palmas was voted Best Manufactured home Community 2020 East Valley Tribune!
Also check out our other Thesman Communities:
Briarwood
Las Palmas
Las Palmas Grand
Las Vegas Meadows
Palmas Del Sol
Palmas Del Sol East
Sunrise Village
Village Green

Resort Living Can Be Beautiful and Affordable. Homes from the $30's.
Step into this active 55+ community in East Mesa and be amazed at how affordable a resort lifestyle can be! You'll discover friendly people, luxury amenities and newly remodeled homes from the $30's. Our gated community offers a year-round calendar of social events planned by our Activity Director, a courtesy shuttle bus to get around town, a beautiful clubhouse, heated pool and so much more. Sunrise Village is among the award-winning family of Thesman Communities proudly offering affordable resort living since 1980.
High above the desert floor, overlooking Phoenix, sits K. Hovnanian's Four Seasons at Victory at Verrado. This luxury 55+ active adult community is fortuitously surrounded by the White Tank Mountains and Skyline Regional Park, allowing residents to be immersed in the raw splendor of the American southwest while living in comfort and style.
Each of the five floor plans offered by K. Hovnanian's Four Seasons at Victory have a natural flow from indoor to outdoor gathering areas, in addition to high-end finishes and materials used throughout. These spacious layouts include up to three bedrooms and approximately 1,924 to 2,288 square feet of living space.
The community amenities of Victory at Verrado are equally impressive as the homes found within. Luxe pools flanked by lounges and palm trees overlook craggy mountains. All your workout needs are seen to at the 7,000 square foot, state-of-the-art fitness center, and you can recover at the full-service spa. Two Championship golf courses designed by Ryder Cup captain Tom Lehman will provide hours of enjoyment. And for those oenophiles, the Victory Vineyard hosts wine tastings, guest vintner dinners, wine making classes, and an annual Crush party.
With its stunning scenery and endless amenities, Victory at Verrado is the ultimate in refined, active adult living. K. Hovnanian's Four Seasons matches that standard with beautiful, thoughtfully designed houses, ready to become homes.
Sign up today to receive more information on the new offerings with K. Hovnanian's Four Seasons at Victory at Verrado, and begin your journey to a better way of life.
Get Started
Finding and choosing the right active adult community can be a daunting task. This is where ideal-LIVING can help. Sign up below to receive our complimentary relocation package, which offers tips on how to find a community that suits your needs. In this guide, you'll discover the top communities in Arizona, as well as what you can do to get started. Sign up for this free package to take the first step in your exciting journey.

Free Package includes:
ideal-LIVING Relocation Guide
The ultimate guide to find your ideal destination, life and home. This annual guide contains more than 15 state maps, a location-based cost of living and climate comparison chart and discovery travel packages.
ideal-LIVING Magazine
Quarterly print magazine features the best places to retire and/or purchase your ideal second home.
ideal-LIVING E-Newsletter
Receive our digital newsletter, two to three times a month, highlighting communities around the country and abroad.
Tickets to ideal-LIVING Live Events
The ideal-LIVING Resort & Retirement Show has helped retirees and second-home buyers find their ideal community and home for more than 30 years.
Receive your complimentary Relocation Bundle
© 2023 ideal-LIVING Magazine • 265 Racine Dr #201 • Wilmington, NC 28403 • 910.763.2100